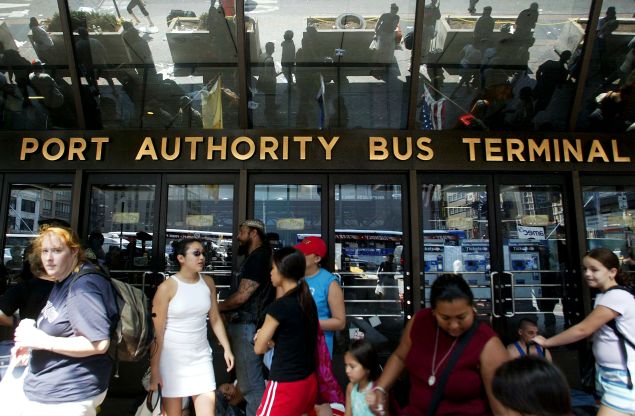 UPDATE: After this editorial appeared, Port Authority Executive Director Patrick Foye reached out to the Observer with his reaction.  
Last week, the Port Authority approved a series of multi-billion-dollar infrastructure improvements: a rebuilding of La Guardia Airport, a new bus terminal, enhancing Newark Liberty International Airport and refurbishing roadways approaching the George Washington Bridge.
Good.
Patrick Foye, the Authority's executive director, described the board meeting as "the most important in Port Authority history" and "the single largest allocation of capital" by the Authority in one day.
The La Guardia project is estimated to cost $4 billion; the renovation of Newark Airport's main terminal $2.3 billion; and the George Washington Bridge roadway redesigns only $167 million. The new bus terminal didn't include a price tag, but most cost estimates range between $10 billion and $15 billion. The uncertainty in the price reflects the directors' uncertainty about where the new terminal should be located: where the current Eighth Avenue terminal stands, or one block further west.
The Port Authority has to get serious about its reputation for overspending and busting budgets.
Oh yes, there was one more approval: a $70 million down payment on the Hudson River rail tunnel known as the Gateway project. That may cost $20 billion and take between 10 and 15 years to complete.
These are significant undertakings essential for the economic health and growth of the city and the region. Now the Port Authority has to get serious about controlling costs. The bi-state agency's track record of controlling costs is dismal. The $4 billion cost of the Calatrava transit hub is more than twice its original estimate, and the entire World Trade Center project itself soared from $8 billion to $15 billion. (The original Twin Towers, another Port Authority initiative, saw their cost rise from $575 million when construction started in 1968 to $900 million when they opened in 1973.)
To be sure, the Port Authority is not the only public agency with cost-control problems. The MTA's East Side Access project—which will bring LIRR trains in to Grand Central—was expected to cost $4.3 billion and be completed after eight years of construction in 2009. Today, the cost is estimated at $9 billion, and the hope is that it will be finished in 2019. And let's not even try to guess the actual cost of the Second Avenue subway—or its projected opening. We're still trying to comprehend how the new $2.4 billion subway station at the end of the No. 7 line at Hudson Yards has serious water leaks.
Which begs the question: Why should anything be different moving ahead?
Sadly, it won't be. Unless we do something radically different.
To that end, we call on Governors Cuomo and Christie to take a radical step: to appoint one or more construction czars—dollar-a-year "men" (there are few women in the construction world) and imbue them with absolute power. Our model is FDR's appointment of William Knudsen and Henry Kaiser during World War II.
Kaiser and Knudsen mobilized American industry, put people back to work and did so efficiently and with minimal cost overruns or scandals. (Our favorite example involves the building of the Liberty ships that kept Britain and Russia in the war. Some 2,700 were built. The first ships took eight months; by the war's end, a ship was being built in 10 days; and in a pinch Kaiser's workforce could turn one out in five.)
Such leaders still exist in America. Governors Christie and Cuomo need to find them and empower them to get these important projects built—on time and on budget.