Imagine a world where every leisure activity is tracked, recorded and then analyzed as market research according to your age and gender demographic. Imagine the next phase after smartphone payments, when a chip linking your finances isn't in your phone, but on your wrist. Imagine a vast field of fellow fun-seekers, eating, drinking and dancing in hedonistic, chemically enhanced utopia.
Such a scene certainly requires some open-mindedness and improvisation, sure, a willingness to submit oneself to a vulnerable environment of whimsy. Now imagine being subtly exposed to advertisements in such a mindset. It's no Orwellian controlled dystopia. You've just arrived at a 21st-century American music festival.
As spring arrives, summer shines right around the corner, and with it the clusterfuck of gigantic music festivals. This week Lollapalooza announced its line-up for August, while Coachella promoters Goldenvoice continued to hype up the inaugural year of its New York festival, Panorama, with single-day ticket sales and a ton of press releases. But even before Coachella in April, the surest sign of spring each year is the EDM-heavy Ultra festival in my hometown of Miami, a sea of millennial bros with bandanas, candy necklaces and disposable income depleting their serotonin and grinding on each other to some sick beatz.
The press has come at the concert festival cash cow hard this week too, reporting shit I've been saying for years. The Miami Herald prefaced Ultra with a piece suggesting that EDM will soon go the way of disco, as South Florida clubs have been closing, live dance-music focused corporations like SFX Entertainment have declared bankruptcy, and festivalgoers are starting to hear that it's all the same pre-programmed bullshit every year.
"I still like the music," former Ultra attendee Annie Tomlinson told the Herald. "But it's not worth it for the money anymore. It's so hyped up and I've already experienced it." That's a sentiment on the minds of all us music fans, who save up money and plan our live outings strategically around the artists and line-ups that will actually translate into a special, distinct experience. "The performance circuit has become dominated by a small circle of famous DJ/artists like Calvin Harris, Tiesto, Diplo and Skrillex, leading to repeat appearances and fan burnout," writes the Herald.
It's about damn time. I started reporting a long-form piece last fall looking at the advertising long-game behind a few of these larger festivals, and much of what I found was pure big brother shit.
'Some people call it talent buying, but I do a lot more than just buy talent.'—Chris Sampson, Superfly
I found the headquarters of live event production company Superfly just below Madison Square Park. The building appeared to be mostly floor after floor of anonymous drab and gray offices, but no sooner than the elevator doors opened on the penthouse floor had I crossed into a space infinitely more dynamic and lively, more engaging, than the Flatiron below. A youthful vibe occupied the floor—Superfly's offices were vibrant and bright, its walls adorned with festive snapshots of Bonnaroo Music and Arts Festivals past, its conference rooms named for streets in New Orleans.
A team of millennial employees sat at first come, first serve seats in the main workspace. A large notepad sat on an easel from earlier in the week, when they brainstormed which cool new bands should fill out the lineup of next summer's Bonnaroo music festival. It was next to individual, labeled cubbies where the employees could keep their belongings, despite the ever-changing location of their workstation. In lieu of personal photos and regalia pinned to the side of a cubicle, a communal bulletin board aggregated their fond memories and celebration.
They talked to band managers, labels and booking companies to see who had an album coming out, or something to promote using Bonnaroo as a platform.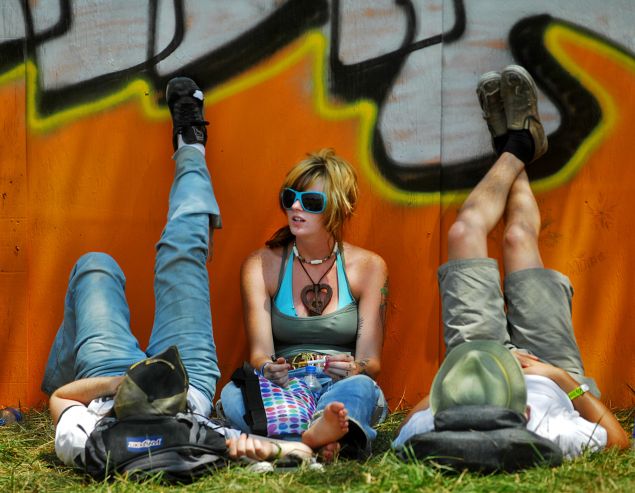 Clearly much meticulous planning went into creating an atmosphere of spontaneous discovery, and I wanted to know what that looked like. The head of artist booking for Bonnaroo would explain how data on crowds could be extracted from something called a shareable footprint, a vast data mine for festival promoters. Promoters face the music not through righteousness, but revenue streams. Integrated sponsorships are curated experiences—our digital and literal footprints leading up to, during and after festivals are being recorded.
Giant live event megalith Live Nation Entertainment Inc. purchased a controlling interest in Bonnaroo and added the farm to its vast list of acquired festivals last April. The company also purchased C3 presents in December 2014, giving them a controlling interest in Lollapalooza and Austin City Limits festivals.
As the North American concert industry pulls in $6 billion annually, live event companies like Live Nation sink deep coin into these festivals because of all the people who come through. Roughly 1.4 million people attended Live Nation's festivals in 2014, while the company's close competition AEG live saw 1.3 million at Coachella, Firefly, Hangout, FYF and the New Orleans Jazz and Heritage Festival.
A moment later the man I came to Superfly to meet materialized—Chris Sampson, executive vice president of programming for Superfly, who's team works with partnering production company AC Entertainment to oversee talent booking and programming for the festival. He's a brand-savvy curator, largely influencing which artists to book, and ultimately helping the promoters decide whom to promote.
"Some people call it talent buying, but I do a lot more than just buy talent," he told me.
In no way did Sampson look the part of an executive. He sported a beard and a fleece, sneakers, and rocked a baseball cap with Bonnaroo's logo, a faux gnostic trio of circles, in New York Mets colors. Warm and inviting, he wanted to compare schedules of the artists we planned to see at CMJ right off the bat, on our CMJ smartphone apps. He led me through the open office, where he worked in the same streamlined seat cluster as his team, and we headed past the Tchoupitoulas conference room (plastered with the uplifting tye-dye wall meme, "don't quit your daydream!") to the office Superfly founding partner Jonathan Mayers.
"Organizers now have a 'snapshot' of each individual's preferences, location, age, gender," Intellitix wrote in a press release, "which has obvious benefits from a marketing and event planning point of view."
The dark-green office looked empty save for a smattering of music memorabilia, an autographed poster of Buzz Aldrin, and a bookshelf. On top of the shelf sat a first pressing of Creole blues legend Dr. John's 1974 album Destively Bonnaroo, the festival's namesake. Bonnaroo roughly means "the best in the streets".
Though eager to talk about booking artists, Sampson was most excited about the other programming he had a hand in. "As much of the music is an important part of the festival, the food and the wine and the beer has become equally as important," he said. "So you have a lot of people going who know there's going to be a lot of music there, but they're really excited about the tacos."
Sampson wasn't exaggerating. Bonnaroo hosted 125 food vendors in 2015, from Bacon Land to Wonder Waffle, and produced the 120 tons of composted waste. Because cooking oil, scrap metal, and even human waste pressed into fertilizer pellets are commodities all, the 432.2 tons of waste diverted from landfills brought in thousands and thousands of dollars.
With popular artists spread out on far-away stages and an overlap between set-times, festivalgoers are all but required to walk through such food and merchandise several times a day. What organic bahn-mi best suits your migration from the hip-hop stage to the electro tent?
Superfly can chart each festivalgoer's odyssey and wherever they're chowing down in real time, because everyone is required to wear a Radio Frequency Identification, or RFID wristband, at all times. The RFID wristband gains festivalgoers entry into Bonnaroo, a veritable ticket that festivalgoers are required to register beforehand and must not to be removed under any circumstances. Small devices resembling metal-detectors greet attendees as they enter Bonnaroo, and once they place your wrist inside, the bands are activated. When those RFID wristbands electromagnetically transfer and store data via an embedded chip, Superfly doesn't just know how many bodies come through the gates, but where those bodies are at all times.
When Superfly knows which programming is happening at what stage, and can see not only how many people are there, but who those people are, the real-time analytics it collects double as invaluable market research.
READ THIS: Gentrification Closes the Studio Where David Bowie Recorded 'Blackstar'
A company called Intellitix remains the industry leader in RFID wristbands for music festivals, and claims to be "reshaping the event horizon." Aside from Bonnaroo, Intellitix counts 11 other festivals across the globe as clients—Coachella, RockInRio, Tomorrowland, TomorrowWorld, Electric Daisy Carnival, Electric Zoo and Outside Lands for starters.
Last year Coachella required festivalgoers to create individual profiles on their website prior to attending, which fed into the chip on Intellitix's RFID bands. "Meaning that the organizers now have a 'snapshot' of each individual's preferences, location, age, gender," Intellitix wrote in a press release, "which has obvious benefits from a marketing and event planning point of view."
More important than just collecting data, though, Intellitix hopes to control all monetary transactions at these festivals. In 2013 the company launched Intellipay, a cashless system whereby festivalgoers load funds before attending the festival and pay for everything via RFID wristband. It first deployed the Intellipay tech at Mysteryland USA, an EDM festival held annually on the hallowed grounds of 1969's Woodstock in Bethel, N.Y.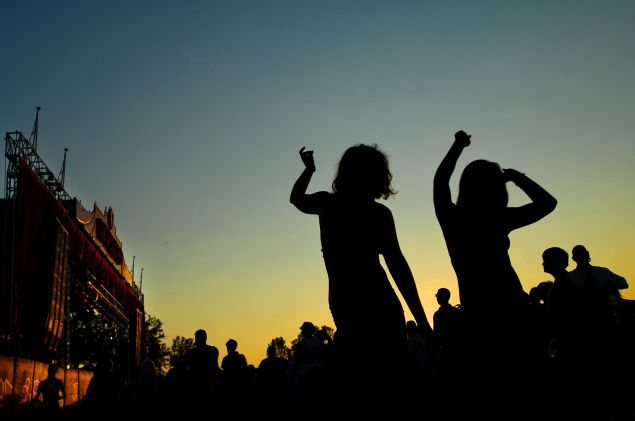 "Intellitix technology increases revenues, drives efficiencies, and more closely connects bands, promoters and brands with their audience like never before," read a press release about Intellipay. In 2014, the company escalated the reach of this cashless tech at the TommorowWorld EDM festival—160,000 users used Intellipay, making it the company's largest all-cashless festival success yet.
Bonnaroo isn't 100 percent cashless quite yet, but Intellitix nonetheless makes a tremendous impact on the festival's social-media presence, using the RFID wristbands to increase the stomp of Bonnaroo's digital footprint. In the five years that Bonnaroo has partnered with the company, Intellitix's focus has been creating "engagement points" around the farm including 22 live check-in stations and five photo booths, which generated 20,000 successful photo posts. Last year Intellitix's tech generated over 3 million likes and comments, and around 200 million page impressions, which quantify how often a user interacts with a page.
As Superfly crowd sources its promoting through social "engagement opportunities," Bonnaroo's digital footprint grows ever vast.
For each performance where a festivalgoer live clicked, the set-list could post as a Spotify playlist on their wall, allowing Facebook friends to see and listen to the songs from the actual performance. Ford Motors sponsored the RFID tech that allowed festivalgoers to record their experience. "Each post featured a collaborative Bonnaroo/Ford Escape-branded 'Check in' icon," the press release read.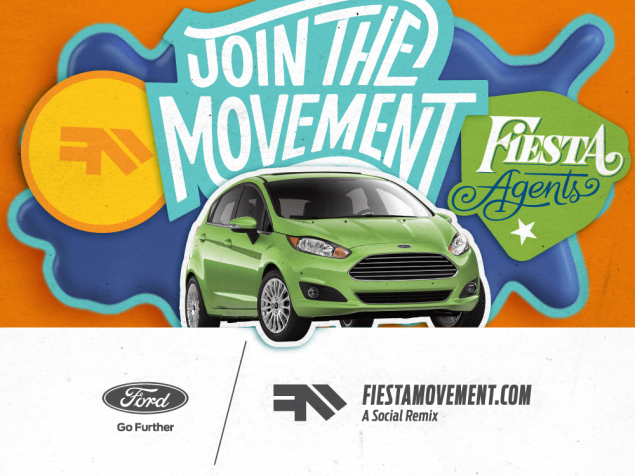 Using its tech, Intellitix serves as a liaison between Bonnaroo and brands like Ford and Spotify, assuaging brand awareness without being overt about it.
So Sampson's job when programming the festival is not only to make sure his artists align with the values of the Superfly brand, or the tacos, but the sponsorships, too. As such, he sees a substantial difference between an advertiser and a sponsor. Bonnaroo doesn't have stages named for beer companies, and sponsorships are much more integrated than a free sticker or hat.
The plumbing manufacturer Kohler was a main sponsor at Bonnaroo last year, positioning shower trailers all over the 700-acre farm. The incentive was twofold—they provide festivalgoers with a reprieve from the mud-caked, mosquito heavy humidity, and promote their new shower head at the same time.
Kohler's social media campaign around the Bonnaroo sponsorship, "Shower Out Loud," promoted the plumbing manufacturer's new Moxie shower head using Bonnaroo's self-aware, hip youth jargon. "Come for the shower and stay for the party," Kohler wrote on the promotional website. "Jam out while you clean up with streaming music from your favorite Bonnaroo artists plus all the showering essentials." The sink company also ran a small time window called "HAPPY SHOWERS," "where you can shower like a rockstar at half the cost." Its requisite hashtag and Instagram account, when posted through festivalgoer's registered social accounts, fed more data into Intellitix on how effective the sponsorship campaign is at promoting the showerhead.
This is the goal of integrated festival sponsorships—bring in a sponsor who can provide something you would need anyway, the festival looks out for both the festival-goer and the sponsor; everybody wins. "If there's a way to offset some of the costs you're already going to have, that's the home run," said Sampson.
But are we, the people, who like our music honest and our subliminal branded "experiences" out in the open, catching onto these marketing strategies?
The other strong piece about festival culture this week came from music journos Jon Pareles, Ben Ratliff and Jon Caramanica at The New York Times. "Why We're Not Making Plans for Coachella and Bonnaroo" really made me giggle, because its packed with gems. "We delay putting our hands up because we are trying to figure out intelligent ways to cover the big, cross-genre, medium-cool outdoor pop festivals," writes Ben Ratliff, "which look increasingly alike in their vision of a codified, consensual, safe and purchasable bohemia." Mr. Ratliff points out that, no matter how invested you are in a specific artist or a subculture prominent at one of these festivals, there are better-sounding, more comfortable and more intimate ways to experience them.
For me, that connection between artist and audience was much more potent at smaller festivals like Hudson's Basilica Soundscape, or even the Village Voice's annual 4 Knots. We continue to support live music and festivals when they're organized by music fans first, because a refreshingly powerful, curated narrative unfolds between acts and events, a true experience that no Ford-sponsored Facebook post can replicate.
This year, Goldenvoice's Panorama attempts to take some of that back—they're calling each of the fest's three nights a different "story," seemingly less focused on packing each day with artists (which Randall's Island's other major festival, Gov Ball, is guilty of). We'll be all ears. If two of Panorama's headliners, Kendrick Lamar and Arcade Fire, don't announce several other major festival dates this summer, too, Panorama will retain some of its potency off of line-up alone. But as Mr. Ratliff notes—"Want to see LCD Soundsystem? You can catch them at Coachella, Bonnaroo, Panorama and Way Home. Major Lazer? Coachella, Sasquatch, Firefly and Panorama. ASAP Rocky? Coachella, Firefly and Panorama. Gary Clark Jr.? Coachella, New Orleans Jazzfest, Governor's Ball and Way Home. Don't let us bring you down."
Like a photobooth, a plumbing manufacturer, a software giant or an automotive company, the modern promoter sees festival-goers that are readily available for new experiences.
When we spoke again, Chris Sampson reminded me of Superfly's dogmatically enforced set of "core values," "don't quit your daydream" among them, and said the company uses metrics, data and tech to foster that understanding. Bonnaroo and other major festivals like it are successful, he said because they create, market and sell the importance of a curated community.
"I think of us as a society, everything is moving into the physical," he said. "People want to be together in a community, be it a dinner with you and your close friends, or at a festival with 90,000 people."
But how did Sampson reconcile two seemingly conflicting ideologies—that festival-goers want to be physically be a part of something AND that they are all connected digitally, mobile and plugged in.
"You use digital the right way to enhance those physical opportunities," he said. "From a content perspective, everyone wants to share where they're at." Like a photo-booth, a plumbing manufacturer, a software giant or an automotive company, the modern promoter sees festival-goers that are readily available for new experiences. Their audiences want to be there, to be present, but at the same time need to constantly interact with those not in attendance and let them know what they missed.
Which came first, the resources or the jam? The sharing foot or the shareable footprint? Sampson legitimately believed that the RFID wristbands weren't nearly as Orwellian as they seemed, because while advertising and sponsorships are coercive, experiences benefit festival-goers and promoters alike.
"It's integrated in a way that provides real value to the festival-goer," said Sampson, "and it's integrated in a way that provides real value back to the brand. The festival-goer uses the product or platform of the brand for their benefit, to enhance the brand and the experience."
Follow Justin on Twitter @joffaloff