On Wednesday afternoon, women (and some lucky men) gathered to honor the nominees at The Power of Women to Make a Difference Luncheon at Cipriani 42nd Street in support of the United Way of New York City Women's Leadership Council. After a VIP reception, the event-goers heard from ABC Nightline co-anchor and host, Juju Chang, who wore a peach Max Mara wraparound dress while sipping champagne and sharing women's empowerment stories.
Ms. Chang discussed the taboo of talking about money with female friends, describing it as "too embarrassing or too boring." Ms. Chang added, "Our financial portfolio was way too taboo to discuss—it was easier to talk about our sex lives."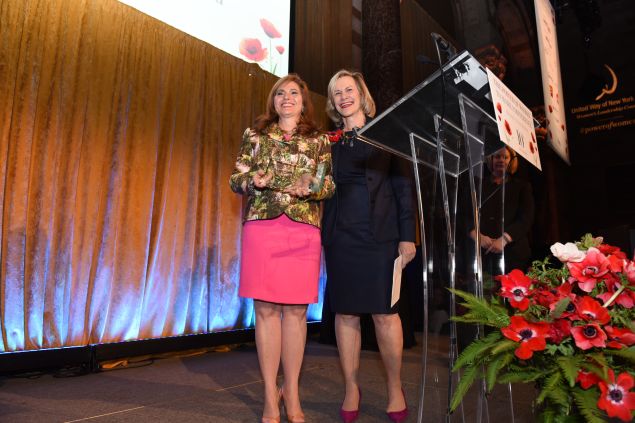 The luncheon featured the "Power of the Purse" auction, with handbags from Givenchy, Gucci, Michael Kors, Max Mara and Chloé, which are still up for grabs online. There's  no need to regret a purse purchase, because 100 percent of proceeds from the auction go to ReadNYC, a campaign to improve educational opportunities for low-income communities in New York City. ReadNYC helps young students read on grade level in the most challenged neighborhoods of concentrated poverty.
Each purse is paired with an item or experience, making it much more than just a basic accessory. One has a champagne tasting at Champagne Laurent-Perrier in Tours-sur-Marne, France and another bag comes with a Max Mara coat, making the auction more than worth it for both your closet and your commitment to giving back.
Max Mara, the event's premier sponsor, outfitted presenters in timeless, feminine looks. "As a brand committed to the celebration and empowerment of women, it is especially meaningful to partner with United Way of New York City's Women's Leadership Council, as it is a platform that inspires and motivates women to truly make a difference within the community," said Maria Giulia Maramotti, US Retail Director and granddaughter of founder Max Mara.
Sheena Wright, the President and CEO of United Way of New York, shared a personal story about growing up in the Bronx with a single mother who encouraged her and her sister to pursue their dreams. Now, she works closely with ReadNYC. "If you can't learn to read by third grade you can't read to learn," Ms. Wright explained to the sold out crowd.
With lots of applause for the empowered women in the audience and a focus on networking, the event was a success, raising almost one million dollars throughout lunch. With a glamorous purse auction still going on and a cause that desperately needs attention, the United Way is making a tangible difference.