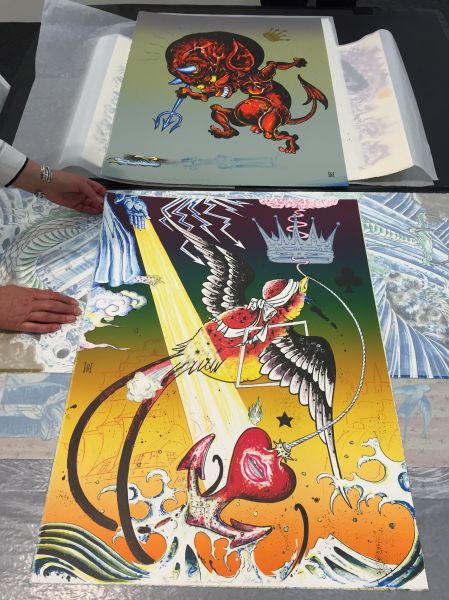 Ask most people who they think Don Ed Hardy is, and a common response may be, "He's the guy that makes those awful T-shirts, right?" They're not wrong. Mr. Hardy is well known—for better or worse—for his apparel line, but the American artist's legacy goes much deeper. In fact, he's a bonafide legend among tattooers and tattoo enthusiasts and a prolific artist whose work is widely coveted.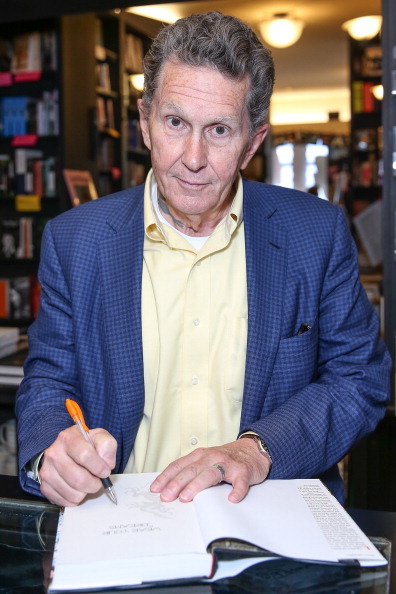 At the Art on Paper fair, which ran March 3-6 at Pier 36 in Manhattan, we were pleasantly surprised to find prints by Mr. Hardy on view with works by art stars such as Grayson Perry, Anish Kapoor and Ed Ruscha.
Print studio Shark's Ink from Lyons, Colorado has worked with Mr. Hardy to make and sell his artwork since 1995, and brought a series of new prints to the fair he completed during a residency this past year.
What most people don't know, explained Shark's Ink founder Bud Shark, is that the tattoos came first, the T-shirts later, and art has been a constant.
During a packed talk given by Mr. Hardy at Kings Avenue tattoo shop on the Bowery one sweltering day last May (which we were lucky enough to snag a last minute ticket to attend) Mr. Hardy recalled his early beginnings: he studied printmaking and turned down a graduate fellowship at Yale to pursue tattooing in California in the '60s. He was the first Westerner to travel to Japan to study traditional techniques with master tattooers in the '70s, and became a pioneer in the industry for his ambitious custom designs, which melded Asian influence with popular Americana.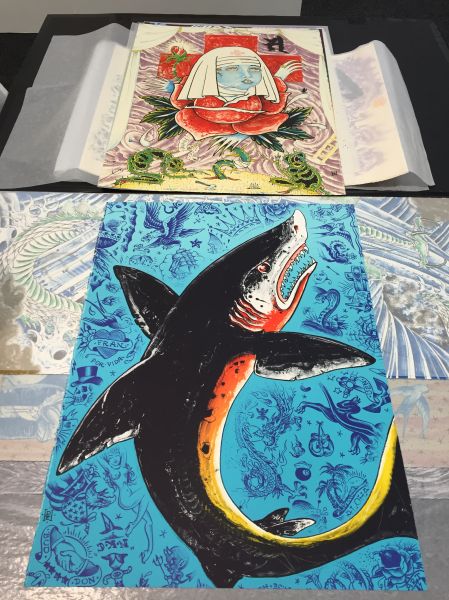 Renowned tattoo artists from across the country traveled to New York for the talk, lined up around the block to get in and jumped at the chance to show off their own ink to the master.
And now, here in New York, is Mr. Hardy's visionary imagery is for sale at an art fair. Mr. Hardy's prints are priced between $1,000 and $4,500—not far from the price tag of one of his larger tattoos, though the art and tattoo worlds only rarely crossover. (See artist and celebrity tattooer Scott Campbell's project at Milk Studios, or the Philadelphia Museum of Art's invitation for local tattoo artists to create designs based on works from the museum's collections for some of the rare examples.) However, when it comes to the basic philosophies behind collecting tattoos and collecting art, Mr. Shark agrees they aren't dissimilar.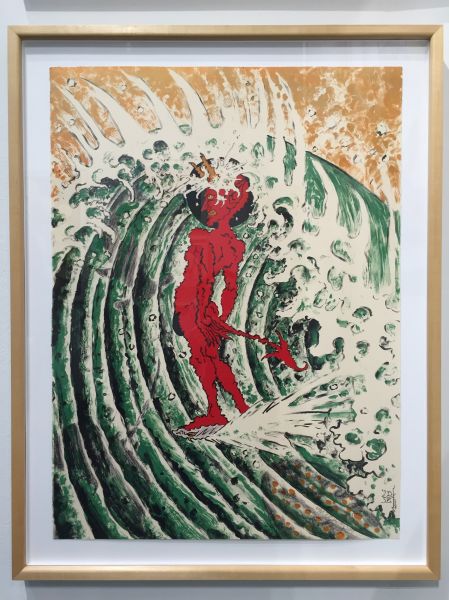 On paper, the strokes of Mr. Hardy's steady hand shine through metallic ink printed on delicate handmade paper from Mexico and China. He elaborates on his most iconic tattoos designs, with richer colors and more space than would be possible on the human body. It's easy to see connections to his body art, but without the constraints of ink on skin, he thrives.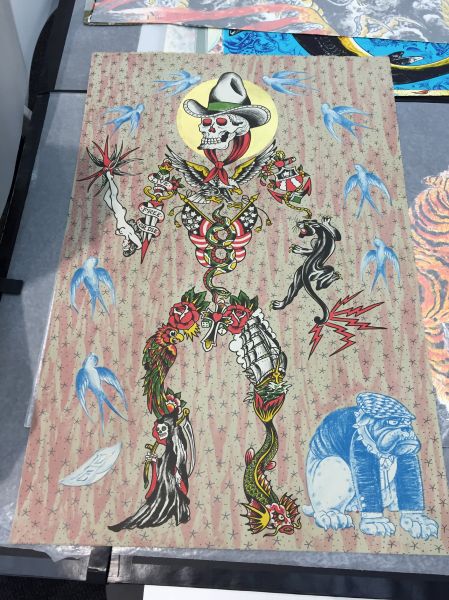 In an early work, titled Nurse Mercy (1995), he takes a popular WWII-era design, The Rose of No Man's Land, and infuses it with Indian and Japanese spiritual symbols, colored with loosely applied red ink stains, and finished with a rough application of purple waves in the background.
Mr. Shark, a master printer, and his wife Barbara, invite artists to complete residencies each year at their print studio, and they've worked with well known artists such as Laurie Anderson, Peter Saul and Red Grooms.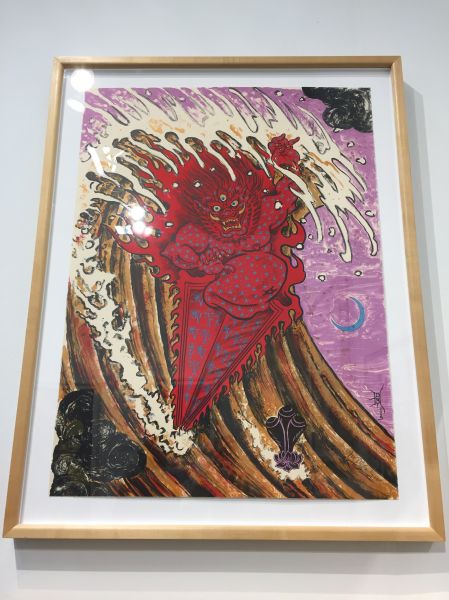 Mr. Shark is far from a tattoo enthusiast, says his wife Barbara. He never had interest in tattoos, until they began working with Mr. Hardy. Now, Mr. Shark has two: his namesake shark on his right shoulder and bicep, which is also the logo for his studio, and ornate dragon on his left—both courtesy of Don Ed, as he's best known among in tattoo circles.
"Did he have a soft hand?" we asked Mr. Shark. "Well, he works fast," he replied.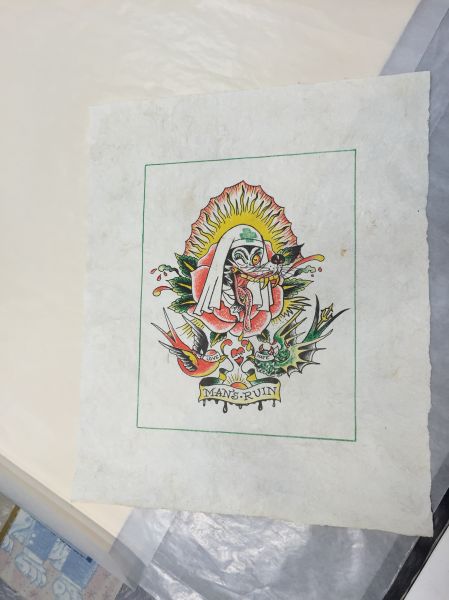 The same can be said for Mr. Hardy's pace in the studio. As the dealers flipped through a portfolio of Mr. Hardy's prints, Mr. Shark explained that the artist created many of them during his most recent residency, which lasted only a week.
Over the years, his work has mostly been collected by people in the tattoo community, but more and more his prints are becoming sought after by seasoned art collectors. Ms. Shark told us on opening night collectors were buying and business was great.
While the fair is a rare opportunity to find his handiwork outside of a tattoo shop, now that he's retired from tattooing, perhaps the art world is finally ready to embrace him.