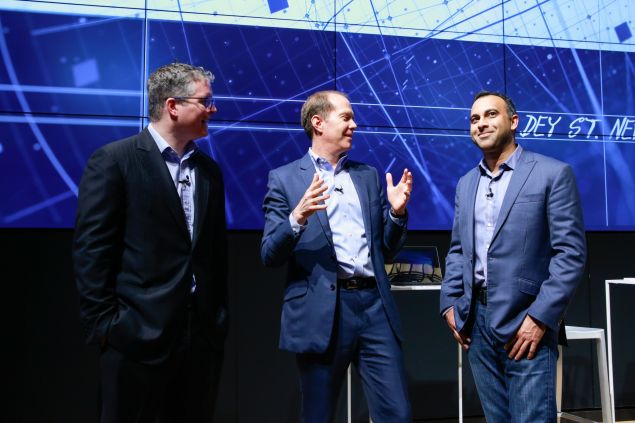 Earlier today, executives from Samsung, Intel and Microsoft gathered at Samsung's New York office to unveil a new two-in-one device that just happens to be the brainchild of all three of the leading tech giants. The new Galaxy TabPro S has the convenience and mobility of a full-sized tablet with the power and functionality of a laptop. It's not the first device of its kind, but it may be the best.
"This today, I believe is really a hallmark day in showing what we can do when we come together and collaborate," said Navin Shenoy, corporate VP for Intel. "I think there's never been a better time to buy a new computer."
The collaboration has fared well for the new Samsung device, which is available at major retailers for $899 beginning tomorrow. It runs Windows 10—which is 80 percent faster than Windows 8—and features an Intel Core m3 processor as well as a full-size ergonomic keyboard with a trackpad. It's a tablet, yes, but you can run programs like Photoshop on it with ease. In comparing it to the standard laptops most people are still using, Mr. Shenoy said it has 30 times the graphics, triple the battery life and less than half the weight.
"I dare you to pick this up and see how light this is," he said. (I picked it up. It was very light—1.53 pounds, to be exact. And it's only .25 inches thick).
The device will run for 10.5 hours on a single charge and also features Adaptive Fast-Charging, a technology reserved for newer phones and never seen on a tablet—until now. A 30-minute charge gives the battery 2.4 hours of life, and a 60 minute charge gives it 4.9 hours of life.
The other notable feature is Samsung Flow, which allows Samsung phone users with the Galaxy 6S or later to connect the two devices with one touch to the fingerprint reader. Once integrated, you can receive and interact with every phone notification on your TabPro S, including messages from third-party messenger apps like WhatsApp. The integration also allows your phone to automatically create a WiFi hotspot for the tablet when no WiFi is in range. So rather than filling out all of the information to create the hotspot on your phone and then manually connecting on the tablet, it's created for you instantly and all you do is select "use."
"We're taking 10 steps and making it a one-step job,"  another presenter said.
Gary Riding, senior vice president and general manager of mobile computing at Samsung, said 600 million people are still using PCs that weigh over five pounds, are more than one inch thick and have only a three-hour battery life. The shift to notebooks and two-in-ones, however, is speeding up now that 40 percent of people consider a tablet as an alternative.
Mr. Shenoy echoed: "It's fueled by consumers buying out of want, not need. We hear they're buying a two-in-one 12 months faster than they would buy a new PC."