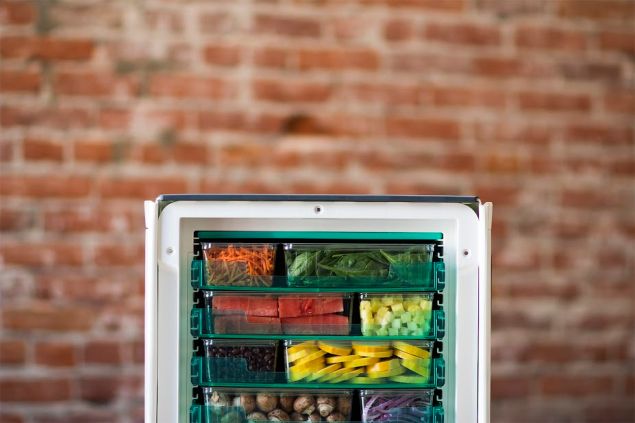 Companies like Blue Apron (APRN) and Hello Fresh that mail you pre-portioned ingredients so you can whip up sophisticated recipes yourself are the hottest thing in food delivery right now. We tried six of these startups and determined that while one is clearly the best in terms of the food, they are all pretty much the same.
One new recipe delivery company, however, is distinguishing itself from the competition in a unique way. While all of the others send the ingredients and recipe cards in traditional cardboard boxes with insulation and ice packs, a new California-based company called FreshRealm ships everything in what is basically a wireless, reusable mini fridge they're calling The Vessel. The service just launched nationwide.
"We recognized that the cold chain needs to be a very big priority," Michael Lippold, founder and CEO, told the Observer. "We figured out how to maintain The Vessel's temperature at 32.5 to 41 degrees at all times, even when the outside temperature is very high, very low or anything in between."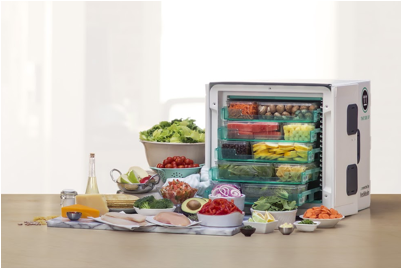 A hi-tech ice box called "The Vessel," all for transporting some carrots and onions? This may seem like a bit much, but it actually solves some of the biggest problems plaguing these types of companies. Firstly, anyone who has tried any of these services knows that the amount of packaging is ridiculous. After my experiment trying six of them, I had approximately 40 ice packs in my apartment, not to mention the endless boxes, plastic wrap, packing peanuts and insulation. The Vessel is completely reusable, so after you unload your food, you simply have a mail carrier pick it up. There is no waste. Additionally, FreshRealm claims their vessel keeps the food fresher longer. As I discovered through an unfortunate instance involving rotten food, this is a problem for the others.
There are a few other differences as well. For example, FreshRealm delivers the ingredients pre-cut, so cooking them is really the only thing you have to do. Also, it's not a subscription service. Rather, you just place an order whenever you want. The Vessel does lead to some stipulations, however—you need to choose enough recipes to fill it 60 percent of the way to place an order. Customers who fill their Vessel to the 90 percent mark get $10 off shipping.
For their recipes, FreshRealm turned to trusted tastemakers, including institutions like Real Simple and popular bloggers like MOMables and The Fresh 20. New Tastemakers are announced each month, creating an ever evolving library of recipes from which to choose.