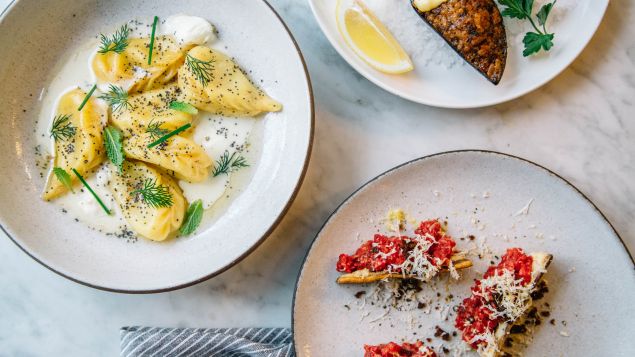 Enter "NYC speakeasy" in Google, and nearly half a million hits are thrown back at you. At this point, who hasn't ducked behind a velvet curtain at Employees Only (or slipped through the phone booth in Crif Dogs), ordered a mediocre cocktail at an overpacked bar and felt totally underwhelmed?
But have you ever heard of a reverse speakeasy? If there were a dictionary definition for that, it would read something like: "a restaurant hidden within an unsuspecting bar." And that's exactly what Dinnertable is. You won't find any signs denoting it's existence; either you know about its tasty potato pecorino dumplings, located behind a secret door in the Garret East, or you don't.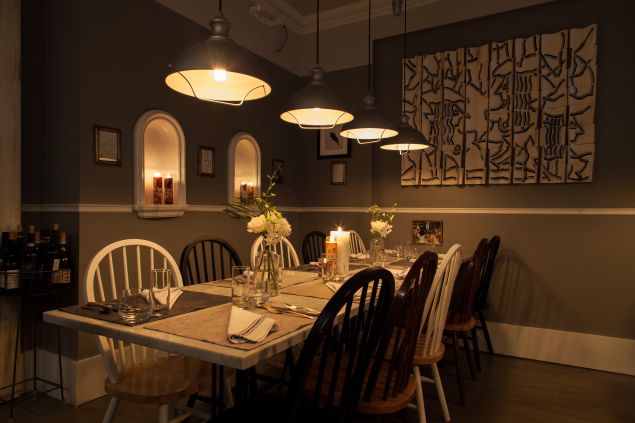 You will have to elbow through slightly inebriated NYU students and tipsy Tinder dates lined up at the bar to arrive at your destination, but it's well worth the short booze-soaked trip. With a simple ring of the doorbell, a big wooden door swings open to reveal a dining space. Featuring one communal table in the middle, two double-occupancy tables against the wall and just a handful of stools that overlook the kitchen, this 20-seat space is certainly deserving of the adjective cozy. With maximum party sizes topping out at four people, this spot, run by the Den Hospitality group, is one where you feel comfortable interrupting the stranger dining next to you and suggest that they try the dessert, too.
The open kitchen is helmed by Scott Tacinelli and Angie Rito, a husband and wife duo who were most recently installed as executive chef and chef de cuisine, respectively, at Quality Italian. At Dinnertable, they built upon their Italian backgrounds and current roots in New York to serve up a menu composed of mostly tiny bites, with a few heartier dishes for good measure. For example, they named the braised veal saltimbocca after Chinatown's Doyer Street.
"We are constantly inspired by dining experiences in NYC, from noodles in Chinatown to snacks from our local bodega. We try to make food that is optimally delicious using ingredients that we ourselves like to eat, with a consistent undertone of our love for Italian cuisine and memories of our grandparents' cooking," they wrote to the Observer via email.
The lasagna bolo for two would definitely qualify as one of those heartier dishes, not to mention it aligns well with the Italian-American theme and the family-style eatery. For those New Yorkers who prefer a multi-faceted meal, I would recommend ordering many of the smaller dishes. Like the dumplings, made with potato and pecorino and dusted with poppy seeds, which are not to be missed.
"We first saw these dumplings on a trip to Sardinia and thought they were beautiful. We wanted to upgrade the traditional way the Italians prepare them, filled with potato, served in tomato sauce. Since we love pierogis and sour cream, we thought that flavor profile would work," the chefs explained. I personally found them to be reminiscent of an extremely tasty bagel topped with juicy, herbed cream cheese. It sounds weird, but give the dish one bite and you'll see what I mean.
Other standouts included the pretzel, which was a garlicky update on the classic street food, served alongside a healthy portion of homemade cheese dip. The scallop crudo is worth a try as well. The fresh seafood was served with a touch of uni and some crunch from chili breadcrumbs.
As far as drinks go, the options are limited and you cannot order specialty cocktails from the Garret East, although it's located just a few steps away. Regardless, the small selection is a good thing, as the trio of cocktails on the menu are finely tailored. The Boss, a sweet take on a white Negroni is made with Portobello Road Gin and features apricot and peach notes, thanks to a dash of Dimmi. The wine list is composed of reds and wines from small, rustic Italian producers and the selection was handpicked by beverage director Grant Wheeler. If you're lucky, he might even let you sample a glass from his personal collection.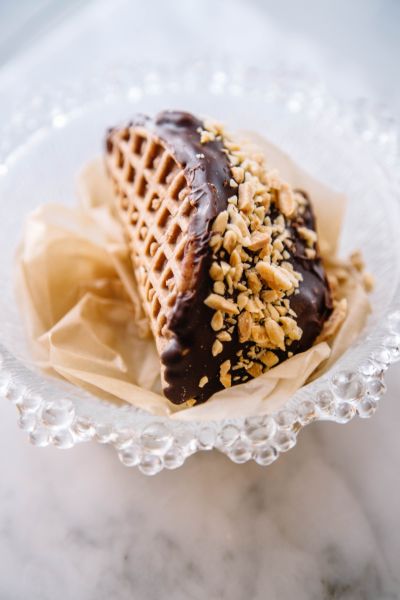 Finally, eating dessert was like returning to childhood. The flaky toaster strudel with fresh icing was a necessary update on the frozen favorite and the chocolate taco offered a double dose of chocolate from the filling and exterior shell, far from the skimpy version ordered from an ice cream truck. If the chefs were looking to achieve nostalgia with these final touches, they definitely succeeded.