Whether you're searching for the perfect lunch spot that doesn't offer sad salads, or need a girls' night out hotspot that actually has delicious food, The Infatuation has you covered. The site offers "restaurant reviews for the people," by the people, and was started by two former music industry executives. The site is broken down into neighborhoods and "perfect for" sections, including "celebrity sightings," "dinner with the parents," "first/early in the game dates," "drunk hook ups" and "impressing out of towners."
There are hyper-specific guides to eating everything everywhere, in metropolitan areas such as New York, Los Angeles, Austin, Denver, Chicago and more. Meaning, they always have the answer whether you're searching for dumpling maps or restaurants for hosting the always stressful birthday dinner. Plus, their Instagram account is painfully mouthwatering, with a signature hashtag (#EEEEEATS), that's used 10,000 times a day to highlight everything from mega milkshakes to the best slices in the city (they even have a separate account, @pizza, for the finest carbs).
Not only do they provide realistic and hysterical suggestions, but they also have a phone number you can text for personalized recommendations. As New Yorkers, we've all been in need of finding a restaurant hidden in the back of a bar, to impress your friends from out of town. There are approximately 100 places we want to try, but when it comes time to decide, we sit struggling for 30+ minutes, checking Yelp reviews and arguing with friends about which spot is right. Then, if a restaurant is a disappointment, it feels like an enormous waste of time, since New York is packed with so many stellar choices.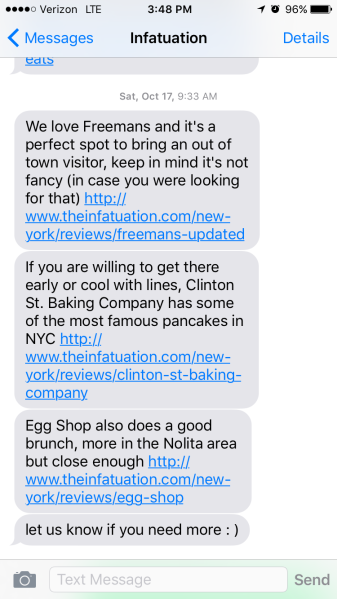 So, next time you're in a group text, trying to figure out a spot that's halfway between everyone's apartments and has ridiculously delicious cocktails, food that's fantastic and no insane wait, shoot Infatuation's Text Rex a quick message. They get back to you quickly with suggestions based on exactly what you asked for. Some personal favorites have been Williamsburg hot spot Xixa for vegetarian-friendly Mexican with creative cocktails and pea guacamole, Brooklyn Winery for happy hour small plates, El Rey in the Lower East Side for Instagram-worthy avocado toast, and Toloache for pre-theatre food that's fast and actually tasty (try the truffle quesadilla). Access to the number (there's currently a waiting list) is like having a super hip, but still approachable, food critic friend who's available for advice at a moment's notice.
As a fan of Text Rex (I may text it for advice more often than I send my actual friends emojis) I wanted to find out who (or what) was on the other end of that cellphone. The Observer spoke with The Infatuation founder Chris Stang to unravel the mystery. The Colorado native moved to New York to work in marketing at Atlantic Records, and he now provides lol-worthy reviews of local hot spots and an Ask Jeeves-esque text suggestions.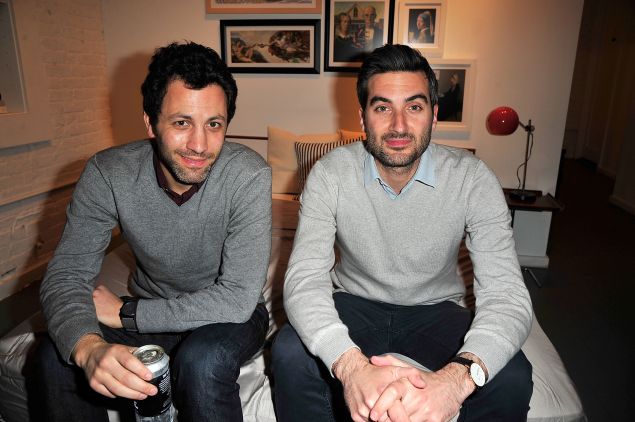 Let's clear the air: which one of you am I talking to when I text the Infatuation? Text Rex is a human-to-human interaction, with the help of some technology so that we can handle a large amount of simultaneous requests. Every time a user texts Rex, he or she is talking to another person. We feel very strongly that the human element is what makes it effective, useful, and actually fun to use. Robots aren't fun, and they definitely don't know where to eat.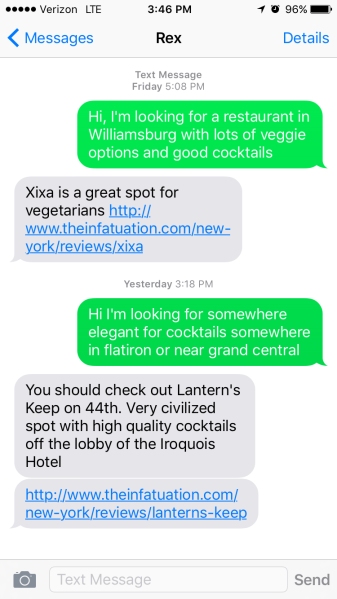 How detailed should someone be with their request? Location is a very important thing to include in a request, just so we know where to start looking. Who you are going to be eating with is also a very important detail, as that's likely to be the biggest factor that influences what kind of place we send you to. Dinner for a third date and dinner with your boss are two very different situations. Unless…actually, never mind.
Can a texter ever be too detailed? The more specific the requests are, the better we can be at coming up with a excellent recommendation; as long as it's not too specific. For instance, we probably aren't going to be able to find you a place that serves an excellent gluten-free vegan pecan pie within three blocks of Radio City Music Hall. Because it probably doesn't exist.
Does Text Rex keep track of past suggestions? Yes, we know what we've recommended to you in the past and when we did so, mostly so that we don't end up sending you to the same places over and over again.
Should people tell Text Rex if they don't like the choices they're receiving? It always helps when someone tells us why we aren't hitting the nail on the head with the first few recommendations. Are they too expensive? Too far away? Sort of scary because the menu has words you've never seen before? The more feedback we get, the more likely we are to find the perfect place for you.