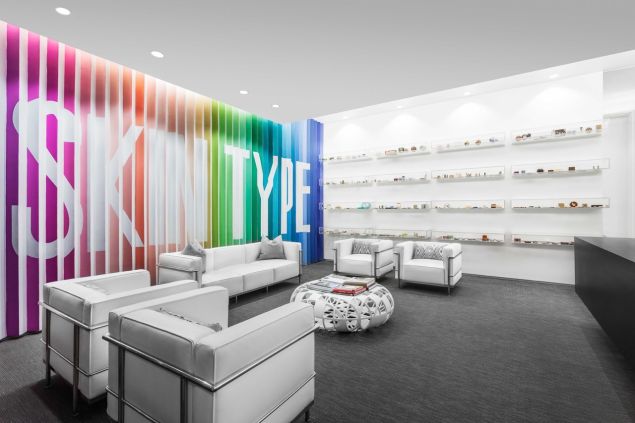 The word "office" is a misnomer when referring to Dr. Leslie Baumann's Miami-based headquarters. It's a minimalist's fevered dream—palatial, fashionably austere, grand in scope. Toto, we definitely aren't in your typical medical office, much less Kansas, anymore.
Walking past the gurgling fountain and shady palms holding court in the building's lobby, it's easy to fancy yourself embarking on a day-long retreat at a posh beachside spa.
And that's no mistake. Dr. Baumann, a former professor of dermatology at the University of Miami who's frequently tapped to research and test experimental skin and cosmetic treatments for the FDA, is just as devoted to the aesthetic of her practice as she is to the one on her patient's skin. Designed by a local-to-Miami firm, Baumann Cosmetic and Research Institute has garnered its fair share of awards from the American Institute of Architects for its interior design.
But it's what happens inside that separates Dr. Baumann from your local derm. Her Skin Type Solutions is something akin to a Myers Briggs test for the skin. Patients are asked to answer a series of extensive questions pertaining to lifestyle habits, skin sensitivity, pigmentation and visible wrinkles and are then "diagnosed" with a skin type. Not content with sticking to the traditional oily, dry, combination labels, there are 16 skin types comprised of eight categories: dry, oily, resistant, sensitive, pigmented, non-pigmented, wrinkle prone and tight. For example, someone diagnosed as an OSPW exhibits oily, sensitive, pigmented and wrinkle prone skin.
After taking the test, patients are led into a room where a skin analyzer photographs their face in somewhat shocking detail. Sunspots sitting various layers below the skin appear in striking clarity as do open pores and wrinkles. It isn't quite for the squeamish—or those coming straight from lunch. And the idea of all those spots rising to the surface in coming years is enough to inspire a rush to the 401K for whatever treatment lies ahead.
But cooler heads prevail—specifically Dr. Baumann's. After a grounded discussion about the results of both the skin type test and the machine's photographic analysis, your prescription arrives. And lest you think this is an opportunity for Dr. Baumann to hawk a personal line of skin care products, the doctor doesn't have any designs on that area of business, preferring to focus on integrating the patient's current regime with a products pulled from a range of brands that she's personally analyzed and tested.
Now, enter the proverbial guinea pig: Me. After being diagnosed as a DSPW (dry, sensitive, pigmented and wrinkle-prone—yikes), Dr. Baumann reviewed my current skin care routine and, surprisingly, gave it a thumbs up. But to really drill down on some of the redness and dryness she was still seeing, she added argan oil and Zerafite's soothing and calming moisturizer to my product list. I was then given a detailed routine to be administered twice a day.
Almost a month in, the results are evident—my pores are tighter and the redness that seemed to always plague my face had faded. And sure, maybe I'm projecting some of the success I envisioned/really wanted onto my face, but when two different skin aestheticians pulled me aside to compliment my complexion and ask what I'm doing with my routine, well—I couldn't help but feel a bit of confirmation.
And it seems like Dr. Baumann may be onto something. Dermatologists around the country have adopted The Skin Type Solutions, making the process accessible to those who can't readily book a flight to Miami's tropical clime.
Great excuse for an impromptu mojito-soaked vacation, though.