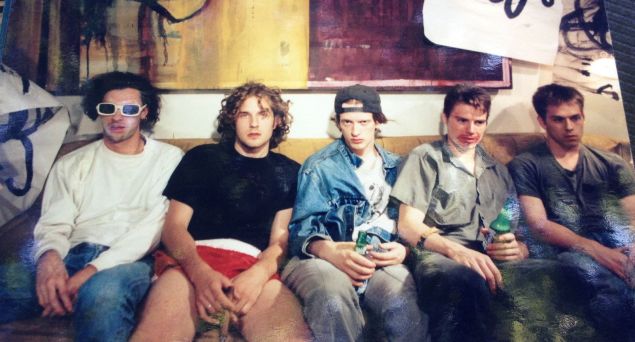 Rockie Brockway has a shit-eating grin stretching from ear to ear. The guitarist and co-founder of craw, a super-unknown, über-left-field math-inspired metal crew from Cleveland who spewed out four criminally ignored albums from 1993 through 2002, is reveling in the improbable return of the band he started with fellow ax-man David McClelland, bassist Chris Apanius, drummer Neil Chastain and vocalist Joe McTighe.
That thrust back into the indie limelight is due to the personal quest of music scribe, RollingStone.com senior editor and craw obsessive Hank Shteamer. Thanks to his lifelong fandom, these Cleveland staples have been plucked from the depths of obscurity.
"I don't think any of us really had this common goal to be a fucked up band that nobody would fuckin' listen to, which is absolutely where we ended up," Brockway says of their path. "If Hank wasn't around, this would not be a topic."
Brockway is alluding to the tirelessly pursued Kickstarter-aided campaign avowed craw super-fan Shteamer embarked on to raise the funds necessary to remaster and reissue the band's first three lost classics: 1993's self-titled debut, 1994's Lost Nation Road and 1997's Map, Monitor, Surge. In a just world, those records—a mind-blowing trifecta of meticulously crafted pummel and sonic heaviosity that fused metal, prog, free jazz, math-rock and post-hardcore and all captured by recorder-to-the-stars Steve Albini—should have been filed under '90s underground rock-defining touchstones on par with the Jesus Lizard, Don Caballero, Slint, Helmet and the Melvins' own seminal works.
[youtube https://www.youtube.com/watch?v=rYcZq5s1Sk4&w=560&h=315]
Instead, craw never attained the level of success those bands enjoyed, languishing in obscurity as their output fell out of print with the exception of 2002's final statement, Bodies for Strontium 90.
Enter Shteamer.
It was in Kansas City, where as a 16-year-old self-professed metal-head, Shteamer would discover this geeky gang of math-obsessed misfits who would blow his musical perspective to bits. "I discovered craw through a review in a fanzine called Feh. It was an underground metal fanzine and it was in the record stores in Kansas City," Shteamer recalls. "I remember I bought it [craw's debut] at a Best Buy the first time I went. I was immediately very intrigued by it then slowly as listened to it more, it eclipsed everything else that I was listening to. Within weeks, it made all the metal I was listening to seem silly."
'I remember I bought it [craw's debut] at a Best Buy the first time I went…it eclipsed everything else that I was listening to. Within weeks, it made all the metal I was listening to seem silly.'
Shteamer's love for craw manifested into trekking to the local club with his punk circle of friends nearly every time they hit K.C. on a tour jaunt. Ultimately, a bond was formed between the teenaged Shteamer and the 20-something elders in craw. Brockway remembers Shteamer, mostly because he and his friends were the only ones attending craw gigs.
"We were doing a tour in '95 and we blew through Kansas City and then we did Lawrence," Brockway explains. "It was Hank and a couple of his friends. They were underage so they couldn't get into the venue. At the first show we played, the stage was in the front window, basically. So there were three people in the venue there to see us but then there was Hank and his friends that couldn't get into the show. So we just turned around and played to the window [laughing]. The next couple of shows, we got them in by saying, 'Here's my guitar. Now you're a roadie. Come on in.' "
[bandcamp width=100% height=120 album=2642002888 size=large bgcol=ffffff linkcol=0687f5 tracklist=false artwork=small track=978921328]
Back at their home base in Cleveland, craw was ingrained in the underground rock scene, particularly at local music hub The Euclid Tavern where it ranked as craw central. "The 'house band' is overstating it, but on the other hand there would be a bunch of bands who would come through and there would not be many bands that would make sense in Cleveland for them to play with," says McClelland. "So we would end up playing with Sub Pop and Touch & Go bands, which was cool."
"Man, Cleveland was such a weird place and the '90s were just really something special," says Brockway. "The Euclid Tavern back in the day was the place to be. He even launched his own record label to document Cleveland's thriving hardcore and metal scene.
"There was a short period time where I ran a record label in Cleveland," he says. "We put out 10 releases including DuValby Bros., Disengage, Red Giant, Downsize Special, HiLo, Biblical Proof of UFOs and the first Keelhaul record. That was our group of people we hung out and played music with."
Notwithstanding that camaraderie, craw were still a bunch of outsiders not only dishing out the heaviest of mathy metal bloodshed but with the brains to back it up. Theirs was a disciplined and cerebral assault of the highest order and its members' scholarly cred was inflected in its aesthetic.
"So, we're a bunch of nerds and we went to a nerd school, right?" explains Brockway of craw's beginnings. "Myself, Chris and Dave—we first met at freshmen orientation at this university in Cleveland called Case Western Reserve. We all played some type of instruments and we were like, 'Fuck it. Let's see what happens.' The long story short was there's that university which is pretty well known for being a high-tech university, the Cleveland Institute of Art is on the same footprint and the same with the Cleveland Institute of Music."
"Within this whole triad of art and music and collegiate stuff, there was The Euclid Tavern where all the misfits from all of those three different places showed up to hang out and watch bands. And that was kind of the nucleus of where craw came together. The four of us, myself, Dave, Joe and Chris were at Case and Neil was from the Institute of Music. I really relate it to a 'Gödel, Escher, Bach'-type scenario—this book from a while ago. It dissects the kind of intersections of these different types of art and include math, art specifically and then music and how it all relates."
At the center of craw's maelstrom was McTighe, an unconventional-as-they-come frontman whose nerdy speak-scream made such an impression on Shteamer that it's still resonating with him to this day. "Craw has a whole other thing because they have a lead vocalist. There's a whole universe of intellectual content to craw's music. Basically his whole thing was he was a voracious reader of science, history and literature. He would read these covert action military journals and find some government cover-up then write a song. It was this weird role-playing stuff."
'I don't think any of us really had this common goal to be a fucked up band that nobody would fuckin' listen to, which is absolutely where we ended up.'
Twenty years after he first saw craw live, Shteamer is lounging on his couch in his living room in Park Slope still singing their praises and reminiscing about those life-changing shows.
"I saw craw seven times in the course of three years in Kansas City and Lawrence," he recalls. "There would be on average like six people at these shows and three of those would be me and my friends. There was nobody at these shows, just nobody, and they were the best shows I've ever seen—just flat out have not seen anything better since then. The most intense, tight, overwhelming…it's like when people talk about seeing Black Flag—this was that for me. The music was that good on record and better live."
The culmination of his passion for craw was finally crystallized when Shteamer partnered with the Brooklyn-based indie/avant-minded Northern Spy imprint and obliterated his Kickstarter goal in the process. Last December, Shteamer's dream was realized: 1993-1997, a lavish limited-edition box set containing three remastered double LPs and a 200-page book featuring an exhaustive oral history of new interviews conducted by the project architect himself, gig flyers, set lists, show history and other relics, was released.
McClelland is grateful, not just for the physical product, but because finally craw can stake its claim with a digital presence. Besides the Hydra Head-released Bodies for Strontium 90, streaming and downloading the first three records wasn't even an option. 1993-1997 has changed that.
"The thing that I didn't think was ever going to happen was this stuff to be on iTunes and Spotify," the guitarist explains. "If someone said, 'What do you do when you're not at work or with your family?' I would say, 'Well, I play guitar and I used to play with this band.' I would then name the band and it was met with deafening silence. Now I can say, 'Go to iTunes and you'll see us right there.' That's pretty nice."
Now craw is repaying their debt of gratitude to Shteamer's tireless work ethic with the ultimate reward: two epic reunion shows. They'll hit their hometown Cleveland with a homecoming show at The Grog Shop on March 11 before jetting to Brooklyn to play Greenpoint metal hub Saint Vitus on March 12. And they are going all-out. The reunion shows will feature members from all walks of craw's lifespan (except M.I.A. original drummer Lori Davis), as well as a set list that will encompass cuts culled from their career arc, including Bodies for Strontium 90.
"This guy has gone through a lot of fuckin' effort to put out music that somehow hit him and got him at the right time in the right space in his creative upbringing," says Brockway of Shteamer's near-impossible undertaking. "This is our obligation to Hank. We're gonna get all the members of the band together, get onstage and do a couple of shows. Fuckin' thanks, Hank."
Craw plays Saint Vitus Saturday, March 12. Tix available here