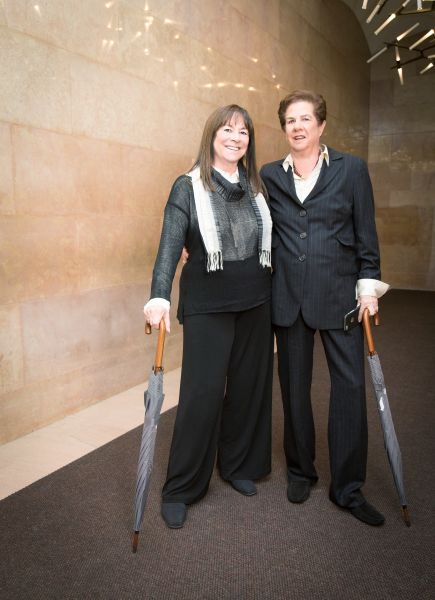 There was just no reason to compete with each other," insisted Warburg broker Ronnie Lane of her decision to partner up with Bonnie Chajet 40 years ago. "We had friends in common"—friends being, to this day, the most important trade secret of uptown brokers both fledgling and ferociously successful—"we both grew up in Manhattan, we both had social contacts and we were both looking for apartments at the time, so we knew the market."
"Of course, our best friends in the business were doormen. You really had to know all the doormen," Ms. Chajet said. "There were only exclusive listings back then—what you got, you got. You'd walk down Park or Fifth—'oh, hi Eddie, hi George,' they would tell you, 'oh so-and-so is getting divorced, so-and-so died last week.' "
"That sounds awful," protested Ms. Lane.
"Well that's how it was. We had to glad-hand them," said Ms. Chajet.
"We gave them Christmas gifts early in the year," said Ms. Lane with a little chortle.
We were sitting in the Madison Avenue offices of Warburg, which is situated within Manolo-shuffling distance of Upper East Side stronghold Barneys—and more significantly for Ms. Chajet and Ms. Lane, Fred's—though they maintained that the corner was barely even considered uptown when they were cutting their teeth in the mid-'70s. "480 Park was the furthest downtown anyone would go," Ms. Lane recalled. "My grandmother lived in the Village for a little while and we all thought she was crazy!"
"People didn't want to go below 59th Street," Ms. Chajet concurred, looking very much the uptown real estate doyenne in a pewter silk button-down with a lilac-colored blazer and gray slacks, her hair brushed into her modern, no-nonsense bouffant. Ms. Lane, meanwhile, adheres to a more bohemian varietal of Upper East Side chic—she wears her dark straight hair long with bangs and that day had on an Eileen Fisher-y ensemble involving a long gray scarf and a loose black pullover and pants. Both favor sensible footwear, in particular loafers, as hitting the pavement themselves, or what passes for pavement at this point in their career—the marble lobbies of co-ops up and down Park, Fifth and Central Park West or the dining rooms of Fred's and Amaranth, Caravaggio and Cesca—remains the central tenet of their business model.
"We don't believe in teams, we believe in partners," Ms. Chajet declared. "We've had phone calls from people who say they hired brokers and their assistants were always showing up."
Real estate partnerships, particularly between those who have not already aligned themselves—financially and otherwise—as husband and wife, have always been a unique configuration in an industry ruled over by ultra-competitive lone wolves, but perhaps never more so than now, when "teamwork" has become synonymous with glitzy star brokers presiding over small armies of subordinates.
"When I say we're the same people, I mean we're Bonnie and Ronnie. You get us, not someone else. We've worked together for 40 years," she continued.
"You can't put that in—they'll bury us!" Ms. Lane objected.
" 'Seasoned educated brokers?' " Ms. Chajet offered.
"Seasoned educated brokers would be very good."
***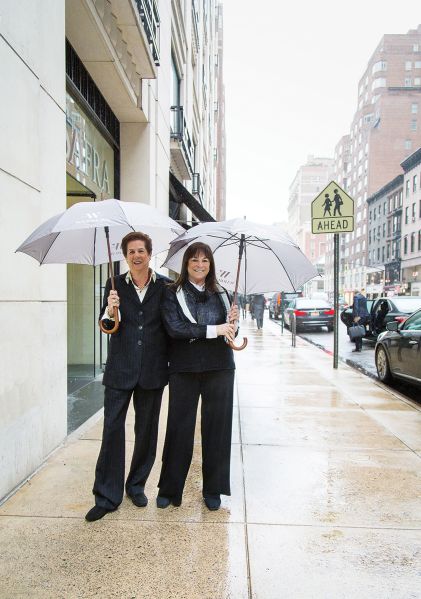 Ms. Chajet and Ms. Lane met in the 1970s through mutual friends in Atlantic Beach, Long Island, a coastal community about a half-hour drive from Manhattan (they now have houses around the corner from each other in the Hamptons). Playing tennis together, they found that they had a lot in common: both were raised in upper-middle-class families on the Upper West Side, both had one brother. Their childhoods were privileged, but not insanely so: big, comfortable apartments, private school—the Calhoun School for Girls for Ms. Chajet, Bentley for Ms. Lane—and like many other well-to-do families alarmed by the deteriorating conditions on the West Side during the 1960s, theirs had relocated to the East Side around the time they graduated from high school.
They got on so well they decided to organize a beach party together that first summer—"it was a big success"—remembers Ms. Lane, which explains what happened when she showed up late to tennis with Ms. Chajet one day. "She said she was sorry, but that she'd started working for Lansco, this commercial real estate firm, and was having a really hard time handling it with the kids," recalled Ms. Chajet. Hankering for a career as well, but with two young daughters of her own to take care of, Ms. Chajet offered to share the job with Ms. Lane. They'd work together, splitting commissions and covering for each other when school plays or sports interfered with showings.
The only problem was they kind of hated commercial real estate. "I thought, 'We can't be talking in square feet forever!' " Ms. Chajet cried. So they went to work for Sylvia Edwin, a residential broker. "That first year in the business, I think we each sold one apartment. Our husbands saw our tax returns and asked us what we were doing," said Ms. Lane.
Even in those days, there was a limited supply of good co-ops above 59th Street, sought after by people like Ms. Chajet and Ms. Lane, who to this day have never called anyplace but the Upper East and Upper West Sides home. (Ms. Chajet's first apartment was a $38,000 six-room on Park while Ms. Lane paid $35,000 for a six-room at 520 E. 86th Street.) By the mid-'80s, they'd attained enough prominence to catch the eye of Frederick Peters, who was then a manager at Albert B. Ashforth, a century-old firm that sold him its underperforming Manhattan branch in 1991, the same year that Ms. Chajet and Ms. Lane became two of the firm's seven partners, helping to transform Warburg into the prosperous white-shoe brokerage that it is today.
"We met for coffee and just really hit it off. I loved them from the moment I met them—I mean, you've met them, right? They're totally adorable," Mr. Peters enthused in a recent phone call. "Bonnie is probably the one of the two who is in her own subtle way out there pounding the pavement, but Ronnie has this very successful sort of easy going, 'yeah, if it works, it works. If it doesn't, it doesn't' attitude that I think people find very reassuring. She never makes it a crisis."
"They were people who had no trouble maintaining a wide social circle and knowing how to leverage it for business in a way that was never aggressive or offensive," he said. "They both figured out early on that you never do a hard sell, you do a persuasive sell."
And it doesn't hurt that they're killers: "The two of them have been at the top of the company, either in the No. 1 position or close to it, for the last 30 years," Mr. Peters added.
"They're very unusual in that they don't waste your time, they don't take you to see things you won't want, they really listen," raved their friend and client Pam Friedman, who first bought an apartment with them at 11 East 86th in 1977.
"When I married my late husband 26 years ago, he came with his own broker and it was a real bone of contention with me," she continued. "Only in New York would you come into a second marriage with your own broker. I mean, she was a lovely woman, but I'm used to Bonnie and Ronnie."
Ms. Friedman recalled that before she bought her current apartment, "I had this fantasy about living on the West Side. Bonnie took me to lots of apartments on the West Side, but nothing felt right. One day we were walking back through the park and she said, 'I want to take you to my favorite apartment,' which was four blocks from my apartment on the East Side. Well we walked in and she was absolutely right. I had this fantasy about moving to the West Side and changing our lives, but Bonnie was right." Not that Ms. Chajet has anything against the West Side. In fact, she now lives there herself, owing to her desire for a park-facing six, a near impossibility on the East Side, where the smaller apartments are almost always jammed into the back of the buildings.
Peter May, another longtime client who vacations with Ms. Chajet and her husband in Palm Beach, told me that the first time he worked with Ms. Chajet and Ms. Lane in the early-'80s, the seller had refused to pay commission at the closing.
"It was a real shock that this woman was not paying the commission and of course Bonnie was upset, but she handled it with aplomb," he said. "At a typical closing, the deal wouldn't have gotten closed, but Bonnie stood up and closed it. She ended up having to sue the woman and I'm not sure she ever got her commission, but she wanted to make sure that her client was happy, which made me feel extreme loyalty to her. We've done seven or eight transactions with them since then, including our children's apartments."
Indeed, among their many clients Ms. Chajet and Ms. Lane count not only repeat customers from the '70s and '80s, but their children, and sometimes grandchildren.
"They get passed along like a doctor," said Ms. Friedman.
***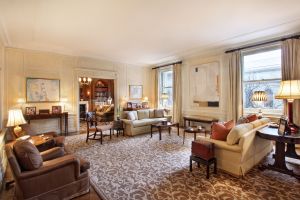 Ms. Chajet and Ms. Lane sit at back-to-back desks by a big window at the Madison Avenue headquarters, but like most good brokers, the bulk of their work happens outside the office. They start their days with a phone call around 8:30 a.m. to coordinate schedules and remain in near-constant contact throughout the day, via phone—they do a final check-in just after 11 p.m.—and in person; when they're out and about they often walk arm in arm.
"They talk like 30 times a day," said Lisa Chajet, Bonnie's daughter, who is also a broker at Warburg. "Basically, neither makes a move without calling the other."
They also eat dinner together several times a week, primarily neighborhood restaurants—"Nicola's, Parma, Pietro's, TBar, Altesi, Elio's," according to Ms. Lane.
"Better put some West Side places in there," interjected Ms. Chajet. "Like RedFarm. I want to act a little cool."
"And every year for our husband's birthdays, which are within two days of each other, we take them to La Grenouille for a fancy dinner," Ms. Lane added.
"Which they pay for!" exclaimed Ms. Chajet, noting that she'd introduced Ms. Lane to her second husband.
"She orchestrated the whole thing," Ms. Lane confirmed.
So is there anything they don't see eye to eye on?
"Just politics."
"Once we were having a fight in the office and Fred was getting really nervous until someone said, 'Oh, don't worry, it's not business. It's just politics,' " continued Ms. Chajet, who demurred when we asked what her affiliations were, though we did notice a framed photo of Hillary Clinton on her desk.
What made them so sure they could work together all those years ago?
"I guess it's like marriage. Sometimes people grow apart, sometimes they grow old together," Ms. Chajet concluded.
Besides teamwork, of course, their professional longevity also owes something to how much the market they mastered decades ago remains the same, with the possible exception of the dress code: Ms. Lane still shudders when she recalls dressing up for the board interview at 778 Park, where she and her husband bought an apartment in the early-'90s. Mr. Peters procured a pair of pearl earrings for her and insisted they go shopping for something suitably conservative: they settled on a white silk blouse with a jabot and a pleated black knee-length skirt.
"It was what you would wear if you were going to church or getting sued," complained Ms. Lane.
"They wanted to put a hat on her, too, but we vetoed it!" Ms. Chajet cackled.
"Those days you would never wear a pantsuit to an interview," Ms. Lane said.
As Ms. Chajet's daughter Lisa put it: "They know every old-time broker, they know every board, they know every building, who's going to get in, who's not, why they got in or why they didn't. It still exists up here."
In defiance of the current vogue for listings thick with Gaggenau-this and Smallbone of Devizes-that, they eschew brand-name-laden copy and excessive staging. "Branding doesn't sell apartments!" scoffed Ms. Chajet. "We do a lot of networking. Basically speaking, the co-op market is unchanged from when we started. They are who they are and they are resistant to change."
To wit, before Ms. Lane ordered an Uber to show us the $25.5 million listing the duo shares at 998 Fifth Avenue, she called to confirm that we wouldn't be interfering with the live-in staff's lunch. When we stepped out at East 81st Street, Ms. Lane pointed out the limestone detailing on the exterior of the building, which was designed by McKim, Mead & White, and Ms. Chajet expounded on the unusual width of the entertaining rooms, which look directly out onto Fifth Avenue and the Met.
"When you show this at night, you can see through the galleries. This kind of listing has been a privilege to represent," she noted, adding that it belonged to a good friend of hers whose husband had died recently. They'd purchased it 35 years earlier, when they'd first married.
"We started off with smaller listings when that's what our friends were buying and they became grander as time went on," she reflected. "Now we're representing people who are downsizing." We meandered through the bedrooms then, stepping into the closets—long, room-like affairs lined with Belgian loafers in black velvet and gift wrap from years gone by—through the coffered-ceiling gallery, past the uniformed maid, and into the palatial kitchen, which Ms. Chajet noted was "not the most modern of kitchens, but all up to date."
She picked up a box of See's Candies from the countertop flotsam of Post-It pads and twist-ties, giving it an appraising shake. "Nothing left," she said, catching Ms. Lane's disapproving look. "She knows I come."
"Bonnie does eat a lot out of these apartments," Ms. Lane chided.
"They know. She knows," Ms. Chajet countered. "One of these places had Hamptons peanuts, they were so delicious…"
"She took so much I had to replace them!"