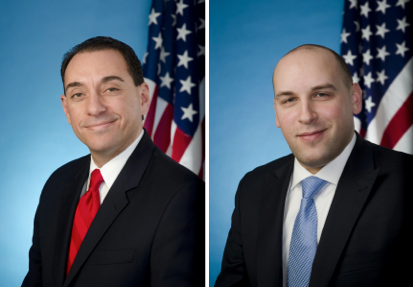 Bloomfield Mayor Michael Venezia announced his reelection campaign on Tuesday. Councilman Joseph Lopez also announced his candidacy for Bloomfield mayor. Now the two political foes face off in an effort to win the Democratic nomination in the June 7 primary.
"In less than three years our team has made many positive changes in Bloomfield that are saving taxpayers' money, keeping neighborhoods safe and making investments in our community's future," said Mayor Venezia in a statement. "We have accomplished many important things but there is much more to do and we know Bloomfield needs the kind of strong, independent leadership that we can provide."
Councilwoman Wartyna Davis, Councilman Carlos Pomares and candidate Ted Gamble are also part of Venezia's team. If Gamble is elected, he would fill Lopez's seat on the city council. In 2013, Venezia ran with Lopez on the ticket.
Lopez cited Venezia's failure to immediately call for the resignation of Councilman Elias Chalet after he was indicted for bribery as part of his reasoning for entering the race. While Venezia did, eventually, call for Chalet's resignation, the councilman still sits on the board.
"I have decided to throw my hat in the ring for mayor because I have a vision that I believe will make Bloomfield a better place to live and I am against this administration's consistent wasteful spending and the culture of corruption mayor Venezia has created," Lopez said in a statement. "And the Eli Chalet bribery indictment is not only a disgrace to the town, Mayor Venezia refused to publicly ask him to resign twice when I made the motions on January 4 and February 22. He has also created a culture of corruption in Town Hall by setting bad examples for the council and employees."
Lopez's feud the current administration goes deeper than the calls he made to Venezia to ask for Chalet's resignation. In January, Lopez was involved in an altercation after a city council meeting with Councilman Chalet's relative: Daniel Chalet. In February, Lopez blasted Venezia for an interview he had on the radio station Hot 97 where he said the Chalet's were on his "team."
"And before I continue I just want to remind everyone that Mayor Venezia is taking credit for all the development that's going on and that's fine but the reality is the development was set in motion by previous administrations," Lopez said. "He just happened to be the mayor when it came to fruition."
Now, Lopez said he plans to reshape the town's government as mayor. He plans to increase transparency, "eliminate wasteful spending," and look for grants and other alternate funding sources.
Lopez will be running three councilmembers on his ticket in an effort to replace the seat he will vacate, Davis' seat and Pomares' seat. Lopez is running with Kathy DeMarino, Jo Lewis and Yudi Sobharam.
Lopez's ticket is being backed by Municipal Chairman Pete Strumolo. That means that Venezia and his fellow incumbent councilmembers have been booted from the line.
"Bloomfield residents know that our team only has one agenda—working hard every day to make our community a better place to live and raise a family," said Mayor Venezia. "It's unfortunate that the local party boss has decided to place his own desire for power ahead of the best interests of the residents, but this will not stop us from continuing to represent our constituents and we are confident that our strong record will be recognized by the voters in June."
According to a letter from Strumolo to the Bloomfield Democratic Committee, Venezia's claims that he is being forced out because Strumolo wants "control of the town" could not be "further from the truth."
The letter read: "In 2013, when Michael Venezia lobbied the Bloomfield Democratic Committee for its endorsement, we supported him wholeheartedly because we believed that he would do what's right for the town. However, the record shows that Venezia has wasted tens of millions of taxpayer dollars, has created a culture in his administration that fosters corruption, and, as evidenced by his Hot 97 interview, has embraced the endorsement of both convicted felon Danny Chalet who admitted to scamming Home Depot out of $490,000 worth of merchandise in a 5 state robbery spree and Councilman Eli Chalet who was indicted on bribery, official misconduct and other charges."
Strumolo continued: "So, in addition to the waste of taxpayer dollars, the Democratic Committee cannot in good conscience endorse Venezia, Pomares and Davis because just like Mike Venezia was 'shocked' when Eli Chalet was arrested on bribery charges, we have no way of knowing if there will be more 'shocking' arrests in this administration. Joe Lopez seems to be the only council person looking out for the citizens by consistently asking questions about various issues whenever he feels something isn't right. And Venezia, Pomares and Davis consistently ignore Lopez' concerns and just follow whatever Mike wants them to do.
"The bottom line is, I have no desire to control the decisions the governing body make. But I do have the obligation as chairman to ensure that the candidates the Bloomfield Democratic Committee endorse are honest, diligent and make every decision with the citizens of Bloomfield in mind."
Because Bloomfield is one of the few primary elections up for debate this year and the fact that the town has been in constant turbulence since the indictment of Chalet, the Bloomfield Mayor and council race is likely to get significant attention. Venezia will be running for his second term as mayor.
Phil Swibinski, a spokesman for Venezia, issued the following statement in response: "Joe Lopez has made it clear that his entire campaign will be based on someone who is not on the ballot this year and an issue that has nothing to do with Mayor Venezia's administration or the day-to-day management of municipal government. Bloomfield residents are looking for a leader who can move their community forward, not people like Lopez and Strumolo who offer no solutions and are only interested in tearing others down in a desperate attempt for power. They know that Mayor Venezia is that leader and that is why he will be the winner on June 7."