The Met Breuer is the newest wing of the Metropolitan Museum of Art, located on Madison and 75th Street and named after the legendary master of modern architecture who designed the landmark building it occupies. It is a space dedicated to the art of the 20th and 21st centuries, and perhaps there are no two finer entities to represent this ethic as the Met Breuer opens its doors to the public for the first time on March 18 than visionary jazz pianist Vijay Iyer and the renowned Indian modern artist Nasreen Mohamedi (1937-1990).
Mr. Iyer's outstanding new duo album with avant-garde trumpet great Wadada Leo Smith, a cosmic rhythm with each stroke, was commissioned by the Met's Live Arts program to serve as the soundtrack of sorts for the exhibit. And with Smith on treated brass and Iyer on grand piano, Fender Rhodes and electronics, the pair has created a suite of improvised movements bookended by an original composition apiece (Iyer's own "Passages" at the top and Smith's "Marian Anderson" closing it out) that beautifully captures the atmosphere of Mohamedi's geometric line drawings.
Iyer is also curating a continuous series of performances inside the Toni and James Amie Gallery of the Met Breuer to coincide with the exhibit through the end of March, recruiting a vast array of prolific friends and associates in creative jazz to perform throughout the performance residency. Titled "Relation," this massive undertaking will run continually during museum hours and will feature sound installations created by Iyer himself with the help of multimedia artists Mendi + Keith Obadike, who lent their talents to a particular installation titled "Fit (The Battle of Jericho)", which will serve as an interlude between the live performances.
Joining Iyer in this non-stop flow of improvisation will be a mind-boggling list of who's who in the current New York jazz underground, including Rafiq Bhatia, Michelle Boulé, Matt Brewer, Teju Cole, Stephan Crump, Miranda Cuckson, Liberty Ellman, Amir ElSaffar, Patricia Franceschy, Marcus Gilmore, Graham Haynes, Okkyung Lee, Steve Lehman, Roopa Mahadevan, Rudresh Mahanthappa, Mat Maneri, Nitin Mitta, Adam O'Farrill, Elena Pinderhughes, Prasanna, Mark Shim, Jen Shyu, Wadada Leo Smith, Tyshawn Sorey, Tyshawn Sorey Trio, Becca Stevens, Anjna Swaminathan, Rajna Swaminathan, Craig Taborn and Mark Turner. The residency will cumulate in performances by the Iyer/Wadada duo performing a cosmic rhythm with each stroke amidst Mohamedi's artwork on the fifth-floor gallery on March 30 and March 31.
We spoke to Mr. Iyer the week "Relation" goes public to speak with him about this amazing third ECM album of his, the origins of his partnership with Wadada and arriving at this most treasured figure of international modern art whom he is celebrating.
[youtube https://www.youtube.com/watch?v=zLxVisyR0o4&w=560&h=315]
This record has a very nocturnal feel to it.
Perhaps, maybe in the sense that it has a more contemplative tone to it, but a lot of my music is nighttime music [laughs]. Every now and again we'll play during the day and it's a very strange feeling.
Was there any template for the nature of this collaboration with Wadada Leo Smith?
We built from our existing relationship, which has been a long time now. I was in his Golden Quartet for a while. And sometimes, in the course of those performances, it would break down to our duo and that sensibility emerged organically in that process. So we were mainly starting there, we really didn't have any other point of reference in terms of instrumentation. It's a pretty rare duo combination, the trumpet and the piano. It's not totally unheard of, but it's not very common as much as a duo album with piano and saxophone or bass.
When was the first time you heard Wadada as a fan?
It was sometime in the 1990s. I had heard about him because I was reading interviews with [renowned free-jazz composer] Anthony Braxton and he has nothing but the highest praise for this man. So I started seeking him out because I wanted to hear what he was talking about. Leo plays on some of Braxton's recordings in the '70s, particularly Creative Orchestra Music from 1976. He had some nice solo turns in that large ensemble. But the first time I heard Leo in the small group context was on an album by Frank Lowe called The Flam, which was released around the same time during that Loft era.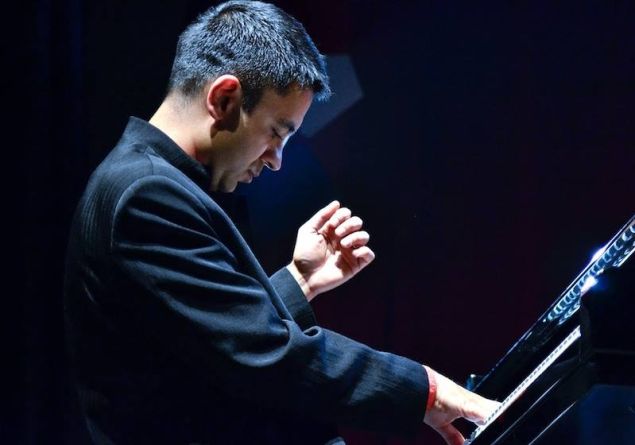 That was a great period for New York City jazz. Is Wadada on that Wildflowers collection Knitting Factory Records released in the late-'90s?
I believe he is, yes. It's a great compilation, that one. I remember his playing on that set and it was unexpected. I'm not saying he sounds like this, but I remember the first time I heard Thelonious Monk and trying to dig into what he was doing. It was totally mystifying to me. I knew it was music, but I didn't exactly know why [laughs]. It was at this fundamental level. He seemed to have a very different sense of how to put the basic elements together. That's what I thought about Monk, and that's how I felt about Wadada in that context.
As young musicians getting into jazz and creative music, we focus so much on technical stuff in a way that leads us along a more athletic way of making music [laughs]. And also there's a notion of virtuosity that's a little bit obvious, maybe. But with both Monk and Wadada, they challenge all these basic assumptions that you have about what music can be made of, especially in the role of silence within the playing and the whole intention behind it. It's sort of like there's a spiritual force behind it and sonic majesty, yet it's so spare and economical in its language. It's that combination of things that really challenge you and to rethink what you thought you knew.
How did you come into joining the Golden Quartet?
I first played with him in California in the '90s. We had one or two occasions to play together in larger ensemble contexts. I think it was like we were thrown together, you know? [Laughs] I certainly knew about him and had been following his work and so forth. And whenever he'd play in town, I'd go make a beeline at the chance to get to talk to him and stuff. So we kept in touch when I moved to New York in the late-'90s. And I remember when he did these live duo performances he did with Braxton at Tonic, which were recorded and released on Pi Recordings. I remember being at those concerts and talking to him then and when he first told me, "I want to play with you." [Laughs] And then a few years later he called and asked me to do a tour with The Golden Quartet, so I officially joined the group in 2005.
[youtube https://www.youtube.com/watch?v=A8CaG3BwPHI&w=560&h=315]
I saw a live clip of you playing with them in 2008 on YouTube.
Yeah, that is from the first gig that I did with them. We did a tour, and for some reason they always end up shooting the first concert of the tour and not the last. We were still learning how to play together. But still, it was a great tour and then we did many other things after that.
How did you come to discover the art of Nasreen Mohamedi?
Well, it came through this whole residency we're doing at the Met. They introduced me to her work, I hadn't known about it before. But they let me check out the exhibit at length as well as her diaries and articles written about her and a lot of images to immerse myself in.
What was your initial impression?
It was striking, immediately. There's something it does to you. A friend of mine who does a lot of meditation says that you can feel her art acting on his brain, the firings of the neurons or something. She was onto something very fundamental about perception, it seems like to me.
Are you a fan of her photography as well?
It's all related. The photographs were her own personal practice, they weren't meant to be exhibited as I understand it. But it seems, at least partly, that she drew inspiration from the forms she saw in the world around her. So a lot of the patterning you see in her work comes from sand on a seashore or lines in a parking lot the perspective of looking at a window.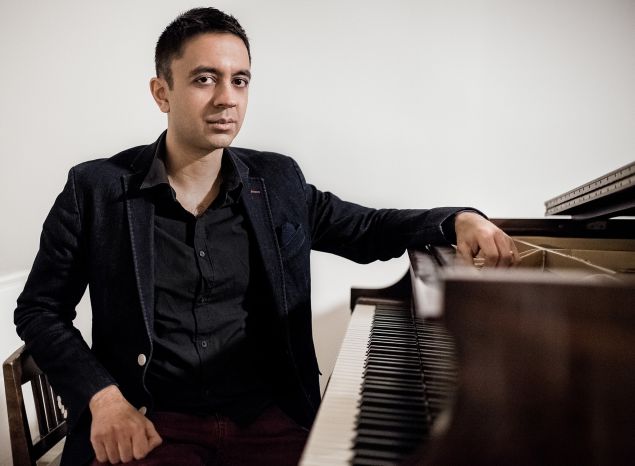 Where did the album's title come from?
All of the titles to the a cosmic rhythm with each stroke came from Nasreen Mohamedi's diaries; well they're not really diaries. She would write in spurts, so they are not very consistent. It wasn't like prose or paragraphs about what she did that day. It was more like these aphoristic, meditative phrases, which are about her own artistic process. So it was giving her an outlet to reflect on her own art when she was working, or maybe if she was away from the work, something that inspired her that she wanted to capture or remember. But it was more for her own artistic process, so it's all very fragmentary in a way, but it's really potent as well. Very condensed and mysterious phrases, like the title we chose for the album.
How did you go about putting together the impressive array of musicians you've tapped for this exhibition?
Well, it's New York, so there's no shortage of brilliant musicians [laughs]. There's a certain agenda maybe in the sense that this is a lot of stuff you typically don't see and hear at the Met. So when people walk into the museum and ask, "What are you doing here?" and I can tell them, "Well, I'm here to perform." [Laughs] You know that kind of thing, where this is a different community that is normally served at these mainstream institutions. I'm bringing my community in with me. As I said before, I'm taking over their takeover [laughs].
How is the sound there?
The only events that will take place on the fifth floor are the concerts with Wadada and myself at the end of the month. Everything else is going to be in a gallery on the ground floor. It's pretty small, it's very intimate. People are right on top of us, almost. It's holds about 60 or 70 people, depending. So it's kind of not that different from The Stone in terms of size and crowd capacity.
Were you a regular patron of the Met prior to this exhibition?
I wasn't that much until I had a kid. And my daughter is now 11 years old, so I take her a lot and she loves it.