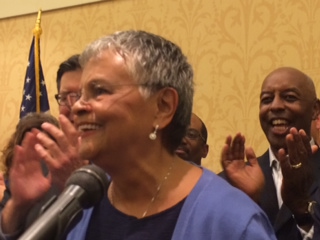 U.S. Rep. Bonnie Watson Coleman (D-12) and two congressional colleagues today announced the formation of the Congressional Caucus on Black Women and Girls, which they describe as "the first caucus devoted to public policy that eliminates the significant barriers and disparities experienced by Black women."
Congresswomen Robin Kelly (IL-02) and Yvette D. Clarke (NY-09) joined Watson Coleman in the effort, noting that among 430 registered congressional caucuses and member organizations, no group on Capitol Hill has sought to make Black women and girls a priority.
"From barriers in education, to a gender based pay gap that widens with race, to disparities in both diagnoses and outcomes for many diseases, our society forces Black women to clear many hurdles faced by no other group, and asks them to do it with little assistance," said Watson Coleman. "Black women deserve a voice in a policy making process that frequently minimizes, or altogether ignores the systemic challenges they face. This caucus will speak up for them."
"Black women and girls are disproportionately affected by myriad socioeconomic issues that diminish their quality of life and threaten the well-being of their families and communities," said Kelly.  "The Congressional Caucus on Black Women and Girls gives Black women a seat at the table for the crucial discussion on the policies that impact them while also providing a framework for creating opportunities and eliminating barriers to success for Black women."
"In many ways, 23.5 million Black women and girls are consistently left out of the national discourse on a variety of policies that will affect their lives," stated Rep. Clarke.  "This caucus will be purposed to ensure that the infrastructure of inclusion fully incorporates the varied and unique needs of Black women.  Our experiences must and will inform the direction we take as a nation and we can no longer afford to be excluded from important conversations.  I am proud to stand with my colleagues at the inception of this caucus to be a vehicle for change and look forward to the great work that we will do."
The Caucus was inspired by the #SheWoke Committee, a collective of seven national women leaders with a shared vision of advocacy, equity, and sisterhood.