FRIDAY, MARCH 25
Opening: "Omer Fast" at James Cohan
An Israeli artist and filmmaker, Omer Fast make his solo debut at this gallery with three new films that mix documentary and dramatic styles to tell stories about people involved in contemporary warfare. 5,000 Feet is the Best is about a drone operator who is haunted by six years of engagement with military and civilian targets in Afghanistan from an American base in suburban Nevada. Meanwhile, Continuity and Spring focus on a German soldier returning home from duty in Afghanistan who faces psychological challenges while readjusting to his life.
James Cohan, 533 West 26 Street, New York, 6-8 p.m.

Opening: "Open Plan: Michael Heizer" at the Whitney Museum of American Art
The third installment of the Whitney's "Open Plan" exhibition (a series of five shows using the museum's spectacular fifth-floor space as a single open gallery) is Michael Heizer's 1970 photographic installation Actual Size: Munich Rotary. Part of the museum's permanent collection, but rarely exhibited because of its size, the work projects a 360-degree view of the artist's 1970 earthwork Munich Depression via images on glass plates. Although the photographs document the 16-foot-deep and 100-foot-wide depression, which was destroyed after being on view for a few months, the photographic piece was always intended to be a stand-alone work.
Whitney Museum of Art, 99 Gansevoort Street, New York, 10:30 a.m.–6 p.m., free with museum admission
Opening: "Sojourner Truth Parsons: Heartbeats Accelerating" at Tomorrow
Inspired by the songs of Joni Mitchell and the McGarrigle Sisters, Canadian artist Sojourner Truth Parsons makes colorful collaged canvases of sophisticated figures in abstract realms. Stylish characters and spotted dogs populate the large paintings in the Los Angeles-based artist's second New York solo show.
Tomorrow, 106 Eldridge Street, New York, 6-8 p.m.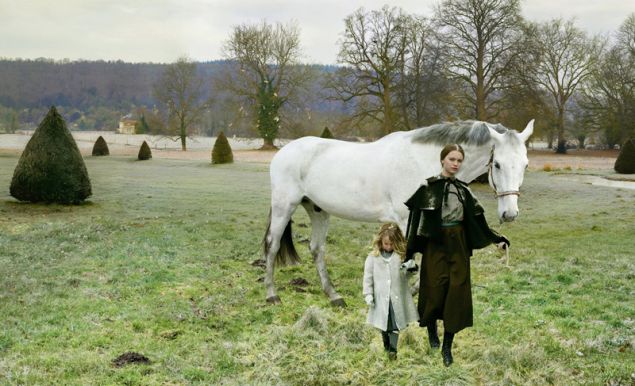 Talk and Book Signing: "Meghan Boody: We Are Gods in the Chrysalis" at the Rizzoli Bookstore with Katie Roiphe
We are Gods in the Chrysalis brings the fantastical photomontages of women and girls by artist Meghan Boody together in a new monograph, just published by Kerber Verlag. Imagining her subjects on transformative journeys, the artist's psychological pictures tell visual tales that relate to her own path of self-discovery. Author and journalist Katie Roiphe, who penned one of the essays in the publication, joins Ms. Boody in a conversation about the work, followed by a book signing and reception.
Rizzoli Bookstore, 1133 Broadway, New York, 6-7:30 p.m.
SATURDAY, MARCH 26
Screening: "Peter Fischli David Weiss: The Least Resistance and The Right Way" at the Guggenheim Museum
In conjunction with Peter Fischli and David Weiss' retrospective "How to Work Better," the Guggenheim Museum is screening two of the conceptual artists' early films, which both feature their alter egos, Rat and Bear. The 29-minute Super 8 film The Least Resistance, from 1980-81, finds the ugly rat and cute panda (the artists in shabby theatrical costumes) in Los Angeles in pursuit of fame and fortune, while musing upon the meaning of life. In the 1983 film The Right Way, which was shot in 16mm and runs 55 minutes, the duo wander through the pastoral landscape of the Swiss Alps, waxing philosophically, while overcoming amusing challenges along the way.
Solomon R. Guggenheim Museum, 1071 Fifth Avenue, New York, various times, free with museum admission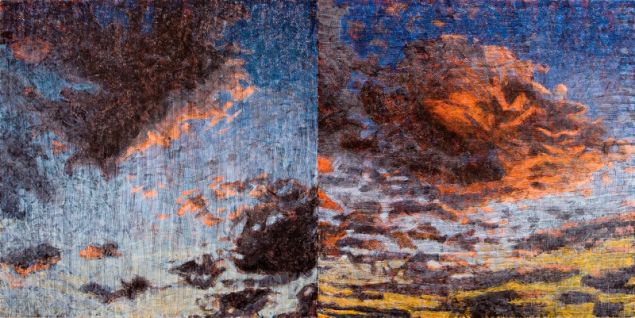 Opening: "Jennifer Bartlett" at Paula Cooper Gallery
Working from landscapes near both her Long Island house and her Brooklyn home, Jennifer Bartlett painted detailed diptychs for her first New York solo show since 2011. Depicting flowers, foliage and garden paths, these paired square panels show the same scenes with shifting perspective and distortions of scale that alter our perception of the parallel views.
Paula Cooper Gallery, 521 West 21 Street, New York, 10 a.m. to 6 p.m.
Opening: "Edgar Degas: A Strange New Beauty" at the Museum of Modern Art
Focusing on this French Impressionist's rarely seen monotypes, "A Strange New Beauty" presents more than 100 monotypes (a type of printmaking that involves drawing or painting on a smooth surface and then transferring the image to paper via a press) as well as 60 related paintings, drawings, pastels, sketchbooks and prints. Works on view capture bustling street scenes, dancers at the ballet, life at the brothel and revelers in Parisian cafes in the 1870s.
MoMA, 11 West 53 Street, New York, 10:30 a.m.-5:30 p.m., free with museum admission
SUNDAY, MARCH 27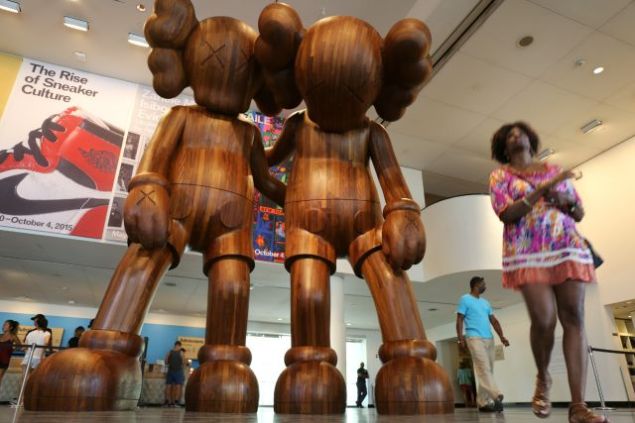 Closing: "Kaws: Along the Way" at the Brooklyn Museum
This is the last chance to see Kaws' awesome "companion" figures standing tall in the museum's lobby gallery. Carved in wood and standing 18 feet high, the companions are based on Disney's famous cartoon character Mickey Mouse, altered by the Brooklyn-based artist in ways that include his signature X eyes and crossbones ears. The pair is a gift to the museum in honor of the recently departed museum director of 17 years, Arnold Lehman.
Brooklyn Museum, 200 Eastern Parkway, Brooklyn, 11 a.m.–6 p.m., free with museum admission
Screening: "The Last Movie" at BAM Rose Cinemas
A cult classic, The Last Movie is Dennis Hopper's follow-up to his celebrated film Easy Rider. Produced on a then-extravagant budget of $1 million, the disjointed movie about a drunken stunt man received the Critics Prize at the Venice Film Festival in 1971, but failed at the boxed office. Shot in a small village in Peru, the film stars Mr. Hopper, Peter Fonda, Henry Jaglom and Michelle Phillips, of The Mamas & the Papas.
BAM Rose Cinemas, 30 Lafayette Avenue, Brooklyn, 2 p.m. and 6:45 p.m., $10-14