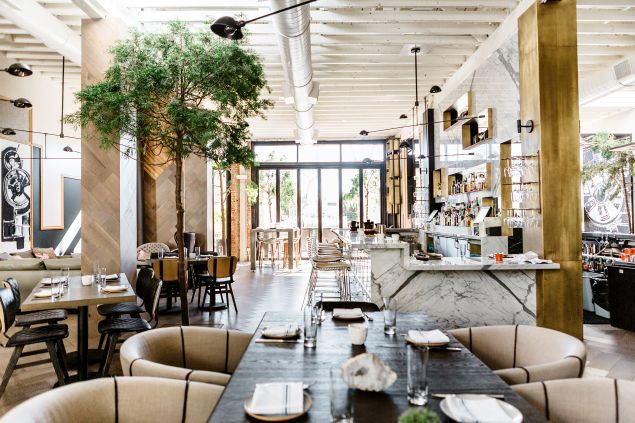 Norah is a looker, all California cool meets international intrigue.
The new West Hollywood restaurant, from globetrotting operator Rohan Talwar of Ellipsis in Bombay, has an industrial-chic design from German-born Thomas Schoos with a striking marble bar for cocktails crafted by Aussie Hamish McShane. On the Thursday night we visit, that bar and the rest of Norah's airy room is jammed even though there's no sign for the restaurant and no parking attendant.
Opening the big unmarked carved doors feels a bit like entering a secret destination for a moment, but then we see everyone. There are fashionable singles on the make, scenester couples and big multigenerational groups with nothing to prove who end up lingering well past 10 p.m., when most Los Angeles restaurants are empty or trying to nudge their guests home.
Late-night dining can be an ordeal in West Hollywood, but Norah isn't some annoying clubby place with dumbed-down food. That's the beauty of Norah, where chef Mike Williams (Tipple & Brine, The Tasting Kitchen) is slinging the kind of casually elegant multicultural food that L.A. celebrates.
There are Southern influences in dishes like the cast-iron cornbread with rosemary-honey butter and the fried hominy cakes with avocado mousse and housemade hot sauce. (Order the latter if you want something like Tennessee's logical response to avocado toast.) The stellar shrimp poached in uni butter has kick that resembles a Louisiana pan roast more than it evokes the Japanese and Italian preparations of sea urchin that have become ubiquitous on menus around the city. It has chili flakes, smoked tomato and a wine-and-vinegar reduction with kaffir lime leaves adding depth to the sauce.
The little sausages with kaffir lime chili jam, herb salad and toasted rice powder are like the collision of a gourmet cocktail wiener with Thai larb. Norah, which serves both vegetable and seafood charcuterie plates along with cured meats, has its own worldview. Norah is so L.A.