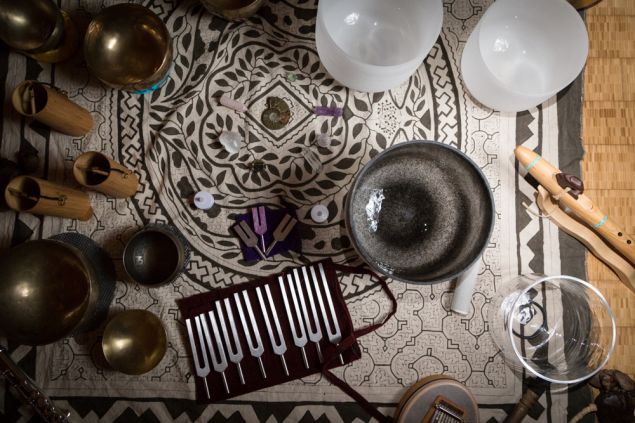 The wellness landscape is constantly changing; one minute kale is the hottest veggie on the planet, the next people are all about bone broth. Plain old meditation is a thing of the past; it's been replaced by gongs and sound baths. Pure Yoga, Equinox's yoga brand, hosts a monthly Sonic Saturday sound bath, guided by singer, yoga teacher and "sound healer" Jessica Caplan.
In this stressed out city, "sounders" promise that vibrations relax brain waves, lower heart rates, clear energetic and physical blockages, treat insomnia and reduce anxiety. It's basically a New Yorker's dream—the immediate delivery of calmness, without Xanax or cocktails.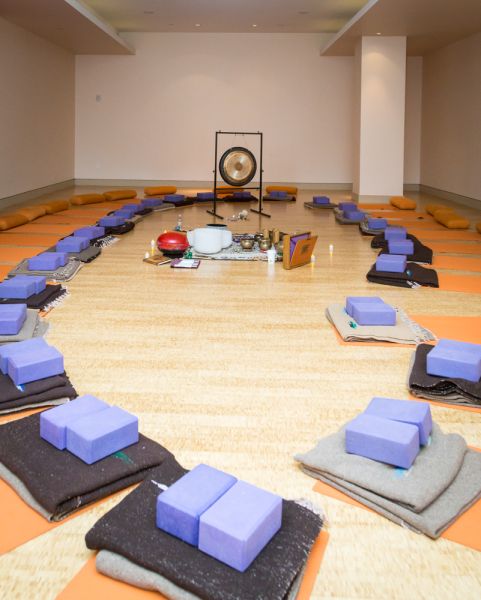 At Pure Yoga West, an enormous, elegant space on the Upper West Side that offers yoga, barre and meditation, Ms. Caplan uses Himalayan and crystal bowls, tuning forks, chimes, gongs and other shamanic instruments to force busy New Yorkers to tune out. As someone who has difficulty turning off my brain, whether it's during yoga or meditation, I wanted to see if a sound bath could deliver the multitudes of health benefits it promised. Beforehand, Ms. Caplan prepped me on what to expect.
"I often tell people coming to a sound bath for the first time that the best thing is to come in with no expectations at all—simply be open to the experience," Ms. Caplan said. "The same way a piece of music can affect people differently, the various sounds we incorporate in a sound bath may have a different impact on you than the person beside you."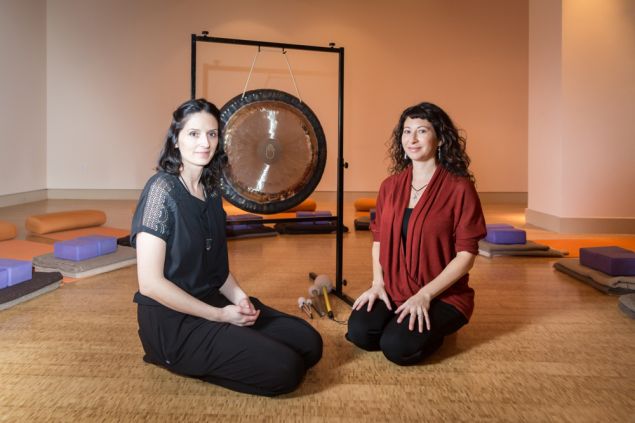 Ms. Caplan began by introducing music to her yoga classes. "For years, at the end of my classes, during the final resting pose, I would sing for my students with the intention of helping them relax–sometimes a Sanskrit chant, or an improvised, spontaneous melody," she said. Her first sound bath took place at a friend's Brooklyn loft. "There were moments that were overwhelming; at one point, the facilitator invited everyone to howl, and it got a bit crazy in there."
For my first foray into a sound bath, I wore head-to-toe athleisure, assuming it would be slightly similar to yoga. Other practitioners wore jeans and more casual, everyday clothing, and looked like they came from a late brunch uptown. It was a mix of ages, with everyone from high school girls to much older couples.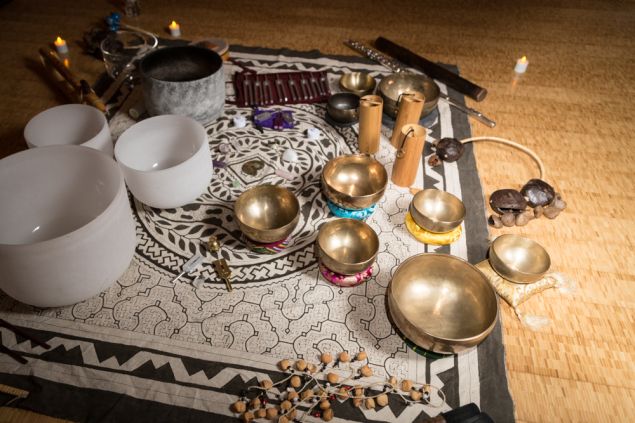 In the center of the room there were mysterious instruments and a gong; the surrounding set-up looked like adult nap time. There were blankets, pillows and face towels. Participants were walked through setting up their meditation space, and encouraged to fall asleep, as long as they didn't snore too loudly (although many did).
Unfortunately, for those who have a bit of trouble spacing out for 90 minutes, especially while mat to mat with strangers, it can be difficult to relax on a pallet. I couldn't help but think about all of the other things I could accomplish in 90 minutes that would relax me: a manicure, a workout, a Netflix marathon. While the tuning forks sounded, my thoughts were racing even more quickly than usual, when it wasn't focused on everyone snoring. Many people seemed truly relaxed during the $35 supervised nap; but for now, I'll stick to Savasana.