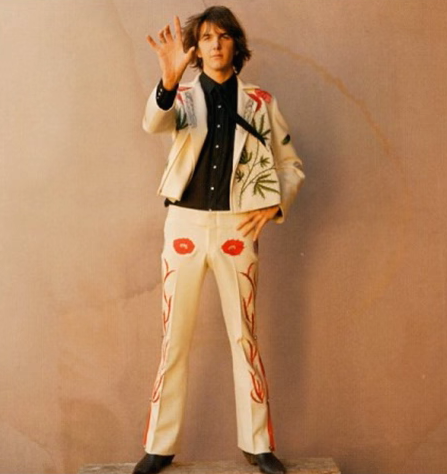 Episode Seven of Vinyl was surprisingly un-annoying, though it was almost annihilated, barely before it began, by an utterly ridiculous Gram Parsons cameo.
(Listen, do you know the bit in Citizen Kane where multiple reporters are assigned to cover Susan Alexander Kane's opera debut from all these different angles? It's like that with Vinyl—please recall that episode summaries and evaluations can be found elsewhere, my role is just to analyze the show's approach to its music, and dissect its portrayals of the notorious and legendary musicians who frequently crop up in the show.)
The Gram Parsons walk-on was one of those things that make you wonder if the series is being written by the kind of childish Rolling Stone readers who would probably be impressed to meet Max Weinberg and who think Joe Jackson is Punk Rock. Wesley Tunison, who portrayed Parsons, isn't really to blame; if Max Baer Jr. had been handed a script this shallow on the set of The Beverly Hillbillies, he would have thrown it into the trash and screeched, "No, no, mon frères! How will our viewers believe in Jethro Bodine if he says something so trés trés obvious and transparent?"
When you were in fifth grade, there was some smart-ass chubby kid who wrote a playlet about President Lincoln (O.K., it was me). In it, Lincoln said, "And now that our great war is over, I shall enjoy a happy night of musical comedy with my goodlady wife!" (Curtain). And all the other fifth graders go, "Ohhhh, ahhhh, I get it, because he is about to be shot! Ha!"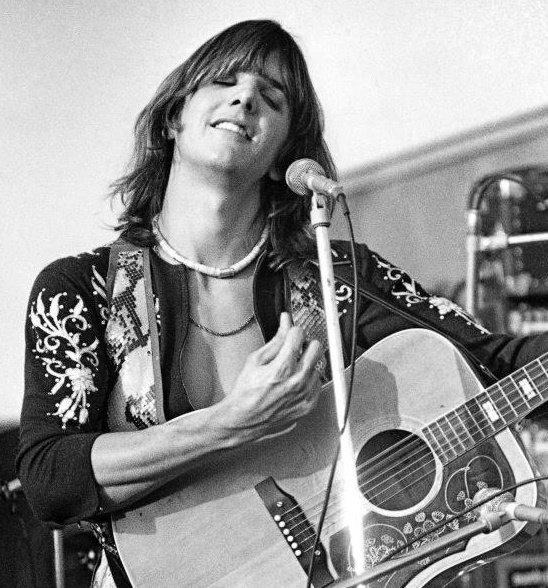 See, this is exactly, and I mean exactly, the level of depth and erudition to be found in the little speech they put in poor Gram Parsons' mouth at the big Malibu party scene; whoever wrote this bit of dialogue had significantly less of a "feel" for the authenticity of Parsons then I had for ol' Abe Lincoln when I scribbled that little playlet (which I wrote in an Oreo-fueled frenzy while watching a particular riveting episode of Kiner's Korner featuring Ken Boswell and Danny Frisella).
Where was I?
Now, if we overlook this shambolic, shameful L'Affaire d'Parsons (a low, even for Vinyl), Episode Seven had some real damn nice stuff in it.
The Jan and Dean bit on the (soon to be former) American Century jet was quite nice indeed, and underlined that this is the sort of thing Vinyl does very, very well: I would love to see the show venture more into interpolating music via the magic realism and psycho-environmental placement displayed in films like Moulin Rouge or Absolute Beginners, and this Jan and Dean bit was a terrific example of that (and the surrealistic approach allows you to overlook the fact that actors Hayden Frank and Carson Kelly looked nothing like the actual Jan and Dean).
Frankly, when Vinyl attempts to re-stage and reproduce actual performances (even when they do a pretty decent job, as they did with Bowie and Alice Cooper), these interpretations usually seem phony, patronizing and juvenile, and leave the show open to great criticism; see, generally the only people who are going to care about these performances are the kind of people who are going to care that you got it wrong.
Now, having said that, Shawn Klush's turn as Elvis in Episode Seven was very likely the best on-stage reproduction of the entire series.
[youtube https://www.youtube.com/watch?v=caFVWaNBI3Y&w=560&h=315]
Klush didn't just do an impression; he was a great actor playing Elvis, and unlike other Vinyl actors who clearly just did imitations based on repeated studying of YouTube clips, Klush made you feel as if he understood why the man sang and moved the way he did (the performance, by the way, was largely based on the amazing 1970 Elvis tour film, That's The Way It Is, though Vinyl, somewhat anachronistically, made up Klush to look like a heavier, circa 1975 Elvis).
Likewise, Klush (a deservedly legendary Elvis impersonator) brought a similar quality of intensity, reality and immediacy to the scene he played in the hotel suite with Bobby Cannavale; not only did it make me want to see more of Klush, but it me consider that even that genre of celebrity imitator has its DeNiros.
In fact, Klush left me feeling so warm and fuzzy that I didn't mind overlooking a significant error in the scene: in reality, Elvis would never, ever have been alone long enough to have anything remotely resembling a dialogue of any intimacy or intensity with Cannavale/Finestra (both by choice and by careful design of The Colonel, Elvis was never unaccompanied for more than a few seconds, lest he actually consider his peculiar circumstances and the shackles of his fame and onerous management; his famous escape to visit Nixon is one of the only documented exceptions).
Oh, and any Vinyl episode without James Jagger and his faux-Chimney Sweep 'Ello Guvnor!-isms is already in the Plus Column.
***
What 'Vinyl' Got Wrong This Week: The New Testament of Rock 'n Roll
What 'Vinyl' Got Wrong This Week: The Grimace Effect
What 'Vinyl' Got Wrong This Week: The Greatness of Slade and Status Quo
What 'Vinyl' Got Wrong This Week: Punk Music, Jimmy Kimmel-ized