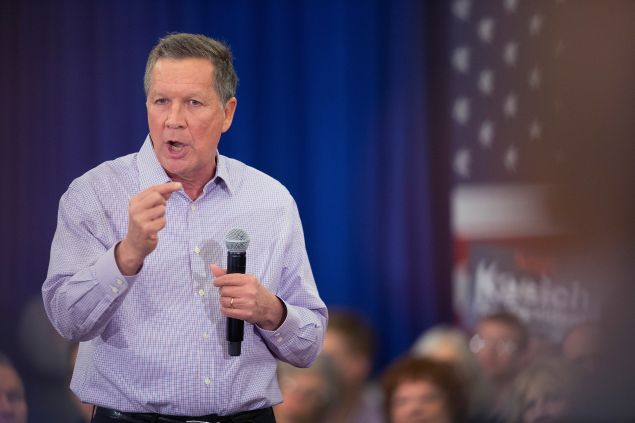 Having spent most of my professional career making investments based on my assessment of probabilities, risk and return, I tend to judge most things in life by my perception of upside possibility versus downside possibility. This approach informs the way I manage relationships, book my calendar and spend my money. Seeing the world through this lens tends to make me naturally attracted to contrarian investments and to go where others have given up—where they have booked the loss and trudged away with their heads hung low.
I do investing as a career, but I do politics as my civic hobby. I've run for Congress, raised money for many candidates, walked through the West Wing and done private meetings in the Rayburn House Office Building. In other words, I've whiffed the stench of the Potomac frequently enough to be naturally cynical about thinking you can fight the blob or change the system.
Nevertheless, the contrarian in me thinks John Kasich is a good investment in the Republican Presidential sweepstakes. "What!" my friend Jane says. "The guy who has only won his home state, who is currently pulled over in the breakdown lane and solidly in last place?" I pause, for emphasis. "Yes, John Kasich will be the next President of the United States. (This bet will currently earn you 50x your money in the online betting markets).
So, let me tell you why. First off, he's still in the race. Candidates with far more money and far more name recognition are no longer on the track. And that is a huge accomplishment in a race that has seen a very large field winnow in a series of spectacular wipeouts. There was the guy who crashed immediately from blatant budgeting incompetence. The guy who crashed through comical political shape-shifting. And the one who simply crashed from hubris. And, of course, there was the one who limped off the track as a result of a poor return on investment, i.e. money raised relative to delegates won. It has all made for fabulous TV. (Buy stocks that own TV stations in competitive general election states.)
How can you predict what someone will do when you don't even know who they are?
Jane says that John Kasich is staying in the race stubbornly. But that misses the central point: candidates are a business. They sell a product (their personality, experience, and vision) and they require money to stay in business. Candidates withdraw not because their ego has shrunk (that never happens), but because they run out of financial supporters willing to buy their product. While Kasich remains at a large financial disadvantage in this race, he has planned a prudent campaign that strategically budgeted around the principle of staying power from Day One. Because I personally believe that the central political issue of our time is whether we have the willpower to restructure our state and federal fiscal imbalances before we careen headlong into Wall 4 at Daytona, score one for the Governor from Ohio on fiscal stewardship.
"Well, Ok," says Jane. "JK has a good record, but it is really all about the numbers. Mathematically, he cannot win a majority of the delegates. So he should drop out." After some number-crunching, where we allocate the delegates left to be awarded based on the state polls and allocation formulas in the primary states remaining, I am able to convince Jane that it is highly probable that no candidate will amass enough delegates to win the GOP nomination on a first ballot. "But never mind about that. Trump got more delegates so it would be undemocratic for Kasich to win. There would be riots and tear gas if something like that happened."
Then I begin to outline my investment case to Jane. The Republican nomination is awarded to the candidate who is able to win a "Majority" of the delegates casting a vote. The rules (remember those pesky things that prevent you from doing whatever the heck you want) don't allow you to anoint the prize to someone who gets, "More," delegates. They call that… close, but no cigar. When the July Convention arrives with no candidate holding a majority of delegates (i.e. an Open or Contested Convention), then the first-ballot total delegate status becomes largely irrelevant, because the race resets. It is all about what happens on the second ballot. Let's say, for argument's sake, that the delegate totals on the first ballot are: Trump 1,150, Cruz 825, Kasich 425, and other 70. Pretty bleak for my guy, right? Hold that thought because I will come back to it. Just remember, a contested convention is simply the format for continuing an inconclusive election. It is overtime, but with a twist, because the points you earned early in the competition can be taken away from you.
Just like Republican voters overall transfer the candidate selection responsibility to a much smaller subset of Republican voters who take the trouble to cast a ballot in the primary election, so too do Republican primary voters transfer the responsibility for making a final candidate selection to the delegates in the case of a contested convention. Jane thinks that it might smack of inside dealing if the top-seeded candidate in a Contested Convention is displaced through a series of delegate votes, but this is precisely how the system is supposed to work. It is the only fair way to resolve a clash of factions and opinions in the party. It is the only way to create legitimacy. This process favors the candidate with low negatives. And it has happened before.
I intend to be a delegate from New Jersey on a Kasich slate, elected if my Congressional District supports the Governor from Ohio. I worked hard to earn this role. I made phone calls and sent out emails and lobbied friends and neighbors to sign my petition. And if Gov. Kasich wins my Congressional District, I will go to the Convention even if another candidate wins the plurality of the total vote in my state. I will be obligated to cast a vote to support the state winner, but only on the first ballot. And then I am free to exercise my conscience and make the choice that I think is right. And the same applies, with some modest rules variation by state, to all the other delegates as well. It might surprise you to learn that over half of Mr. Trump's delegates haven't even been chosen yet. How can you predict what someone will do when you don't even know who they are?
In an age where voters despise the insiders, it is a sweet irony to hear the "outsider" candidate claim that the insiders must force delegates to support his nomination even if he didn't succeed in achieving a majority. That pressure won't work on me, and it won't work on all the new delegate friends I make in Cleveland before the voting begins.
The public mood will be different in July than it is now in March. Perhaps some bolt-from-the-blue will change the priorities and concerns of the electorate. Perhaps the national polls of head-to-head match-ups against Hillary will make delegates reconsider the downside of a Trump or Cruz nomination that could lose the Senate and the Supreme Court. Or perhaps the irreconcilable warfare between Trump and Cruz will have become so nauseating that the delegates in Cleveland take matters into their own hands to break a nasty deadlock. The point is that there will be time and distance between the primary election votes and the convention voting. Things change. So let's revisit our voting and move to the critical second ballot, where the delegates are free to vote what they believe is right. Think about the jolt that rocks the Quicken Loans Arena in Cleveland when the second ballot totals are Trump 895, Cruz 850, and Kasich 725? I think you now know how the story ends.
Back in 1860, a long-shot Republican presidential contender from the West (what we now call the Midwest) came to Chicago to compete for the nomination. The Democrat party was badly fractured and the Republican front-runner, a flamboyant New Yorker named William H. Seward came into the convention confident of victory. He trounced the challenger from Illinois on the first ballot, but did not win an overall majority. But, then on the second ballot, a number of votes changed hands and the home state favorite drew nearly even. The momentum in the hall was clear. On the third ballot, Abraham Lincoln won his party's nomination for the Presidency.
Scott Sipprelle is a former managing director of Morgan Stanley. He is also a former hedge fund manager who closed his Copper Arch Capital in 2007, months before the global financial markets collapsed. He is currently a venture capitalist.