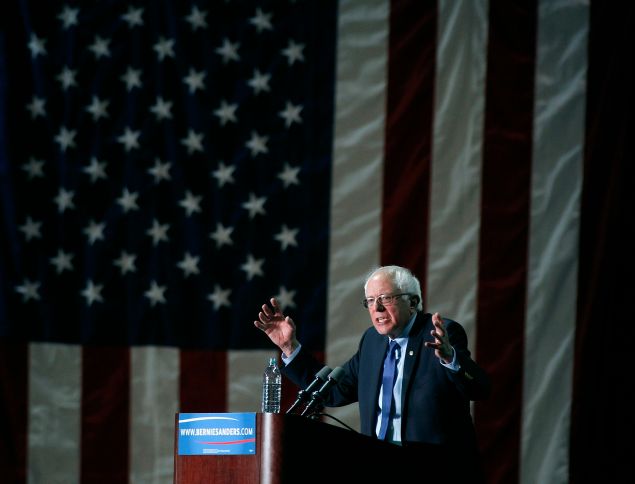 Progressives shouldn't give Bernie Sanders too much credit for skipping a major pro-Israel conference on Monday. He offered to speak on video and was turned down.
The influential American Israel Public Affairs Committee, which will host the other presidential candidates at their Washington, D.C. confab, might have sensed more was at work, though, and Mr. Sanders, a Vermont senator, did little to dissuade them of that notion. He is now, as much as he is a Democratic candidate, the leader of the progressive movement in America, and anyone in that position can't be unequivocally pro-Israel. Many of the grassroots progressives powering Mr. Sanders' campaign against Hillary Clinton see Israel as an imperialistic hegemon waging asymmetrical warfare against the Palestinians; the Democratic Party that views Israel as the shining beacon of democracy in the Middle East has little in common with Mr. Sanders' most ardent fans.
It's unclear why exactly Mr. Sanders can't appear in person tomorrow, unlike Ms. Clinton, who is an unabashed supporter of Israel. Mr. Sanders is slated to deliver a foreign policy speech in Utah, but couldn't he have done the speech a different day and flown to Washington? His campaign has provided no specific reason for snubbing AIPAC and they're smart not to. If Mr. Sanders has proven nothing else in this election, it's that he's underrated as a political operator, toeing the line between becoming a total Democratic apostate and making himself acceptable enough to the powers-that-be. (He's still an independent who votes exactly like a Democrat in the Senate, after all.) That means keeping quiet when it comes to Israel.
Perhaps a petition spearheaded by Max Blumenthal, a prominent Israel critic who happens to be the son of one of Ms. Clinton's great confidantes, Sidney Blumenthal, made a difference. More than 4,000 people, including Roger Waters of Pink Floyd, urged the Vermont senator to not attend the AIPAC conference because the pro-Israel organization is "sworn to promote the racist, militaristic, and anti-democratic policies of the most right-wing government in Israel's history," in the words of the petition. Leftists have an easy villain in Prime Minister Benjamin Netanyahu of Israel, a conservative who won an election while disavowing the idea of Palestinians ever having a state to call their own, only to reluctantly backtrack to the orthodoxy of the two-state solution when he was re-elected a year ago. Mr. Netanyahu has irked the Obama administration and palled around with Republicans, including Mitt Romney, and his successor probably won't be any less right-wing.
Along with Mr. Netanyahu, Israel on the whole is swerving right, with ultra-Orthodox Jews gaining clout. The secular Zionist left is fading; Mr. Sanders lived on an Israeli kibbutz in the 1960's when many liberals saw Israel as a quasi-socialist paradise in the desert. Now, younger American Jews, along with progressives outside the Democratic establishment, look warily towards Israel. The Boycott, Divestment and Sanctions movement, to the consternation of mainstream Democrats and Republicans alike, is a force on college campuses. There's plenty of overlap on the Venn diagram between BDS devotees and those who may cast their votes for Mr. Sanders, a Jew from Brooklyn who calls himself a democratic socialist.
Mr. Sanders' advisers probably know this and Democrats on the left will learn soon enough. While Donald Trump, the Republican front-runner, has exposed the yawning gap between what grassroots conservatives want and what Republican Party elites hope to see for their party, it's the Democrats who face a similar dilemma on the question of Israel. The Democratic establishment is otherwise more in touch with their grassroots than they've been in many years: Democrats are uniformly pro-gay marriage, pro-choice, accept reducing income inequality as a top priority, and are less outwardly interventionist. The Clintonian wing is in full retreat, as shown by Ms. Clinton's willingness to embrace a sizable chunk of Mr. Sanders' platform.
On Israel, the reverse is true. Democrats are either fiercely pro-Israel or silent on the issue, like Sen. Elizabeth Warren of Massachusetts, the other progressive rock star. Mr. Sanders will say it's a difficult situation and scamper to the next topic as quickly as possible. Despite their failure to convince Democrats in Congress to vote down the Iran deal, AIPAC is still a force to be reckoned with in Washington, engendering respect and fear on both sides of the aisle. Meanwhile, in Ms. Clinton and Mr. Sanders' otherwise liberal home of New York, Democrats in the State Legislature are voting for anti-BDS legislation, joining a host of other states across America.
Democrats in the next decade will need to reckon with voters who are coming of age without any particular allegiance to Israel. A 2014 Pew study taken during Israel's latest war with Gaza found that among Americans ages 18 through 29, 29 percent put Israel at fault, versus 18 percent who put the blame on Hamas, a militant Palestinian group the United States has classified as a terrorist organization. Among Americans 65 and older, the fault lay overwhelmingly with Hamas: 53 percent of them blamed the militant group for the violence, while only 15 percent blamed Israel. Even more glaring for pro-Israel Democrats, the split was 30-30 among self-described liberal Democrats.
There are no mainstream Democratic politicians who could be described as pro-Palestinian. There is no one like Jeremy Corbyn, the leader of the Labour Party in Britain, who is such a fervent supporter of the Palestinian cause that he has been called an anti-Semite, or even like Ed Miliband, Mr. Corbyn's more moderate predecessor, who chastised British Prime Minister David Cameron for his "silence on the killing of innocent Palestinian civilians caused by Israel's military action."
Considering the Democratic Party, as any political establishment, is a fundamentally reactive entity, it may be only a matter of time before it follows the lead of its loud activist wing. Mr. Sanders isn't there yet. But another Democratic candidate, in another year, may well be.