Meditation skeptics can no longer ignore the practice, even if they don't take part in it. Sound baths have sprung up everywhere from Williamsburg's ultra-trendy Wythe Hotel to Equinox's luxurious Pure Yoga uptown. There's MNDFL, a pop-in studio that's Instagram fodder and the stuff Pinterest dream boards are made of. The Path offers lunch break sits alongside a Sweetgreen salad. There are even wellness apps to find the right meditation spot (and more likely than not, said spot is nowhere near the bare bones locations one might envision).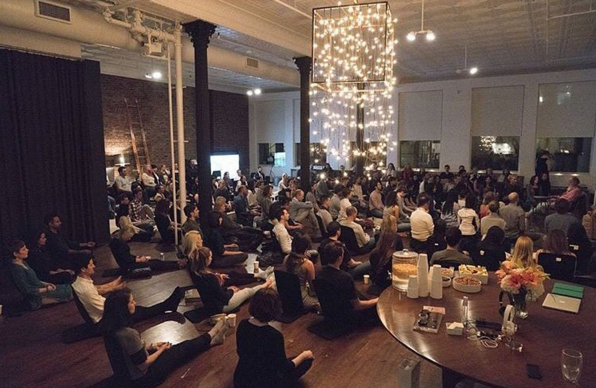 Each locale is elegant or trendy (depending on the neighborhood), in an effort to make meditation an accessible activity; studios want t0 make it easy for someone to stop by for a quick sit, the same way they would head to Flywheel for a quick spin session. Still, behind the trend, there's new knowledge that meditation is more than just a moment to regroup while capturing the space on social media channels.
For those unsure about taking time out of their busy day to simply sit there, when they could be working out, watching Netflix, or consuming cocktails, a new study proves mindfulness isn't wasting time. The study, in The Journal of Neuroscience's March 16 issue, focuses on mindfulness meditation as a cure for pain relief, similar to opioids.
The study said, "Mindfulness meditation activates multiple brain regions that contain a high expression of opioid receptors…Mindfulness meditation, a practice premised on directing nonjudgmental attention to arising sensory events, reduces pain by engaging mechanisms supporting the cognitive control of pain." It even recommends those who suffer from chronic pain consider meditation over opiate-based medications.
Before you roll your eyes at a friend who won't stop talking about how meditation changed their life and is such an important part of self-care, consider sitting yourself. Yes, it means you'll take time out of your busy day to do basically nothing, but that nothing could change the way you feel, if you are able to tune out for a minute (or 90).