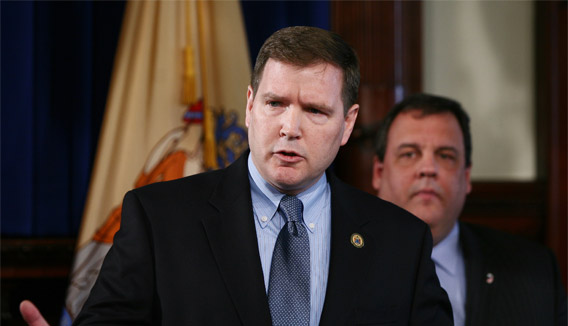 State Senator Mike Doherty (R-23) endorsed Donald Trump for president in October of 2015, back when pundits and many in the Republican establishment imagined that his candidacy was nothing more than just a passing fad, a trend that would come to an end before the presidential contest got serious. But now, five months after that endorsement, Trump's flame is anything but extinguished as he continues to dominate the Republican field as the frontrunner. Polls have him far surpassing the only other Republican candidates left in the race: Texas Senator Ted Cruz and Ohio Governor John Kasich. He is earning endorsements left and right in New Jersey, but Doherty will always be able to claim he was first.
Doherty is a conservative Republican who prides himself on his military history, his pro-life stances and his conservative views on second amendment rights. With speculation building around which Republican will face off against the growing Democratic competition for New Jersey governor in 2017, Doherty's name has been tossed around.
So, if Trump wins the nomination, will an early Trump endorsement help push Doherty toward Drumthwacket in a year that is widely considered to favor Democrats due to low approval ratings of current Republican Governor Chris Christie?
According to Ben Dworkin of Rider University's Rebovitch Institute for New Jersey Politics, an early Trump endorsement will only be beneficial if things pan out in a certain way.
"An early endorsement of Trump only works if Trump wins," Dworkin said. "He is likely to get the nomination right now. He might become president. If those things fall into place than, yes, a President Trump can lend tremendous support to the people that were there with him early."
While Dworkin said that a Trump win would go a long way for early endorsers like Doherty if they decide to make a run statewide, he also said that Trump support might not translate into support from his backers in separate elections.
"It could help because you have access to the Trump voters and, in theory, you would be able to identify these people," Dworkin said. "But it is unclear whether their fervor for Trump will translate into fervor for other candidates. Obama saw this all the time. People said, 'We can rebuild the Obama coalition.' But really, it was an Obama coalition for him. [Former Governor] Jon Corzine wasn't able to rebuild it."
According to Dworkin, the fact that Trump is such a controversial figure in the Republican Party (many establishment officials are encouraging voters to back any of the other candidates in an effort to cut into Trump's chances of victory) may mean that support among NJ's establishment may not fall behind someone who backed Trump. Dworkin said a Trump supporter may face "significant push back" in the pursuit of a statewide office in New Jersey.
For Doherty however, Trump's strength comes from his rejection of the traditional Republican establishment.
"There are folks that, rather than being Republicans, are users of the Republican brand to expand their issues," said Doherty. "The reason that folks don't support Trump, like he says, is that he doesn't need them. The lobbyists and the connected folks inside that make their living off of controlling politics and political outcomes, Donald Trump has no use for them."
While Doherty has made no mention of pursuing a statewide run in the future, there was speculation in 2012 that the Republican would challenge Senator Bob Menendez for the U.S. Senate seat. He eventually endorsed state Senator Joe Kyrillos (R-13) for the spot, reportedly due to pressure from Christie and the Republican establishment. The two have been at odds since. But now, as Christie and Doherty both back Trump, they are on the same side. Arguably, the Trump endorsement connection might encourage Christie to make good with Doherty, although backing him on a Republican bid for governor in 2017 may be more complex.
There's a back story here.
According to one Republican source, while the establishment is unlikely to back Doherty, they might not discount him from the gubernatorial run. Doherty has long haunted establishment figures in Central Jersey. In 2011, redistricting put Bridgewater, a large municipality in Somerset county, in the movement conservative's Hunterdon-Warren district. The source said that if Doherty enters into a gubernatorial run, it might free up the seat in district 23, opening up the opportunity for a Bridgewater native in the arms of the Somerset GOP establishment to run and take control of the district.
Doherty, for his part, has made no connection between his support of Trump and the future it might open up for him. He says that his support stems from Trump's ideas. Doherty said that Trump is touching a nerve with Republicans who feel that "the folks that have been running our country for the past 30 years have done nothing."
According to Doherty, Trump is the only candidate talking about central issues like building a wall on the border with Mexico to secure the U.S., eliminating trade agreements that have "been a disaster for the working class," and ending policies where the U.S. military enters foreign countries and ends up paying for bases and employees who are nationals while simultaneously offering defense services.
"Donald Trump has really touched a nerve here and people are overwhelmingly reacting," Doherty said. "They are reacting to the truth, they are reacting to authenticity. I think he is really hitting the trifecta of control of our borders and immigration, calling out these bad trade agreements, and saying Americans are getting a bad deal by defending the rest of the world and we are paying for it. He has got tremendous enthusiasm and he thinks about things in a different way than the folks in Washington DC think about things."
As for the conservative base in New Jersey, Doherty said: "I disagree with the idea that the New Jersey Republican Party is overwhelmingly moderate. I think the overall electorate tilts toward Democrats. But, on the Republican side I believe the Republican voters are looking to conservative candidates. I don't think that enough are offered and I think that is why we don't energize our base at times. I think a lot of the reason Republicans don't do better is because they don't provide enough of a contrast to the Democrats."
For Doherty, Trump exemplifies what the Republican base is looking for in the future.
"We have a Washington DC crowd that actually detests the American people and what the American people want. They want to do the exact opposite," Doherty said. "They believe the American people are just rubes: country bumpkins to be lead around by the nose. They get on TV and they make some pronouncement and we are all supposed to fall in line. Well, the American people are not falling in line. The party always talks about building our base but there has been no candidate in the past 30 years that has done more to attract outsiders to Republican politics than Donald Trump."
Because of violence that has been reported at some Trump events, the Republican candidate has faced criticism from some who say that his messages are inciting supporters to act in a violent way. According to Doherty, that all is a "media distortion."
"If you look at this rallies—and I don't want to get too Kumbaya here— there is a lot of love and affection between Donald Trump and the people that come out to his rallies," Doherty said. "He ends most of his rallies by telling the crowd 'I love you.'" These aren't a bunch of angry people who are ready to cause mayhem and havoc. He believes in the American people, you can see it. He has faith in the people. He believes in us."