As the idea of a human mission to Mars leaps from the pages of science fiction literature (or off the silver screen) and into reality, NASA is taking a serious look at how astronauts will live, work and survive during the long journey to the red planet.
The federal space agency and its manufacturing partner Lockheed Martin have recently crossed a major milestone in preparation to land the first humans on Mars by completing the pressure module or "backbone" of the vehicle that will take them there—the Orion Crew Module. This spacecraft will launch atop the Space Launch System—the most powerful rocket ever built—and sustain a crew for 21 days as they travel into deep space.
It takes a lot longer than three weeks to get to our neighboring planet so where will astronauts live and work during the rest of the trek through the solar system? Lockheed Martin is in the early stages of providing an answer.
As part of NASA's NextStep habitat study that is currently underway, Lockheed is one of the four companies conceptualizing an Exploration Augmentation Module or "outpost" that will mate with Orion and sustain a crew for up to 60 days during the first deep space missions leading up to Mars. These outings will see humans travel beyond low-Earth orbit for the first time since 1972 and head toward a destination in cislunar space—a distant orbit around the Moon.
Targeted for the mid 2020s, these exploration missions will see NASA attempt to redirect an asteroid into lunar orbit and eventually study that captured asteroid by rendezvousing with it. A habitat will provide a temporary home for astronauts during these endeavors and will enable them to forge the skills and push the innovations of long-duration spaceflight required to ensure a safe trip for a Mars-bound crew.
Currently, the International Space Station serves as the only scientific laboratory and permanent human outpost in low-Earth orbit. A habitat orbiting the Moon would operate very differently. "The cislunar outpost is actually what we call crew-tended. Crew will not be there year-round like they are on the ISS," Lockheed Martin's space exploration architect Josh Hopkins told the Observer. "They will visit for a mission-a-year and that mission could be 30-60 days long."
One of the major hurdles for a manned mission to Mars is human exposure to space radiation, and this issue will be tackled in cislunar space. The habitat's initial 60-day limit was established by Lockheed's team to ensure a safe stay for the crew given this element of radiation. Solar storms and the continuous exposure to cosmic rays are difficult to shield from, but it does become more manageable by limiting the amount of time astronauts spend in deep space. "As we build more knowledge of the biomedical effects and how to protect astronauts, we can start gradually doing longer and longer missions," explained Hopkins.
As for the random bursts of radiation from a solar storm that could occur, the crew would be able to use the advanced built-in capabilities of Orion, which can act as a storm shelter. In the crew module, the closer an astronaut is to the heat shield, the more protection they have. In order to leverage this capability, they must remove supplies from "locker" spaces behind their seats and actually climb inside.  
Protecting humans from radiation on Earth requires shielding from heavy elements like lead but with low-dosage space radiation, lighter materials can do the job. For this reason, Lockheed's designers are mindful about the placement of consumables and waste products inside the habitat due to these items being a potential source of protection. "What we want are light elements. So things like water, food and plastics tend to be fairly good shielding," said Hopkins. "We can adjust the locations and positioning of these things we're going to have in a way that maximizes the amount of protection they give us."
Along with acting as an emergency radiation storm shelter for the crew, Orion can also provide power, temperature control, and can even recycle air—features than enable a habitat to be low-maintenance and cost-effective.
The crew vehicle can use its propulsion system to provide maneuvering capability for the outpost, but Lockheed's concept will include on-board, independent propulsion. "You don't want to return to a habitat that's tumbling because it wasn't able to maintain its position in orbit," said William Pratt, Lockheed's NextSTEP study manager. "There will be a propulsion stage attached to the habitat and the capability to provide a small amount of power you'll need when Orion is not there."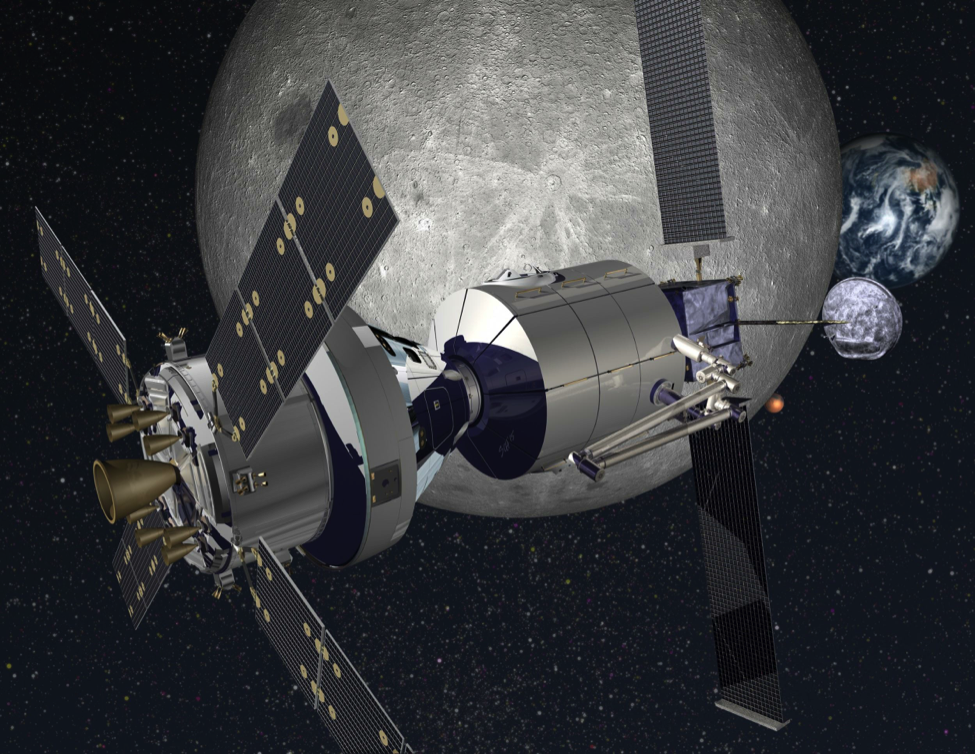 A human habitat or any spacecraft far from Earth will require some degree of autonomy, and this is a specialty for Lockheed Martin's engineers. Unmanned probes like the MAVEN and the Juno spacecraft that will arrive at Jupiter this summer were both manufactured by Lockheed with autonomous capability. "We feel that's something we can really bring to a cislunar habitat," Pratt said. "Our thinking is more about autonomy and giving the crew more autonomy to handle things as they come up at the outpost."
The primary reason for spacecraft autonomy is communication—or lack thereof. On the long journey to Mars, which could see astronauts spend at least two years aboard a habitat, delays in communication with Earth-based mission control will certainly occur. This could pose a problem when troubleshooting vehicle sub-systems that include life support and oxygen supply.
A major concerned for Lockheed is the long passage of time between the crew's training and the moment a serious issue does come up during a mission—which could be a few years later. "They may not remember the training. Having the right kind of on-board documentation and flight computer to be able to provide the astronauts the information they need when they need it, is important," Pratt said. "Not just having the alarm go off but having the alarm go off and the PDF file of the manual come up at the same time. That's really useful in helping the crew understand how to operate their own vehicle."
Even though Lockheed Martin's early habitat concept will service exploration missions near the Moon, the company is always thinking about the manned mission to Mars, which will require a far more advanced successor to their current designs. Engineers will need to go through a few iterations of the concept after the health effects of long-duration human spaceflight are known and as new technology is developed. This is the basis that NASA created NextSTEP on.
The federal space agency is looking for a modular habitat that can grow, evolve and be added to. "New modules are built upon the lessons of the previous modules," Hopkins said.
Robin Seemangal focuses on NASA and advocacy for space exploration. He was born and raised in Brooklyn, where he currently resides. Find him on Instagram for more space-related content: @not_gatsby.