Whether the Met Breuer's inaugural shows are knock-outs or not, New Yorkers and all art lovers ought to be attentive and grateful to the Metropolitan Museum of Art and its latest enterprise: its expanded Contemporary collection in its newest space. The esteemed institution began mulling an agreement to take over the former home of the Whitney Museum of American Art in 2011. The current eight-year lease saved the landmarked building at Madison Avenue and 75th Street, renamed the Met Breuer, from an uncertain near future, and the insatiable maw of real estate developers. Several years ago, when the Whitney first announced plans to vacate its Upper East Side premises and relocate downtown, culture fans and art aficionados fretted that the building would fall prey to less noble purposes: condos or a Starbucks flagship space. In light of the Museum of Modern Art's recent controversial decision to demolish the award-winning Folk Art Museum on 53rd Street, designed by Tod Williams and Billie Tsien, the fears were justified.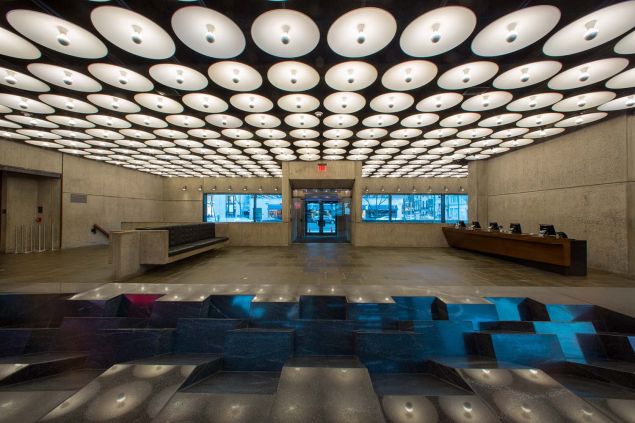 Instead, the Met Breuer opens to the public on March 18. It is the city's newest art museum, and the Metropolitan Museum's largest satellite venue, with greater visibility and accessibility than the beloved though petite Cloisters. Named to honor the building's designer, Hungarian architect Marcel Breuer (1902-1981), the new museum has been meticulously restored to its original Brutalist glory. Closed since fall 2014, the Modernist structure recently received a subtle makeover by architects Beyer Blinder Belle, whose sensitive approach aimed to preserve Breuer's original vision. At the press preview, it was as thrilling as ever to step inside this imposing structure with its grandiose spaces and peculiar kind of mid-sixties glamour. Among the museum's inaugural exhibitions is "Unfinished: Thoughts Left Visible," on view through September 4, a sprawling group show filling two floors. It features historical works and contemporary pieces from the museum's collection and numerous international loans. For various reasons, some intentional, the artists left the works incomplete. Also on view is the first U.S. retrospective for Nasreen Mohamedi, the late Modernist born in Karachi, when that city was still part of India. On-going live performances by jazz pianist Vijay Iyer take place in the street-level gallery converted for the occasion into an intimate theater.
Certain major works, such as paintings by El Greco, Velázquez, and Rembrandt, seem to be misplaced here, as if they had been unfairly evicted from the hallowed walls of the Met's main Fifth Avenue building.
Expectations for the first displays at the Breuer ran high; for that reason, a number of critics previewing the shows found "Unfinished" to be something of a letdown. Organized by Met curators Andrea Bayer, of the European paintings department, and Kelly Baum, of the Modern and contemporary art department, in consultation with Sheena Wagstaff, chairwoman of the Met's Modern and Contemporary art department, the exhibition covers a vast historical range, from the 15th century to the present. A wide array of artists is represented, from Leonardo to Cady Noland; and practically every imaginable medium and subject are somehow represented in the show. As Ms. Wagstaff explained to the press, the exhibition's premise is really the question "At what point does the artist feel that his or her work is complete?" The show's thematic weakness, though, stems from the fact that many reasons for the works being left unfinished are utterly mundane, caused simply by practical matters, such as a patron withholding payment to complete a commission or a portrait subject failing to show up for sittings, as in the case of an Alice Neel portrait on view.
Nevertheless, there are numerous masterpieces installed on the third floor, and every viewer will find some treasure to enthrall. It's a bit disconcerting but exciting to view stunning Old Master paintings in a gallery previously occupied by Jeff Koons' gaudy sculptures—the last Whitney show in this space was his 2014 retrospective. In "Unfinished," Leonardo's exquisite drawing, Head of a Woman (1500-1505), loaned by the National Gallery in Parma, and Titian's large, and violent, 1570s composition, Flaying of Marsyas, rarely seen outside the Czech Republic, are alone worth the price of admission. Personal favorites include Jacques-Louis David's resplendent ode to a fallen drummer boy, The Death of Bara (1794), from Avignon, and Van Gogh's Street in Auvers-sur-Oise (1890), with its extraordinary sky rendered in thick rectangles of bright blue, on loan from Helsinki. Certain major works, such as paintings by El Greco, Velázquez, and Rembrandt, from the Met's collection, seem to be misplaced here, as if they had been unfairly evicted from the hallowed walls of the Met's main Fifth Avenue building. In some galleries of the fourth floor, one may be gripped by a sense of déjà-vu. These could be recreations of Whitney Biennials of yesteryear, highlighting post-war and contemporary pieces by artists such as Robert Smithson, Bruce Nauman, Felix Gonzales-Torres, Louise Bourgeois, Urs Fischer and Janine Antoni, represented by her iconic self-portrait busts in soap and chocolate, Lick and Lather (1993-1994).
"Unfinished" is problematic not so much because it lacks a strong curatorial premise but because it aims to include almost everyone and please nearly everybody. More successful, and more tightly focused, is the survey of Ms. Mohamedi's spare Minimalist paintings and works on paper, on view through June 5, which brings attention to an artist not well known in the U.S. However, the exhibition could have been further enriched if the Met had drawn on its vast holdings of historical works of Indian and Pakistani art to establish an illuminating context for Ms. Mohamedi's achievement. Perhaps it is too much to ask that the Met Breuer hit a homerun first time at bat, or emerge onto the New York art scene with an already fully formed identity. Such things take time. A full-scale retrospective of works by Kerry James Marshall is planned for the fall. Maybe by then, art audiences, as well as the Met curators, will have a better sense of what the Met Breuer is. Or what it could be.