The fashion flock loves a bit of drama, doting on any rumor or supposed departure of a creative director. Such was the case this past winter, when the industry was abuzz as Raf Simons decamped from Dior and Alber Elbaz was surprisingly removed from his post at Lanvin.
And for good reason. An effective creative director has the power to usher a 70-year-old maison into a new era, as Mr. Simons did at Dior, with otherworldly silhouettes and a penchant for runway sets strewn with flowers. On the other hand, when a designer such as Mr. Elbaz is associated with a brand for 14 years, they begin to embody everything the brand stands for. Basically, they become the brand.
So when these very public figures are replaced by a creative team, the result can be disastrous. Or, it can just be uninspiring and lacking the necessary direction required for success. For the Fall/Winter 2016 season, both of these results were realized.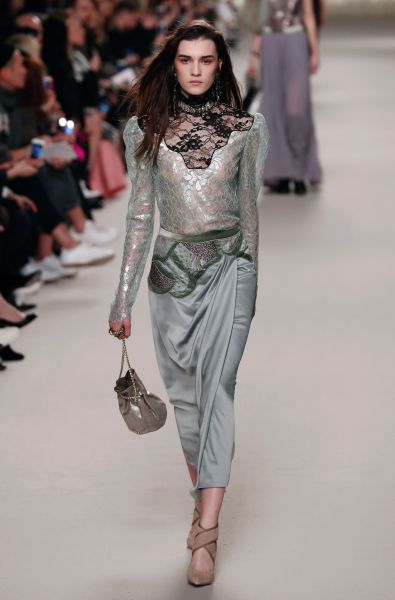 Sure, all the signifying features of Lanvin were there, including ruffles, sumptuous fabrics in dark colors and lavish jewelry, but something was off. Perhaps it had to do with the fit of the clothing, which wasn't flattering in either oversized nor tailored iterations. Or maybe it was just a lack of cohesion, but this was not an effective collection.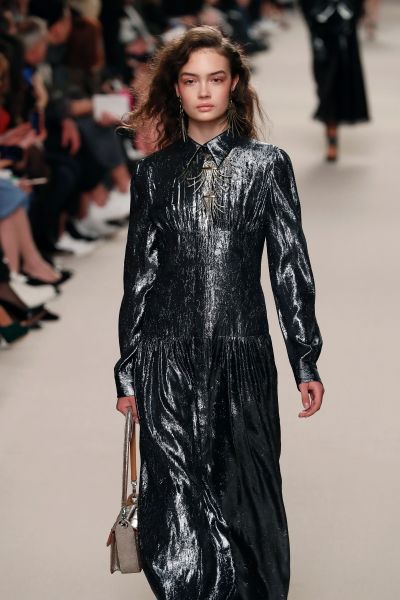 The patterns used, mostly a mix of brocades and shiny lace, were garish and seemed dated. The silken dresses with sleeves that puffed up at the shoulders felt old, as if pulled from a grandmother's closet. And the full-on metallic pieces missed the mark entirely. A golden trench coat felt out of place, while a silver lurex gown was frumpy and something Mrs. Havisham might wear if she were heading off to Studio 54.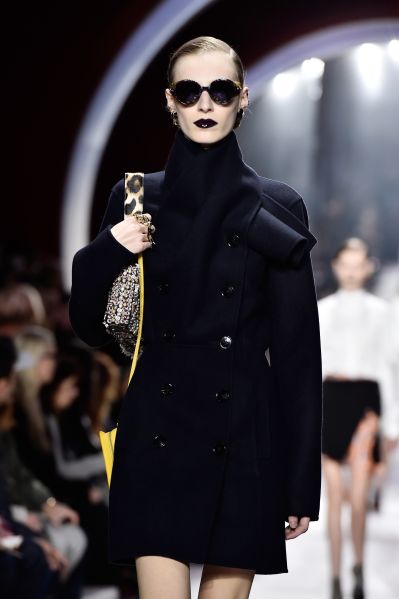 Meanwhile, the creative team at Dior played it safe. The color palette (and the lacquered lips) were mostly black, but not boring. The iconic bar jacket was served up in noir, but layered over a sporty zip-up mock neck. A layered, off-the-shoulder silhouette was smartly applied to wool peacoats and fur, alike. It read as vintage, in a nod to Mr. Dior himself, but modern enough for a blogger or young movie star to don.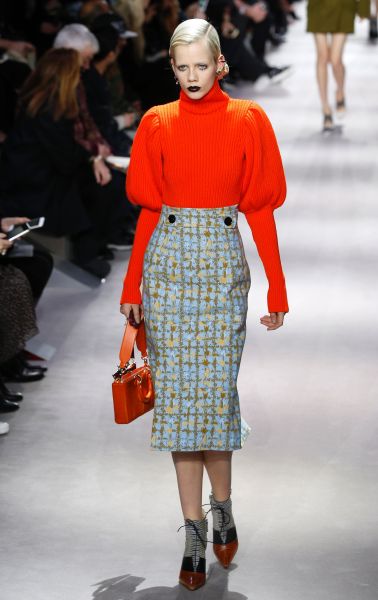 This collection, similar to Lanvin, lacked a viable connection from start to finish. The patterns were mismatched and seemingly random pieces just popped up, like a neon orange balloon sleeved turtleneck or a navy sequin dress. There were some effective patterns, like the floral print that peeked out from a twisted black frock, or the sheer skirt, smothered in sparkling blossoms.
Rather excitingly, a new purse shape emerged. The small shoulder bag was a slender version of the quilted Lady Dior satchel, given an extra dose of oomph from a sporty shoulder strap. This slim design is sure to be easily snapped up by Dior devotées, as are the pointy cutout oxfords in mixed media. So while there was a definite lack of direction here, it wasn't all bad.
Dior has weathered this storm before, in the time following the departure of John Galliano and the arrival of Raf Simons. They bounced back from that moment, as they will again, as long as they find the right leader who can steer their clearly skilled creative team in the right direction.