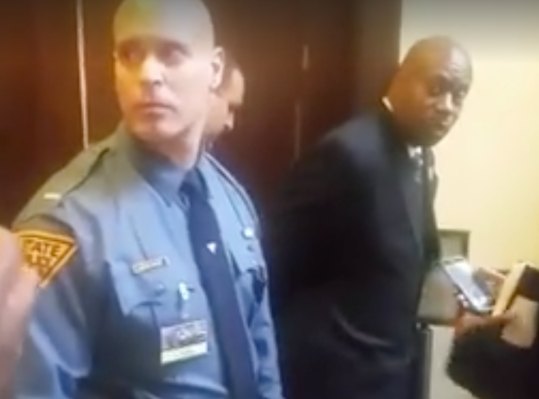 The director of South Jersey National Action Network was arrested Thursday after refusing to step down from the podium during his testimony against Atlantic City takeover bill sponsored by Senate President Steve Sweeney (D-3). Police escorted Steven L. Young out of the committee room when chairwoman Teresa Ruiz (D-29) called a recess.
Young's microphone had been cut, but he continued to criticize the takeover to applause from the crowd. Video taken outside the committee room shows two police officers telling Young that he will be arrested unless he leaves the building, after which he refuses and they lead him away in handcuffs.
"If President Barack Obama had did this to the state of New Jersey, there would be a civil war," Young said during his testimony. "Well that's how we feel. We are at war over this legislation to take away our sovereignty and our right to vote," Young said. "Not only do you want to take away our vote, you want to take our water too."
Sweeney's bill would mandate that the city "monetize" its water authority and allow additional state oversight of the city's finances. Sweeney said during Thursday's hearing that the bill's language would not mandate privatization, citing conversations between the city and Atlantic County on handing city water over to the county.