When we think of hackathons, we picture nerdy guys in blue jeans staring at their laptops for hours on end. Nirman Dave, a freshman at Hampshire College, wants us to think of writers, neuroscientists, actors and philosophers as well.
Mr. Dave recently organized and hosted the first hackathon where you don't need to know how to code to participate. Only two months into his first semester of college, he pitched the idea of a hackathon that pairs coders with people of other disciplines to the school, and soon began assembling a team of 25 core organizers. Hundreds of people from all over the country wanted to attend, and earlier this month, HampHack, finally happened. The results were a mind-controlled car, an app that detects if an item is recyclable, one of Tom Haverford's crazy ideas from Parks and Recreation brought to life and a whole lot more.
"Hampshire has a core interdisciplinary flavor attached to everything," Mr. Dave told the Observer. "I wanted to have a hackathon for everyone because everyone is making things. The idea was to get all of these different people from these different interdisciplinary fields and get them together and see what we can make."
Before starting at Hampshire College this past fall, Mr. Dave took a year off to work at a tech startup, where he made hardware but worked with people from all different sectors to bring the products to life. This was inspiration for the unique event, which Mr. Dave said saw "an overwhelming response."
When we spoke to him a few days before the hackathon, just under 500 people had applied. The venue was only able to accommodate 200, which made for 38 teams. Even with the technical products being created, coding took a back seat, for diversity (of all kinds) was the theme of this competition. They had an organic acceptance of 53 percent female and 46 percent male. Additionally, four out of five mentors and three out of five judges were women. Even the group of organizers was incredibly diverse.
"We have diverse backgrounds—someone doing neuroscience and some doing English literature and drama, for example," Mr. Dave said. "Not all of us have a technical background, and that's helped give us a better understand of the students who will be coming out."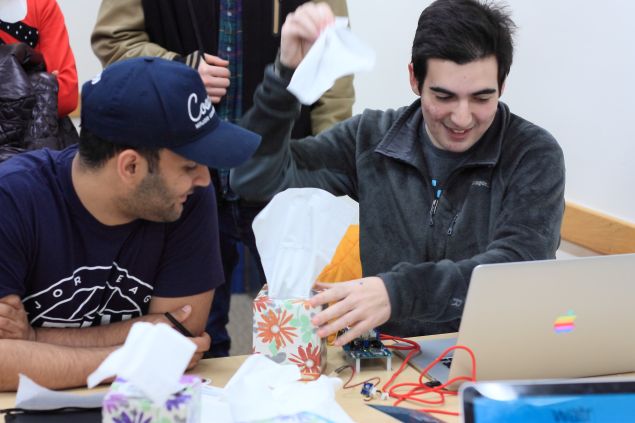 Even the categories were diverse. In addition to "artificial intelligence," "best developer tool" and "life hacks," the judges also chose winners for "the craziest project," "the most interdisciplinary project" and "most creative domain name." Roughly half the prizes, by the way, were awarded to women.
One standout creation is EdgarAllanPoetry, an AI that tests users' ability to tell computer-generated poetry from that of the English language's best poets. Another was MuseInvader, a space invader game you play with your mind using a headband that detects beta waves. The winner of the "craziest project" category was SniffleGiggle, which was inspired by the TV show Parks and Recreation and plays random audio recordings of sassy comments and motivational quotes when you reach for a tissue.
"This is an experiment of something that actually happens in the outside world," Mr. Dave said.