ROCHELLE PARK – Young Democrats from around Bergen County swarmed the Dog & Cask pub on Tuesday as the results from Super Tuesday's various primaries and caucuses started to roll in. Some were rooting for former Secretary of State Hillary Clinton while others were hoping that Vermont Senator Bernie Sanders would do better than expected in the mostly southern coalition of states where voters had the opportunity to cast early ballots.
The event was a coordinated effort between the Young Democrats of Bergen County, the NEA Democratic Caucus and the Urban League for Bergen County Young Professionals (ULBCYP). According to event organizer Gabriel Tanglao, the event and other gatherings like it provides a good opportunity for likeminded individuals to come together to understand national political issues on a local scale.
Tanglao is a member of all three groups who coordinated tonight's event. He is a teacher in Bergenfield, the civic chair of the ULBCYP and an executive board member of Bergen County's Young Democrats.
"It is really a social gathering," he said. "Personally, I'd like to see Sanders have a good showing. But, I am in favor of whoever is nominated. I will volunteer for either one of them. It is interesting because I think I lean towards Sanders because I agree with his core values but as an NEA member, they have officially endorsed Clinton and I am also in full support of my union."
The event drew the likes of area democratic operatives and staffers for state legislators.
In Essex County, the scene was similar at Fitzgerald's in Glen Ridge. There, the Essex County Young Democrats gathered to watch the results according to board member Matt Krayton.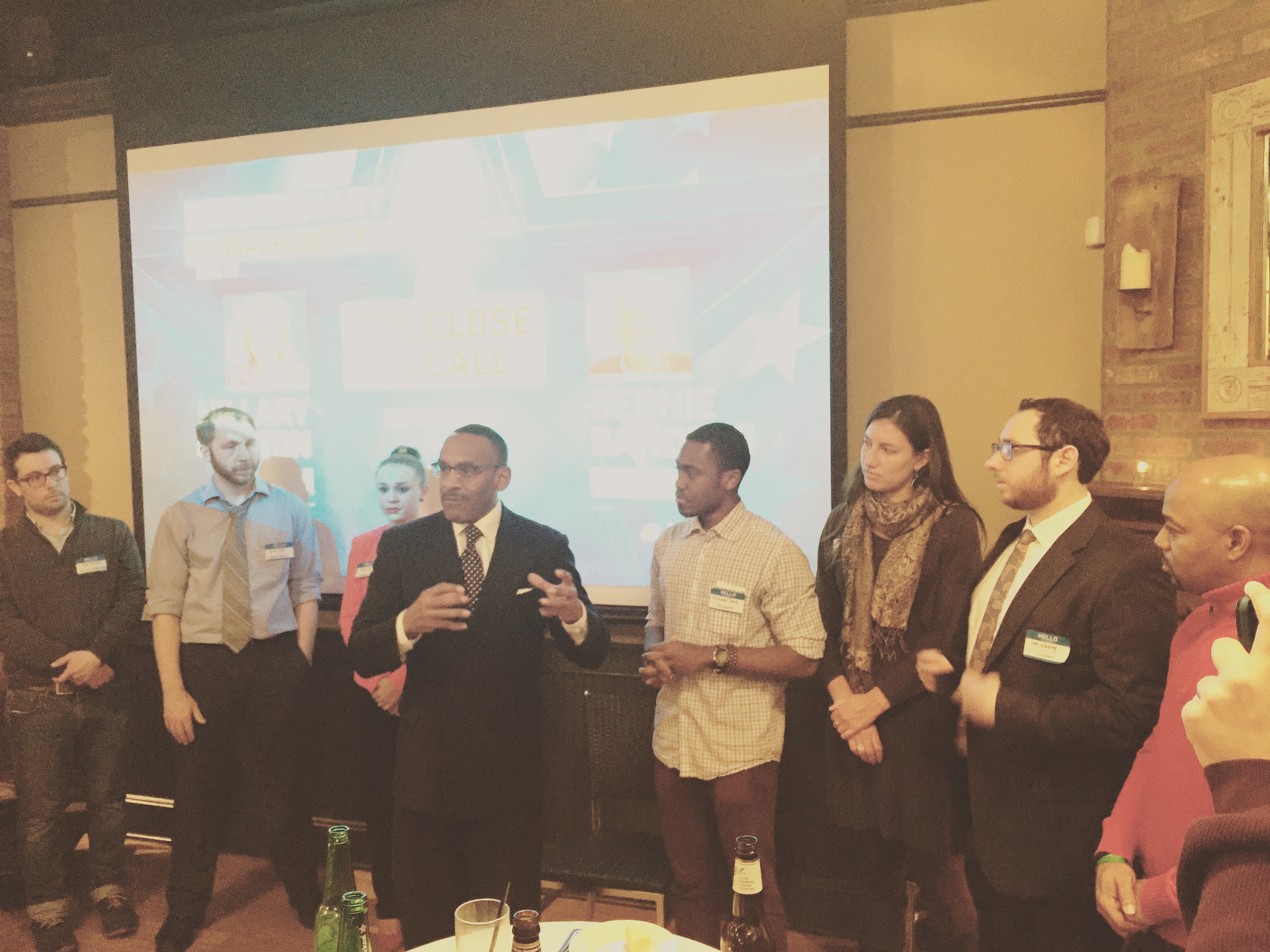 Essex County Young Democrats President Rashawn Davis said: "We're excited to see so many young people from across Essex and beyond who are engaged and inspired.  This is an important political year and we're encouraged to see a big crowd of young Democrats here tonight in Essex who are ready to get to work."
The Essex County event drew the likes of Essex County Chairman LeRoy Jones and New Jersey State Democratic Committee Executive Director and East Orange Councilman Chris James.