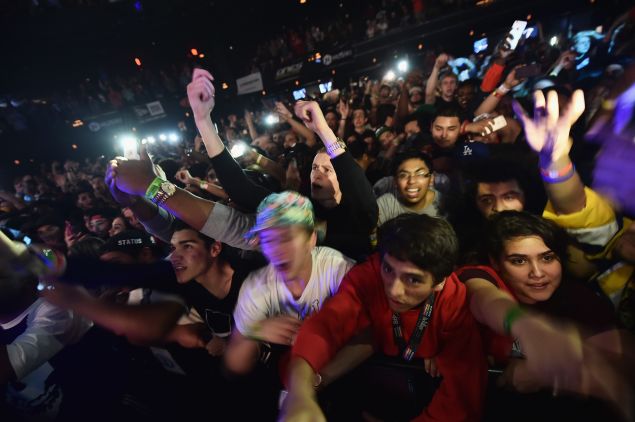 For any band or musical artist that breaks through at Austin's SXSW, the biggest reward is never having to come back.
Sure, they'll tell you how much they love performing, how even with the constant touring and odd hours for little pay there's nothing more rewarding than playing to a room full of sweaty fans, and that's likely true. But unlike a traditional festival, where the artist plays a show and has the rest of the duration to party and fuck around, festivals like New York's CMJ and SXSW are conventions, no matter what they call themselves. During such clusterfucks artists are expected to play several showcases at odd hours of the day, jetting from set to set with rushed sound-checks, zero sleep and no time to decompress. And those are the lucky ones.
So whether you're some music-industry insider asshole or a true fan with money to burn and time to kill, we hope that you're shuffling your Chuck Taylors around the Red River Cultural District, waiting in line for breakfast tacos or BBQ, or collecting swag from one of SXSW's 15 sponsors or the convention's countless vendors with glee. The Observer couldn't make it down this year, but here are some recommendations and things to avoid that we believe will help you "keep Austin weird" in our absence.
Let's get the negative stuff out of the way. If you're not in marketing or there on the music industry's dollar, avoid the fucking panels and conference. Seriously, they'll take every iota of magic out of the live music experience.
A quick perusal of what panels and discussions are being offered will let you know that every facet of this industry is in some way artificial and composed—bands are assembled by committees, branded sponsorships are disguised as "experiences," and data is more than likely being collected on your listening habits from everywhere you discover music. I don't even know how some of these publicists get our email addresses, and I don't want to know. The biggest doozy on this year's schedule: "Instagram and Snapchat Content: The New Hustle" on Tuesday, March 15 at The Four Seasons' Ballroom AB. There sure won't be any assholes in there.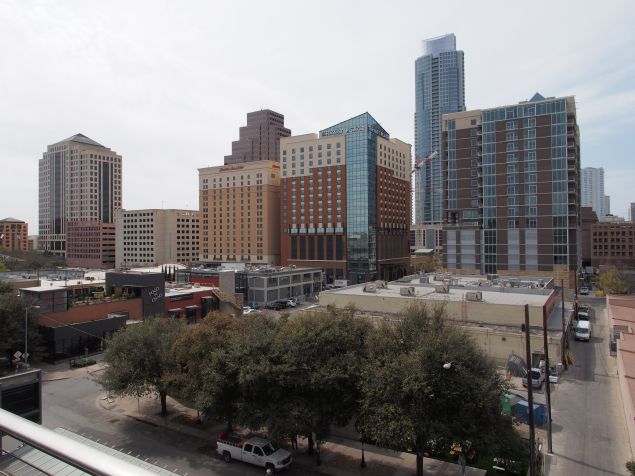 While all showcases are branded or sponsored to some extent, it's very important to avoid the branded "houses" parties, at least two of them. Of the big three, Spotify House and Fader Fort will almost always be at capacity before you get there, especially because they're free and they tend to offer open bars. Running the gamut of SXSW's music week, Spotify House has tons of awesome acts scheduled, but the majority of them can be seen at other, less cramped and better curated showcases. It may be the only place in Austin you can catch Miguel next week, but if you came to an emerging music conference hellbent on catching a dude who's already made it, you're just torturing yourself by slogging through SXSW in the first place. Just buy those seats on Ticketmaster, yo.
The House of Vans is a slightly different story. Like the Brooklyn Location, the SXSW HOV at The Mohawk has a knack for curating compelling lineups, blending the type of acts you'd expect to see perform in front of VANS wallpaper with some awesome shit way out of left field. Vans is celebrating its 50th anniversary this year, and they're not fucking around with this year's lineup. And you can't go wrong with Wednesday, March 16—the indoor stage features the Canuck punk of White Lung, the skronky sax-party of Downtown Boys and the righteous Thin Lizzy riffs of Sheer Mag. Head outdoors to find ex-Woods and Babies member Kevin Morby doing his Dylanesque singer-songwriter thing, Spanish lady-punkers Hinds getting the crowd swaying, Kelela bringing the smooth electro-R&B, Neon Indian picking things back up with his tropical acid-disco and the Queen, Erykah Badu in her only SXSW appearance. SXSW badge-holders only though, natch!
Aside from Tuesday, March 15's "Release Strategies for Music Documentaries" panel, there are actually several music documentaries screening at SXSW, adjunct from the film portion of the festival. Like Daptone Label Mate Charles Bradley (more on him later), Sharon Jones has a documentary of her own. Miss Sharon Jones! chronicles her comeback after battling cancer, and we can't wait to see it when it finds distribution after making the festival rounds. Gary Numan: Android In La La Land chronicles the odd, popular singer's battle with Asperger's Syndrome at a time when no one new much about it, and how he got his groove back, another genuine tale of a musician rising above a diagnosis. But the doc that hits closest to home, Goodnight Brooklyn, chronicles the final days of Williamsburg DIY space Death By Audio (along neighboring Glasslands and 285 Kent) after being bought by purported local music fans Vice. Maybe someone in Austin will get the irony. If it can happen to Brooklyn and San Francisco, it can happen to you!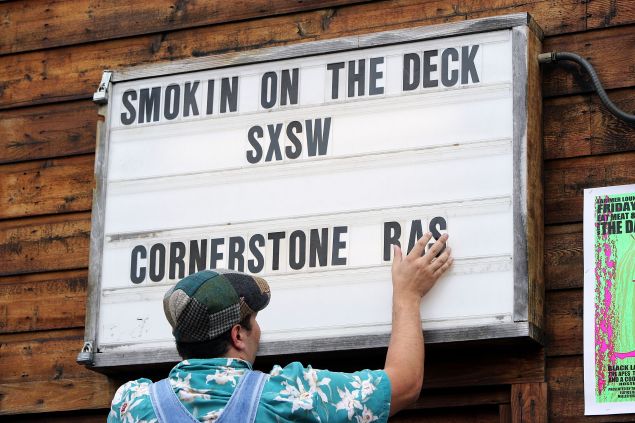 There are tons of worthwhile showcases and events to be sure, so make a note to thank those in attendance in advance for Instagramming their adventures ad-nauseam. If you're among the privileged and don't want to be awash in bouginess, these are the showcases we would be hitting if we were there.
Electronic hip-hop stalwart RJD2 plays a private event on Sunday, March 13 at Blackheart Bar, sponsored by a "Native Advertizing Agency" called Sharethrough. More irony, as it's not listed on the SXSW schedule and appears to be the prolific musician's only scheduled date at the festival. Maybe if you show up and pretend to be a prospective Sharethrough client they'll let you in?
Monday seems pretty shitty, but things pick up a little on Tuesday March 15. DIY Mag's showcase at Hype Hotel features the jerky pop of Diet Cig, the aforementioned Spanish ladypunks of Hinds, this British guy Jack Garratt who plays electro-pop as a one-man band (drum pads, guitars, etc) and the lush electro-pop of Empress Of.
There's also this dude Public Memory, whose wonderful new IDM record Wuthering Drum comes out on March 18, playing the opening slot at a showcase sponsored by his label felte at Barracuda. That's at 8 p.m., so you could potentially check him out and then head to Hype Hotel.
On Wednesday, March 16, the options for good music are a bit more vast. NPR's showcase at the legendary Stubb's is sure to please, featuring the Screaming Eagle of Soul, Charles Bradley, in an opening slot at noon for some dumb reason. L.A.'s Chicano Batman are also on the bill with their tropicalia-infused soul, along with Pitchfork's future R&B wunderkind Anderson.Paak and Long Beach's breakout hip-hop star of 2015, Vince Staples.
If you like your fast food crusty, garage-punk denizens Burger Records and Castleface are coming together for the best titled showcase of the week, "Make SXSW Great Again." This one features frequent tour-mates OBN III's and The Blind Shake, Canada's own King Tuff-esque power-popper Michael Rault, and Brooklyn's Worriers. But we'd bet that the hottest set of this showcase is Savak, a relatively new project featuring several of the dudes from the now-defunct Obits. Savak have more than a touch of Chairs Missing-era Wire, making angular post-punk that's super jittery, arty and effective. We caught their first-ever show at Cake Shop's 10th anniversary over the summer, and they were pretty dead-on; we can can only imagine how much tighter they've gotten since.
Also that evening, the demi-god Iggy Pop plays Austin City Limits for a taping, backed by Josh Homme's backing band. Opening for him are The Moonlandingz, the synthified space-psych project that describes itself as an "outsider ouija psych pop super group," featuring Lias and Saul from Fat White Family. Debauch attracts debauch.
As the weekend approaches, your options open up. Thursday and Friday find Pitchfork hosting free day parties at the Barracuda that feature some of the artists we've already mentioned and a few more, like the awesomely absurd DJ Paypal. Check out the day by day lineups and set times here.
Stick around at the Barracuda on Thursday, March 17—a few of the performers playing Pitchfork's day parties play Secretly Canadian's nighttime showcase too, including Kevin Morby, Frankie Cosmos and Mitski. But you also get the awesomely understated VU-reminiscent slacker rock of Nap Eyes, the Wilco-esque big band of Lionlimb and the Townes Van Zandt-meets-Leonard Cohen alt-country of Marlon Williams.
Hardly Art's hosting an "Official Brand Awareness Showcase" on Thursday, too, which is more than just a clever name. The label will take over Cheer Up Charlie's and feature sets from the pop-punk feminists of Tacocat, the surf-rockin' ladies of La Luz, the doo-wop  garage of Shannon & the Clams, and the pummeling but elegant post-punk of Protomartyr.
If you miss the first decade of 2K, don't fret, because Banger's Beer Garden is throwing a show with the campy dance duo Tanlines, Jana Hunter's fantastic Lower Dens, Bloc Party and The Kills, who are back this year with a new record.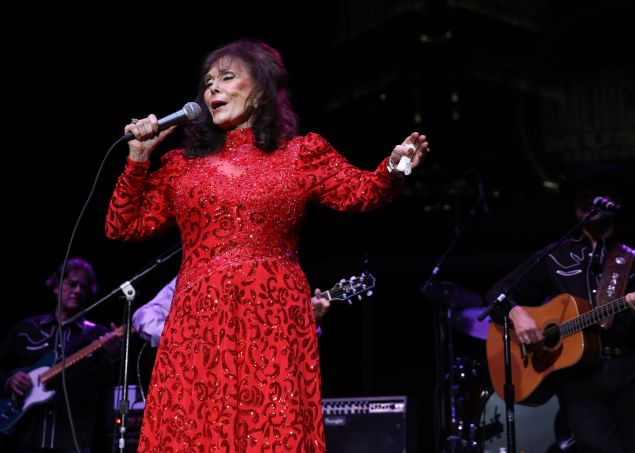 BBC Music is throwing the most random showcase of the evening at Stubb's, kicking off with an opening set from country royalty Loretta Lynn (why is she opening?). Then you get the paisley grunge of up and coming Sunflower Bean, and some British singer songwriters with electronics Lapsley and Jake Bugg. The first two acts on this one are not to be missed, and you can't catch Loretta Lynn anywhere else on the festival.
There are some strong hip-hop showings on Thursday at the aptly named Mass Appeal showcase at Austin Music Hall. That one features Smif N Wessun, JUST BLAZE, DJ Kahled and Nas.
Carpark Records' "Sweet 16 Celebration" at Swan Dive is another strong option. That showcase has New York's own Big Ups, TEEN and Prince Rama, along with Bandcamp success story and '90s throwback Car Seat Headrest. A very strong lineup.
Friday, March 18 keeps things going with some good variety. The electro-dance party will be reach full effect in The Cedar Street Courtyard when Jamil Rashad's electro-funk project Boulevards take the stage. He's doing an Austin City Limits taping, too, but this should be much more intimate. Also on that bill is Brooklyn's rising found-sound IDM star The Range (whose new record we're really digging) and Vince Staples. Can't really go wrong with this one.
Sandwiched between Americana and folk acts like Jamestown Revival and Head and the Heart, Mark Kozalek's Sun Kil Moon takes the stage at Clive Bar on Friday, too, hopefully with some choice rants for the megalomaniacal clusterfuck that is SXSW.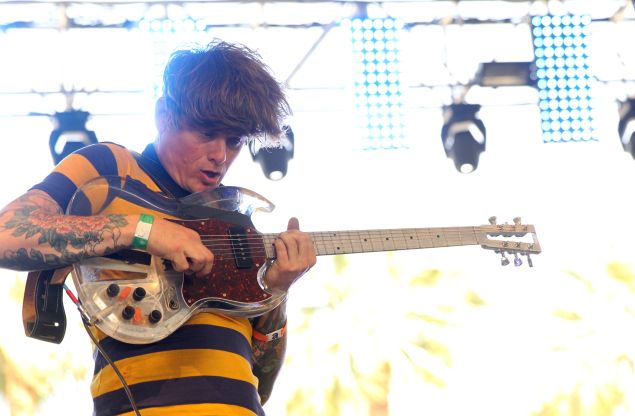 Cooler than you and proud of it, booking agency Panache throws a Friday party, too, featuring a lot of the same acts you've already seen if you've taken our advice. They add CocoRosie and John Dwyer's pummeling Thee Oh Sees to headline this one, though, so it's definitely still worth checking out.
On Saturday, the good sets seem more spread out, but we've got our ears on the always independent and forward thinking Stone's Throw Records showcase headlined by founder Peanut Butter Wolf at Empire Garage. Alt-rockers Autolux are back, releasing their first album in six years, Pussy's Dead this year. They play The Gatsby with Charles Bradley and Bloc Party. Jad Fair of Half Japanese fame plays the hideout, too. This guy confesses to not being super into metal, but I've heard good things in the hazy riffs of Bongzilla [Ed: #420], who play the Tone Deaf Touring showcase at Swan's Dive that night, too. And Waxahatchee headlines the Central Presbyterian Church, still riding high the fumes of her awesome record from last year, Ivy Tripp. Like I said, Saturday and Sunday shit starts to get really spread out.
If you're doing it right, you'll be exhausted by Saturday and you can just chill, or hey, hit a stupid panel. The can't-miss party Sunday night features New York's Night Train, the 45" spinning rockabilly DJ Jonathin Toubin at Palm Door on Sixth, along with garage psych dudes The Mystery Lights and the always fun camp of PMS and the Moodswings.
Maybe we're just getting old, but if you wan't to be all Buddhist about it, we all are. This year's SXSW lineup doesn't seem as robust as years past, populated with hardworking bands who play often and more than likely come to your town often, too. The performers at SXSW work their ass off, and will likely get little out of it. The most they can hope for is that some millennial with a trust-fund bankrolled cocaine habit and an undergraduate degree in marketing catches their sets, makes some calls and finds someone to finance their next tour. If you're going, try to branch out from this list and explore, but save your energy. That way, when you hear someone you really love, you'll be able to show them not just by hanging out, but by getting down.