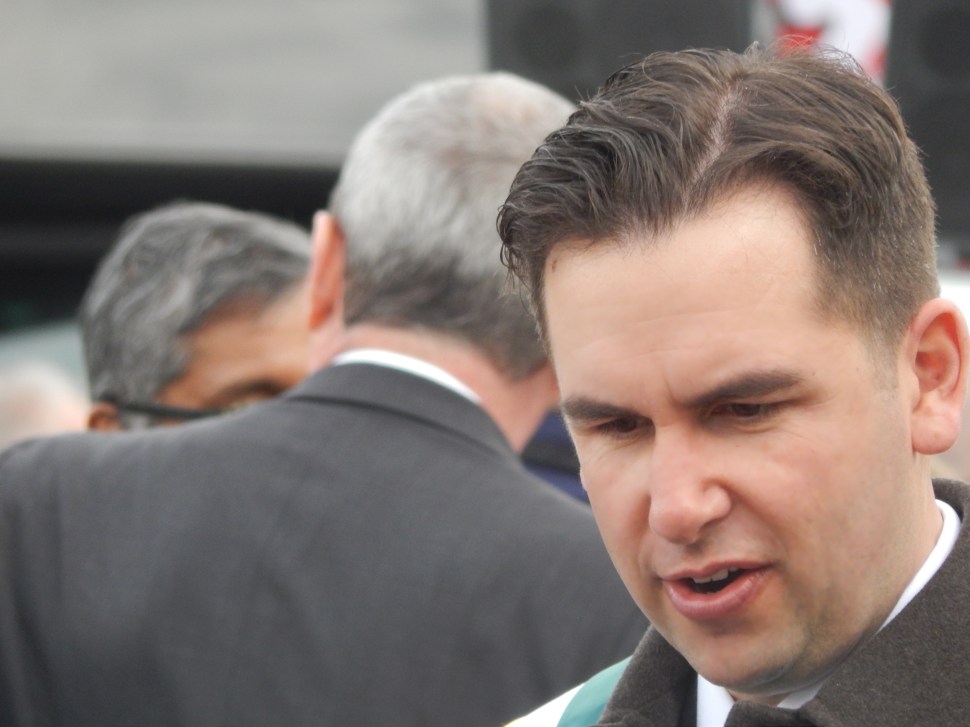 Jersey City Mayor Steve Fulop is on the short list to become New Jersey's next governor. Meantime, he's got his hands full nurturing Jersey City's ongoing revival. PolitickerNJ tagged along with the mayor and his chief of staff Mark Albiez to glimpse a day in the life.
6am

Workout @ World Boxing Gym, Jersey City
Boxing at
6am
? Are you kidding me? Tempting as it was to see Steve Fulop in shorts, thanks but no. Instead, I'll be enjoying a sunrise bubble bath while gazing at the Manhattan skyline. A quick plug for NJ's 2nd largest town: hotel rooms here are cheaper by a mile than NYC with much better views! This isn't simply a case of Garden State jingoism either, Jersey City is hot hot hot! So why not enjoy a few moments of calm before a 12-hour-day shadowing one of New Jersey's most kinetic political figures.
8:30

Breakfast with Labor Allies @ Brownstone Pancake Factory, Jersey City
It's no secret that NJ's transportation infrastructure is a hot mess. Roads, bridges, tunnels, mass transit, all of it. Our breakfast companion Ray Greaves is the chairman of Amalgamated Transit Union's  7000+ NJ delegation of bus/light-rail operators, mechanics, and clerical and salaried employees. This was a reminder to me that the labor movement isn't politically monolithic. ATU is NJ's largest transportation union and one of the more progressive outfits on the labor continuum. When it comes time to select our next governor the labor vote still matters, most especially during next spring's democratic primary. (And FWIW whoever has the best plan to fix our roads (et al) gets this taxpayer's vote!)
10am

Meeting w/DeCotiis Law Firm
Joseph DiCotiis is namesake at one of NJ's blue chip law firms (and one of the mayor's earliest supporters.) Lots of opinions here at the table about casino expansion. I hate casinos so I listened with a jaundiced ear. And it kills me to say this, but if expansion has to happen (oh god, please no!) reckon it's best to plan for that contingency, right? Whether you want expansion or not (for noble reasons or not) there are a gazillion moving parts to the casino expansion debate in New Jersey.
11am

Cake Boss meeting, Jersey City Hall
There are decaying vestiges of industry all over New Jersey. How we develop these sites determines which towns thrive (and which ones crumble.) The Lackawanna Building in Jersey City is a perfect example; a colossal-sized former railroad warehouse located on 13 underdeveloped acres in a part of town where industry once roared. Now, the 1.3m sq. foot complex is sorta/kinda on the way back (but not quite there yet.)  Enter Buddy Valastro, of TV's Cake Boss fame with an ambitious-sounding plan to tap some of this long-languishing site's promise. We didn't see Buddy (who was back in Hoboken cranking out spongecake) so he dispatched his business squad to meet with Mayor Fulop and his team. Their plan: an Eataly-style farmer's market and food court. Following the wildly popular NYC High Line template, Lackawanna could also retain its railway pedigree while transforming itself into an actual destination. Restaurants, picnic area, park, view of Manhattan, holiday stuff, etc.
.
Zoning and licensing came up. Why is the important stuff always so boring? Given New Jersey's promiscuous use of tax credits, it's no surprise that came up too. How naïve I mused to myself with a chuckle, Trenton usually only gives tax credits to bad ideas!  Lackawanna's transition from a once-thriving industrial center into a place where people actually wanna go (and spend their money) will be challenging. Doing so while retaining the the character of a historic property is even trickier, especially in New Jersey where titanic development deals (Xanadu, Revel) typically go to die. That said, Buddy's team's pitch sounded very appealing. Made me wonder if Camden and Trenton get these kinds of offers.
12:30

Lunch with Monmouth Democratic Chair Vin Gopal, Carteret, NJ
Diner food pairs exquisitely with New Jersey political banter and the Bus Stop Diner in Carteret did not disappoint: hot, greasy, and very dishy. They discussed Trump's potential impact, the race to replace Chris Christie(!), Bernie versus Hillary, and the party's big Philly convention this summer. As chairman of Monmouth's democratic committee, Gopal controls the party line in NJ's 5th most populous county (behind Bergen, Middlesex, Essex, Hudson.) And we all know whoever gets that line almost always wins the county. Fulop and Gopal represent the next generation of Democratic leaders in NJ. To recall their ascent from just a decade ago, I felt like a proud uncle watching the future of my party seizing their mojo.
1:30pm

Tour of Jersey City Hall
After lunch, the mayor gave a tour of Jersey City Hall and gamely complied when asked to see the vault that gave Fulop his "Geraldo moment." Fulop was a good sport telling the story, albeit a bit sheepishly. Jersey Journal
remembers
 it too: "In the biggest safe-opening fail since Gerald Rivera went live inside Al Capone's empty vault, Jersey City Mayor Steve Fulop today opened up the two long-locked safes inside his office to reveal l … an extension cord.  Cue the trombone: Wah-waaaaaah."
.
Former Mayor Frank "Boss" Hague's infamous desk was next; that one with the trick-drawer which scandalously opened towards anyone seeking political favors from the Mayor. That drawer looked big enough to accommodate several envelopes stuffed with cash, enough to fuel the long-time mayor's nearly impregnable political machine from 1917-1947. If you don't know about Mayor Frank Hague, you gotta check out his
Wiki
page! He well may be the shadiest (redacted)(expletive) in the entire history of New Jersey politics.
.
More history was on display in the chamber where city council meets: portraits of Jersey City mayors dating back to the early days. All but one were men, mostly Irish names. Any Jews? "I'm the first Jewish Mayor," Fulop replied. Elected aged 36, Fulop's likeness hanging on the wll looked very dewy. "You look young," I remarked. Now slightly craggier and pushing 40, Fulop was quick to point out that he's not JC's youngest-ever mayor. Or even the second youngest. That distinction belongs to Gerry McCann, a jolly raconteur who'd later regale me with some pretty far-out tales about how Ronald Reagan planted the seeds of Jersey's City's current revival. But we digress….
2:30

TV interview on JC's minimun wage increase
Minimum wage workers in NJ earn $8.38/hour. This might be ok for a kid working at Wawa, but $8.38 is not a living wage in most parts of the state. In response to the diminishing purchasing power of low wage earners, Jersey City just raised it's minimum wage for city workers to $15/hour, the first town in NJ to do so. This means 20% of Jersey City's workforce (roughly 600 of 3000) get a raise in their next paycheck. Republicans hate these initiatives because they don't see value in creating a better quality of life for workers. An so far democrats in Trenton have favored the ballot approach to raising the rate. Last time we took that route, the rate went up three whopping cents (which suggests the referendum method is a bad idea.) What about workers outside of Jersey City? the reporters asks. "You have to change things were you can," Mayor Fulop replied.  "I thought it was important to adjust it and so we did. Ratables are up. When you grow the economy, you can fund progressive policies without raising taxes."
3pm

Meeting to expand Arts programs
Our
3pm
meeting seemed predicated on the assumption that when the arts community thrives, a town becomes more attractive. This particular appointment  was was about ensuring the longevity of JC's Art House Productions, which began as an informal gathering of artists and community members just after 9/11. Per their website: "At that time, there were no consistent performance venues for artists in Jersey City to meet one another and share new work. Art House's inaugural event sprung from the desire to connect a devastated community through art and dialogue." It's difficult to quantify the extent to which art transforms neighborhoods for the better, but this much you can quantify: 17,000 Jersey City residents have been served by Art House Productions. And Mayor Fulop seems especially mindful of the critical roll the arts play in a vibrant, thriving urban ecosystem.
4pm

Public safety contract meeting 
This was mostly off the record but I'll say this much: when it comes to contract talks, it's a lot easier to give all sides (including the taxpayer) a fair shake when the economy is trending in a positive direction. Mayor Fulop was also briefed on ongoing public safety investigations – sobering stuff – including
one that appears to have successfully concluded
 with the arrest of a dozen gang members. Things like gun violence and gang crime are oftentimes abstract concepts for our leaders in Trenton. No so for our state's mayors who, like it or not, have to deal with this stuff in a direct way all the time.
6pm

Retirement Party Liberty House Jersey City, NJ
Bob Cotter served 9 different mayors during his 30-year-career as Jersey City's urban planner. Several were on hand to send Cotter into a much-deserved retirement. According to one guest, Bob set the table for much of Jersey City's current coolness and prosperity. Hudson County luminaries were on hand to fete and honor the outgoing planner whose retirement party doubled as a scholarship fundraiser for the next generation of urban planners. Mayor Fulop was effusive in his praise for Cotter, crediting the outgoing planner for planting the seeds of Jersey City's current renaissance. According to one guest, former Mayor Gerry McCann, another man deserves some credit for the revival.
.
Ronald Reagan campaigned for president in Jersey City and after he was elected granted $54m boost the city's sagging fortunes. So why Jersey City? Mayor McCann's hypothesis boiled down to Cold War-era geopolitics. Not only did Jersey City provide the best optics imaginable (hello, there Lady Liberty!), it was also home to many Eastern European immigrants, including the mother and step-father of Polish freedom fighter Lech Welesa, whose movement to overthrow communism in Poland was referenced in Reagan's
famous speech
in Liberty State Park. My takeaway: if you like Jersey City (and I do!) thank urban planner Bob Cotter (and the 9 Jersey City mayors he served culminating with Steve Fulop.0 And thank Ronald Reagan too.
Zeppelin Hall is an airport hangar-sized, German-style beer hall just a few blocks from Jersey City Hall. On this gorgeous spring night the place was packed – line out the door – so here's where the trappings of the Mayor's coterie felt kinda like a scene from Entourage (as we pulled up to the front in our black Ford Expedition.) Thank god I dressed to kill, i thought, as we were quickly whisked through the front  door. The 1,500 people on hand were there for us! And my us I mean Mayor Fulop who was hosting a low-dollar fundraiser to give progressive members of the rabble their chance to invest in Steve Fulop's campaign war-chest for reelection as mayor is Jersey City. Or whatever else might pop up. Ahem.
.
Before I snuck off without saying goodbye to anyone, I got a chance to sample the room. "Hudson County united!" enthused one guest while offering up a fist-bump. On my way out I noticed the long line to shake the mayor's hand. If the critique that Fulop lacks the common touch is true, then a few endless receiving lines might be good practice for him. In any event,
tonight's
crowd was thoroughly charmed and the event raised $30,000.
For someone like me who's used to chronicling Trenton's paralysis, shadowing a politician who actually gets stuff done was an all-too-rare treat, I though to myself on the way home to Cherry Hill. No doubt that's gonna make my next trip to Trenton, where it's business as usual, that much more painful.
Jay Lassiter started covering NJ politics in 2005 as a blogger for BlueJersey.com. After a stint as America's first State House blogger, Jay did communication for Congressman Rob Andrews' and Congressman John Adler's campaigns. Jay's best known for his work legalizing medical marijuana and gay marriage and for working to end NJ's death penalty. He's on Twitter at @Jay_Lass.