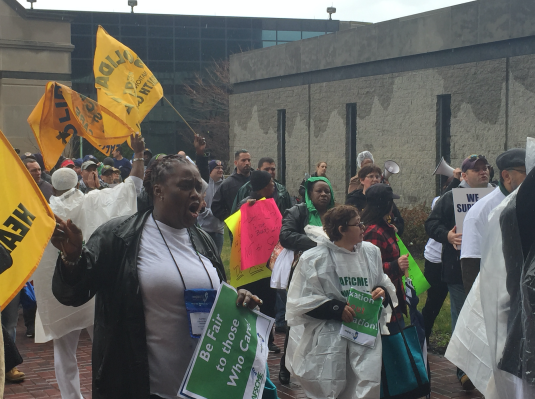 ATLANTIC CITY — Members of the New Jersey A.F.L.-C.I.O. and Atlantic City's public unions marched on city hall Tuesday, lead by Mayor Don Guardian and members of city council. Unions in Atlantic City are facing harsh cuts as the state weighs a takeover of the city's finances that would allow appointees of the governor to make unilateral changes to collective bargaining agreements. Changing "This is what democracy looks like," the crowd of hundreds filed into city hall after marching from Caesars in the rain.
Senate President Steve Sweeney (D-3) and Governor Chris Christie favor that bill, while Assembly Speaker Vince Prieto is sponsoring competing legislation that would delay those changes by two years with additional benchmarks.
Atlantic City police, firemen and other city employees have gone without paychecks since the beginning of this month, and will be receiving monthly instead of bi-weekly paychecks as the city scrambles to find the cash. Demonstrators chanted against Christie and accused him of union-busting. The governor has said that he will not allow the city to declare bankruptcy without a takeover, and will not consider alternative proposals.