"It really is an oasis," Corcoran broker Gina Sabio cooed as we stepped into the maisonette at 330 East 72nd Street. "It faces a private garden," she added, gesturing to the 1,000-square-foot terrace off the living room.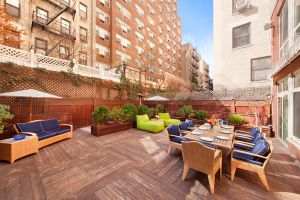 The 3,464-square-foot condo was recently renovated by designer Ron Fleeger, but with one child off to college, the owners are listing it for $6.75 million with Ms. Sabio and Sherri Balassone, also of Corcoran.
"There was a lot of reddish color before," Mr. Fleeger told us of the living room, furnished with a gray velvet couch and Lucite table by the gas fireplace. "The coffered ceilings are original—we brought it to bright white!"
Aside from the dining table, there's a built-in breakfast nook just off the kitchen with images of life-size flatware, perhaps in case a guest forgets where they are.
On the second floor, the master suite had one wall of antiqued glass mirror, with an imposing and rather high wooden bed.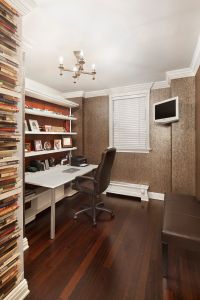 "This is the hangout room," Mr. Fleeger said as we entered the den. "It gets a little sloppier when the kids are here," though at the moment not one velvety pillow on the couch was out of place, and the leather ottoman had nary a scratch.
A home office boasted the requisite desk and shelves. "That's actually a Murphy bed," Mr. Fleeger said, laughing, pointing behind the latter. "I don't think it's ever been down."
A very blue bedroom was "the boy's room," per Mr. Fleeger, and even the en-suite bathroom contained a blue toothbrush. The corresponding girl's room contained an Andy Warhol-esque portrait of its occupant and a plush white "Tibetan lamb" rug underfoot. "I'd sleep on that!" Mr. Fleeger declared.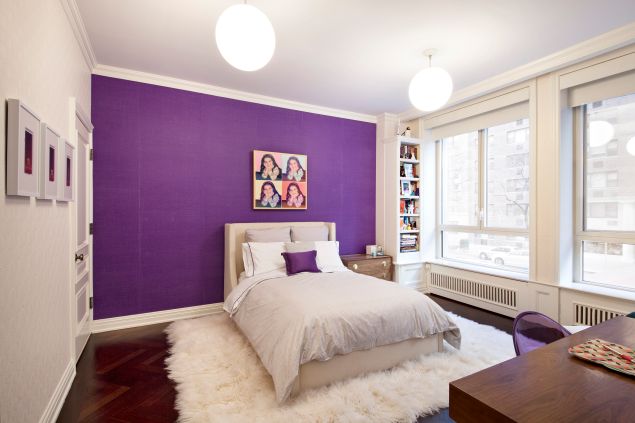 A single pendant light in the en-suite bath sparkled amongst pink towels, but it didn't compare to the glittering, multi-pendant chandelier hanging above the staircase.
"I had to sit there and make sure it looked good from every dimension," Mr. Fleeger said, chuckling. "Do you know who's going to have to deal with rehanging this? Me!"