"You get the whole skyline, so it's good for fireworks, for the parade," Stribling vice chairman Kirk Henckels told the Observer as we peered out the south-facing living room window in the Beresford that afforded views of  Central Park West and the reservoir.
"She has a big party every year for the Thanksgiving Day parade," Mr. Henckels added of the owner, who has resided in the 20th-floor apartment at 7 West 81st Street for nearly 25 years. Alas, now that her children are grown, she has decided to list her 3,000-square-foot co-op for $10.5 million.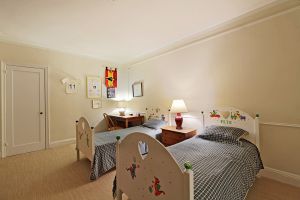 While one of the three bedrooms, each with en-suite bath, has since been converted into an office, another looks untouched—twin beds with names hand-painted on the headboards, a few posters adorning the otherwise pristine walls.
"This is the top floor of the western tower. I wish we had a blue sky today—it's just glorious," Mr. Henckels lamented as we strolled into the master suite, which appeared to be fully prepared for spring, with a flowery duvet cover that complimented the equally floral curtains. Like the living room and office, the master has southern exposures; other rooms have east and west views.
The décor—antique tables and oil paintings in ornate gold frames—went nicely with the original Emery Roth-designed moldings and hardware, along with herringbone strip oak floors in the entertaining rooms and entry. The master bath contains another of the famed architect's touches.
"It's a toe tester," Mr. Henckels said excitedly, pointing to a small golden faucet in the shower. "So one doesn't scald oneself!"
The more modern kitchen had been recently renovated, with white cabinets and countertops and a rather unique feature underfoot.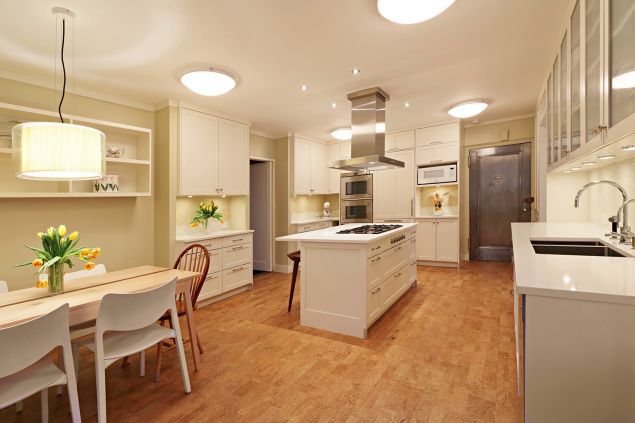 "The floors are cork," Mr. Henckels told us. "I love them! We're both from Texas, so we both grew up with cork floors."
Directly off the kitchen, adjacent to a formal bar, is a library, where one of the two feline inhabitants had taken up residence. "One year, [the owner] had a party and couldn't find the cat after," Mr. Henckels said. "She got a call from the downstairs neighbors—the cat had jumped down to the air conditioner on the floor below!"