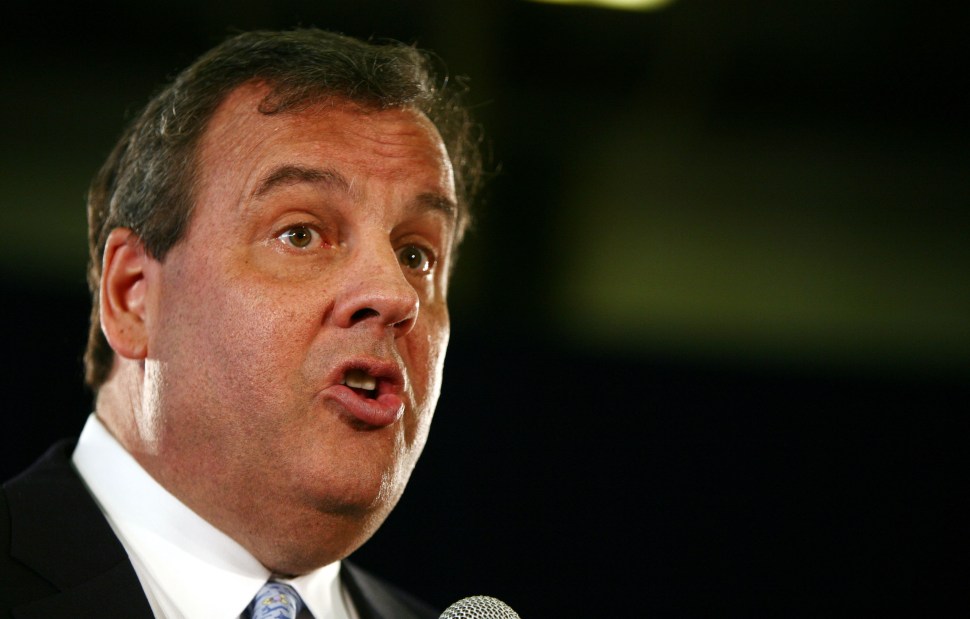 Seeking regional foxhole optics in a time of crisis, Gov. Chris Christie went to Atlantic City today to fasten himself to County Executive Dennis Levinson, a South Jersey brand name who – unlike Christie's dug-in nemesis Mayor Don Guardian – supports the Christie-endorsed Atlantic City state takeover bill.
A day before D-Day for the bill opposed by Speaker Vincent Prieto (D-32), Christie adamantly advocated for the takeover bill.
"When this takeover bill is passed, and it will be, I am going to work with the county executive," he said, joined at his press conference with an affirmative Levinson. "We are not going to foist anything on the county that the county is unwilling to take on."
Sources, however, say the state takeover bill in its current form is in trouble. Prieto shows no signs of posting it tomorrow. Over the weekend, Middlesex County Democrats refused to sign on to the plan, and Assemblyman Chris Brown (R-2) – who opposes the bill – has influence in the usually reliably Christie-lock-stepping Republican caucus.
"It's never been more acrimonious than it is right now," a source told PolitickerNJ, referring to legislative leadership's interactions with the front office, and bemoaning the estrangement in particular of the governor from Prieto.
"We're not used to seeing the governor in this position," said the source, anticipating a further wounded Christie.
Christie today showed no signs of backing down.
At his press conference, the governor promptly trained his sites on public sector unions, those entities that he has consistently argued have handcuffed the speaker. Prieto doesn't want to post the Christie-Senate President Steve Sweeney (D-3) version of the takeover bill because he fears a state intervention would impair collective bargaining rights. Prieto has his own version of the bill, which a source says the speaker intends to have put through committee tomorrow in time for floor consideration on Thursday.
"The speaker needs to stop playing politics," said Christie, before fingering what he identified as the real culprit. "Post the bill, Mr. Speaker. It is not your right to be a one-man obstruction crew, causing insolvency in the city of Atlantic City."
"The AFL-CIO sent out a message saying we're attempting to protect bond holders and go after public employees," he said. "More lies from the city administration and their union bosses. 119 city employees have [six-figure salaries]. The public employees in Atlantic City never get sick. They have more accumulated sick days than anywhere else in the state. …It's unconscionable."
Moody's just this week downgraded the city's credit to the level of Puerto Rico, the governor noted, owing to the mismanagement of the city's finances by the local administration. He called the collective bargaining objection by Prieto a straw man, pointing to those 15 Democratic senators who backed the state takeover bill in their chamber, including state Senate Majority Leader Loretta Weinberg (D-37) and Senator Ray Lesniak (D-20), historically fierce labor champions.
Christie blamed Mayor Donald Guardian, Levinson's local Atlantic County foil.
"I spent hours on the phone with the mayor while in New Hampshire," he said. "The mayor agreed with the deal. He told me he wasn't happy but he knew this is what he needed to do." Christie reminded reporters that he subsequently called a press conference with the senate president and the mayor. "He agreed with the deal only to renege," Christie said of the Republican mayor. "I cannot make a deal with people who do not keep their word. When I make a deal with someone I keep it."
During the Q and A portion of the press conference, the governor savaged Guardian, noting that his math skills were as poor as his management skills.
Levinson backed him up, even though Christie backs Donald Trump for president while he supports Ted Cruz, he cracked. "We have a crisis here," said Levinson, "but Atlantic City is still number three in the country in gaming revenue. …The problem we had was the competition we had in Pennsylvania."
When he engaged reporters, the typically combative Christie showed flashes of anger and irritation. At one point he told one member of the media, "That question is so stupid it's hard to believe that you would ask."
At another point he said,"Ask a question that you really mean, or don't."
Finishing his back and forth with the press, the governor alluded to comments Guardian made earlier this week urging the people of New Jersey to "pray for Atlantic City" when Christie referenced Prieto and Prieto's task tomorrow. "Maybe the mayor of Atlantic City can pray for him," the governor cracked.
Prieto responded in a statement.
"Gov. Christie will never be mistaken for a man of action," the speaker said. "If he put as much effort into using his authority to save Atlantic City or negotiating a compromise as he does talking, maybe we could have resolved this situation. Gov. Christie spends an inordinate amount of time casting blame on others for his failings. I've made my position crystal clear – Gov. Christie has the ability to save Atlantic City from financial disaster, and I will not support legislation that tramples collective bargaining rights, fair labor practices and the civil liberties of the people of Atlantic City.
"Gov. Christie must use his existing authority or Christie-Sweeney must negotiate a compromise that protects core Democratic values," the speaker added. "The existing bill does not have enough support to pass the Assembly. If the governor and Senate president refuse to act, then I am ready to move forward with my own legislation."