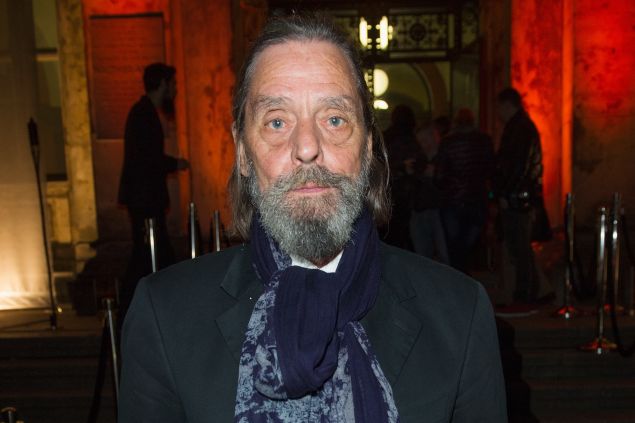 Ulay, who has not performed in New York in nearly three decades, is making his return. The pioneering German-born artist, famed for his 12-year artistic partnership and romantic relationship with Marina Abramovic, will bring a mysterious show and three-day performance series to Red Hook, set to take place May 6-8 in conjunction with the annual Frieze art fair week.
The work, titled Cutting Through the Clouds of Myth, will be a "one time only" collaboration with Slovenian artist Jaša, although Ulay will also complete a solo performance, Watermark, on May 7. Presented jointly by Red Hook's Kustera Projects and the art production company We.Are Institute, the exhibition will be on view through June 1 following a three-day opening,
Details for the artists' performances are intentionally hazy, according to project curator Mitra Khorasheh.
"In regards to the content of the performance, we wish to keep it a surprise, a secret," Ms. Khorasheh said in an email to the Observer. "It is important for both artists that the work be experienced first hand by the audience. Ulay will be Ulay, and Jaša will be Jaša."
In a release for the opening weekend's performances, the most concrete description of the collaboration Ms. Khorasheh provides is as follows: "A series of actions, an intimate happening, an experiential installation, a language of communication … True to his legacy, he [Ulay] will come in and will leave his mark; he is the main protagonist in the action. Whereas Jaša's approach to performance centers on molding time into something less palpable, through creating a rhythm that goes beyond what it seems."
During his time away from New York—he last performed in the city in 1986 at the Brooklyn Museum—Ulay has become a fixture of the Amsterdam and Ljubljana art scenes, two cities he now splits his time between. His separation with Ms. Abramovic in 1988 came with a notable performance piece, titled The Lovers, wherein the artists began walking the length of the Great Wall of China, beginning at opposite ends and meeting in the middle to say goodbye. In 2015, Ulay sued Ms. Abramovic over the authorship and royalties of works they created together during the 1970s.
In his solo career, Ulay has created an extensive photographic body of work using polaroids to explore issues of nationalism and identity. He is know for his "auto self-portraits," in which he wears make up on half his face and remains unshaven on the other side, and for his durational performances. In 2009, the artist was the subject of a documentary film when he was diagnosed with cancer, titled Project Cancer: Ulay's Journal from November to November.
The artist is represented by MOT International gallery in London and Brussels.
Most recently, Ulay has been committed to what he considers his magnum opus, a compendium of water-themed artworks known as the the Earth Water Catalogue. Ms. Khorasheh stresses Ulay's focus on his exploration of environmental issues and raising awareness for water conservation. With that in mind, we wouldn't be surprised to see such themes explored in radical fashion come May.