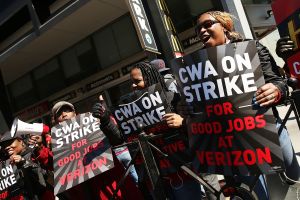 36,000 Verizon employees throughout the East Coast went on strike Wednesday after two labor unions failed to settle grievances with the company. The issue stems from the company's potential new contract that cuts employee pensions and outsource jobs. The two unions, The the Communications Workers of America and the International Brotherhood of Electrical Workers, have been in dialogue with the telecommunication company since August, when the current Verizon contract expired. Verizon repairmen, customer service employees and installers are picketing stores in New York City, Washington D.C, Delaware and many other cities. The strike is an attempt to encourage politicians and regulators to pressure Verizon into ensuring a fair contract. In advance of his rally in Washington Square Park today, presidential hopeful Bernie Sanders was in Brooklyn this morning to lend support to the striking Verizon employees. Gothamist.
The MTA is  looking to outlaw the use of metrocards altogether, replacing them with smartphone and bank card technology. Although the transition is long into the future, on Monday the MTA began seeking bids for the venture. The new system will be contactless, meaning a simple flash of a smartphone app or a credit card will be enough to unlock the turnstile. The MTA's bid is to find a company that can implement the technology, with an estimated date for the system to be up and running set for 2020. Costing a reported $450 million, it will take 15 months to install. The MTA estimates it will save $6 million per year by not having to manufacture metrocards and maintain card machines. DNAInfo
Class Divide, a documentary about hyper gentrification in Chelsea and around the High Line will be screened at the IFC Center this week. The film, which explores the void between the extremely wealthy and the poor and its influence on the currently luxurious West side of New York City, is an HBO production. According to the director Marc Levin, the film focuses "on small businesses and tenants getting pushed out and the perspective of people as they were coming and going." Interestingly, it also explores the commonalities between the wealthy and the poor in terms of the social pressure economic factors exert on young people on both sides. For Levin, a key point in the film is that "income inequality and hyper-gentrification is BAD for everyone, not just the poor, working class, or middle class." Vanishing New York.
A young man was arrested on suspicion of fatally stabbing a man on an Upper East Side sidewalk following a heated argument. On Tuesday, Gustavo Rodriguez, 19, was charged by police with "murder, felony assault and criminal possession of a weapon." Earlier that day, sometime after 1 am, the victim Xavier Olivares, 22, died at the Metropolitan Hospital Center in East Harlem from multiple stab wounds. It was later discovered Mr Olivares had been in a confrontation with Mr. Rodriguez, who brandished a blade and stabbed Mr Olivares several times. The reasons for the dispute are as yet unknown. New York Times