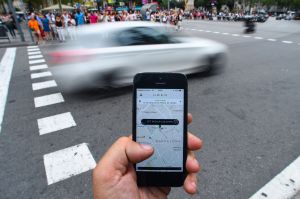 An Uber passenger who took the wheel so that his driver could rest ended up in a high speed chase with the police. Juan R Carlos, 20, had ordered the ride to get from Philadelphia to Herkimer, New York. Midway through the journey, Mr. Carlos' Uber driver, Corey Robinson, 43, asked his passenger to drive while he napped. Mr. Robinson awoke to find Mr. Carlos driving at 86 miles per hour, prompting  him to ask why his passenger turned driver had such a need for speed. Mr. Carlos explained he was being chased by the police who had picked up the car's speed as he approached Kirkwood N.Y. Soon after, the car crashed into a guardrail and the two men were arrested. Mr. Robinson was eventually released without charge, while Mr. Carlos was charged with "unlawfully fleeing a police officer in a motor vehicle in the third degree," among other violations. (New York Times)
A 10 foot bronze statue of a two faced Roman god may be erected in Union Square this summer. The enormous bust depicts the Roman god Janus, the god of "beginnings," its two faces attached at the top of the head, looking out in opposite directions. A spokesperson for the artist, a South African named Lionel Smit, says the statue's installation is awaiting Parks Department approval. If approved, the statue will replace the current installation, "My Circle," the work of a Brooklyn artist Beverly Pepper, a tribute to Ms. Pepper's 93rd birthday. Mr. Smit hopes his dual headed statue will get people "thinking about the many ways in which the past has shaped ourselves and the world around us." (DNAInfo)
According to the Post, the President of Kazakhstan unleashed his "inner Borat" at a posh SoHo eatery during his visit to the city this week. Upon sitting down at his table, President Nursultan Nazarbayev reportedly demanded that the restaurant's waiters be replaced by his henchman, his dishes be cleaned with vodka and that a doctor test his food for poison. Other diners at SoHo's Mamo, which is frequented by the likes of Beyonce, Jay Z and Samuel L. Jackson, were bemused when the Kazakh President brought in "personal servants" to bring out his food, which included a burger, penne with lobster and pizza. It was unclear why Mr. Nazarbayev took such extreme precautions. His government is, however, know for its hardline approach to criticism and opposition, prompting parody in Sacha Baron Cohen's 2006 film "Borat." New York Post.
For over a week now a Bronx librarian has been missing without a trace of his whereabouts. Library assistant Javier Horta, 34, was reportedly last seen hanging out with a couple of friends on the night of March 25th. Mr. Horta, whose disappearance has prompted a whole community search effort, went missing after he told his friend he had left his phone and wallet with another friend and went to retrieve them. A vigil for Mr. Horta is to be held on Saturday April 9 at 7 p.m. near 1420 Nobel Ave in the Bronx, the spot where he was last seen. (Daily News)
The New York Board of Elections has been inundated with angry calls from voters upset about their registration status in advance of the state primary on April 19th. Board of Elections spokesperson Tom Connelly says his office receives around 100 calls a day since the deadline to register to vote passed in late March. Posts by individuals on social media describe their frustration over checking online to find their party affiliation switched or that their registration wasn't even clocked in. Some are concerned the bureaucratic incompetence could be an underhanded attempt to rig the election, specifically in favor of Hillary Clinton over Bernie Sanders. However, Mr Connelly suggests the reason is simply that there are far more voters for this year's primary, the result of the state's importance in the outcome of the Democratic nomination, and thus naturally more complaints lodged. Gothamist.