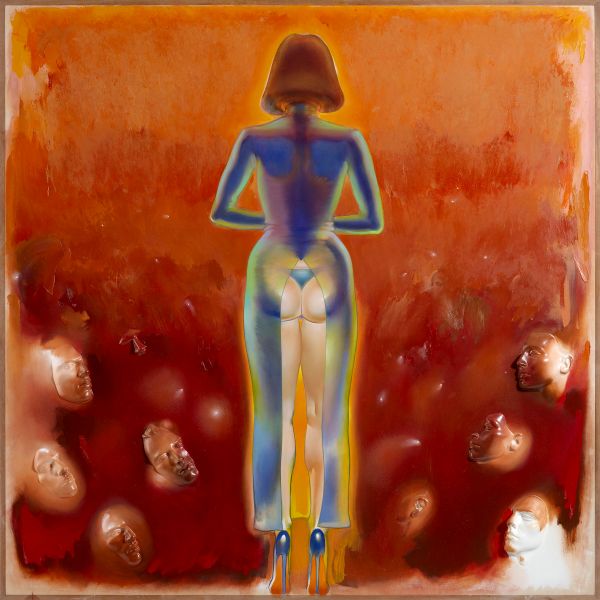 If you've long been branded a misogynist by the art world, is it ever possible to rehabilitate your image? For British pop artist Allen Jones, who is now 78 years old and 50 years into his career, the answer may, finally, be yes.
A retrospective of Mr. Jones' career currently on view at Michael Werner Gallery on Manhattan's Upper East Side could stir a sea change, at least on this side of the Atlantic, by showing off his lesser known but crowning achievements: his paintings.
While Mr. Jones remains a widely known, divisive figure in the U.K. for his fetishistic sculptures of women, he's less recognized among American audiences. Now, a new generation might be better equipped to embrace him. Issues he's been exploring for decades—social constructions of gender, media obsession with body image, the male gaze, sex, power and fantasy—are evolving topics in the public discourse, making his art more relevant than ever.
The artist, who has said publicly he's a feminist, sent shockwaves through the art world in 1970 when he exhibited a set of now infamous sculptures at London's Tooth & Sons gallery: women posed as furniture, titled Hat Stand, Table and Chair. The works sparked uproar among critics and viewers for their subservient poses and his choice to clothe them in fetish wear. Perhaps not by coincidence, their display overlapped with the sexual revolution of the late '60s and the rise of second wave feminism, lending fuel to a heated cultural debate. Filmmaker Laura Mulvey penned an essay for Spare Rib magazine in 1973 that speculated the artist suffered from castration anxiety. When the sculptures were shown in 1978 at the ICA London, there were protests, and when they went on display at the Tate in 1986 a visitor threw acid on them.
"I think his subject matter has prevented him from having a big career in America," the current exhibition's curator Sir Norman Rosenthal told the Observer. "A lot of American artists over the last 50 years flirt with going to the edge, but basically Allen loves women, and loves the idea of womanhood, and they're all in praise of women."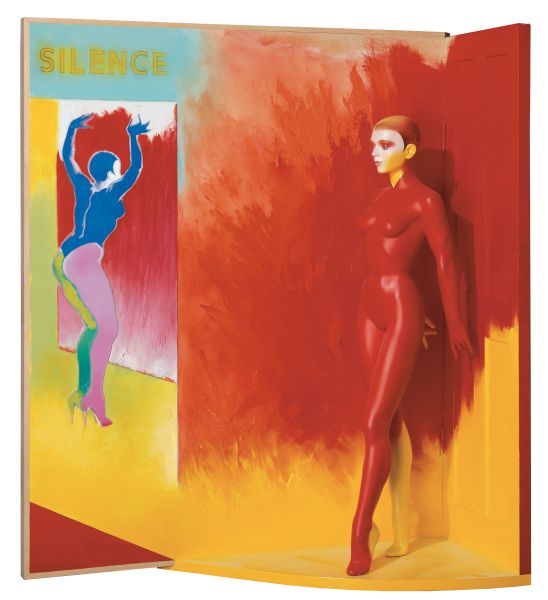 Despite the backlash, Mr. Jones' career has persevered along with his obsession with the female figure. He's inspired pop culture parodies, best seen with the women-shaped tables in Stanley Kubrick's Korova Milk Bar, from his 1971 film A Clockwork Orange. And contemporary artists such as Norwegian Bjarne Melgaard have created copycat works. Mr. Melgaard's 2013 Allen Jones Remakes sparked their own debate when they were included in a photo shoot featuring Russian magazine editor Dasha Zhukova, who he posed sitting atop a replica of Mr. Jones' Chair.
The show marks the artist's first exhibition in the U.S. in nearly 30 years—his last show in New York was in 1970 at Richard Feigen Gallery—and primarily features his paintings, both early and recent, which have historically taken a back seat to his scantily clad and precariously posed sculptures of the female form.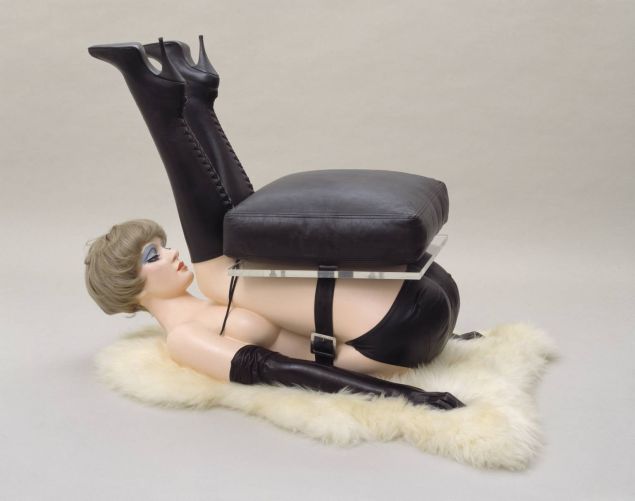 The Observer met the artist at Michael Werner during installation of his show.
In person, he is the picture of politeness. He's soft spoken, jovial and at times modest. Discussing his work over the years, especially his raunchy visions of the female form, he leans toward formal considerations of color, the figure and technique, and remains as inquisitive as ever about ways of depicting the "body perfect."
"I realized with the language I'd taken from adult comic books and advertisements…I'd created a kind of vocabulary about the figure which was very stylized. I was compelled to make the figures as tangible, grabbable, and three dimensional as possible," he said.
Mr. Jones has worked hard to separate himself from his peers, both in his subject matter and materials. While contemporaries such as Larry Rivers, Jim Dine and Claes Oldenburg were busy carrying ideas from abstract expressionism over into the pop art movement, Mr. Jones refused to give up figuration. "It seemed to me a crazy idea that in 40,000 years of human mark making suddenly because of Donald Judd you could no longer represent the figure," he said.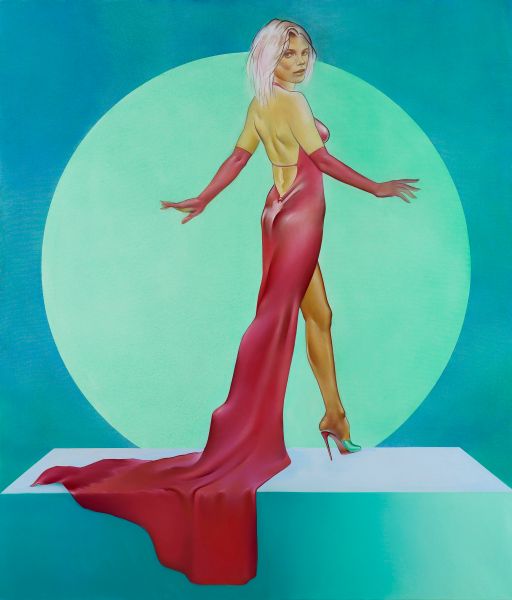 While painting was the hot commodity when he left school at the Royal Academy in London in 1960, he turned to sculpture and non-traditional, industrial materials like resin and fiberglass in an attempt to make his art more experiential.
"If I'm trying to make the thing real why don't I just make it? For me at the time it was quite a big risk, as a painter, to not paint the thing. My intention was to just put clothes on [the sculpture], and when I tried it I just thought it looked like some strange surreal look alike."
According to the artist, interpretations of his work as regressive, sexist and perverted have gotten carried away. "The figure is a cipher for me," he said. "Here's an image of subjugation where the figure is objectified, but that doesn't make it necessarily so. It's a convenient image, but the written word is so strong that it became that for students studying my work."
At times, public opinion has greatly changed the art. The title of his first fiberglass sculpture, Hat Stand, was not his choice, he said. The figure's pose was meant as a nod to a classical pose from ancient sculpture. However, given the obvious references to utilitarian furniture with other works in the series, Chair and Table, a name was informally added later by a third party as a way to thematically connect the pieces. The fetish clothing, he explains, was used to divorce his figures from real life. And their curvaceous bodies? They're meant to be exaggerated.
"The first figures were unbelievably exaggerated. Now, when I look at them, the figure is a comic strip figure really: huge breasts, a very tiny waist, and all the rest of it. At that time I was interested in making some kind of super figure. It wasn't meant to be a portrait in that way, it was meant to be what it was," he said.
How does the artist feel about his work being debated, appropriated and copied? "I just think it's an affirmation," he said.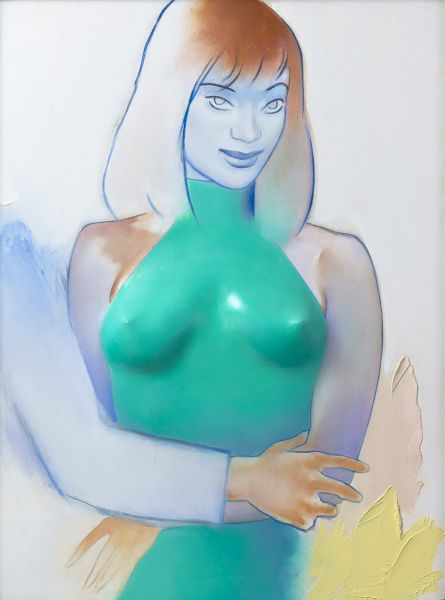 In recent years, a new, more positive tone has trickled into writings about his work. "His art is an icy joke about the power of desire: it pays homage to Duchamp's ironic view of human culture as a masturbatory machine," said critic Jonathan Jones in 2013.
"Jones's identity as a painter has been the biggest casualty of his accidental place in politics," wrote Zoe Williams in The Guardian, following his retrospective at The Royal Academy of London in 2014-2015. Referring to the Furniture pieces, she said "Taken against his other work, it is impossible to conceive of Jones as having one single view of women, in which they are objectified."
But not everyone is changing their tone on Mr. Jones. Zoe Pilger was simultaneously captivated and disgusted in her write up for The Independent. "Here is the female figure rendered abject and humiliated, a fact which is obscured by the brilliance of his design," she wrote.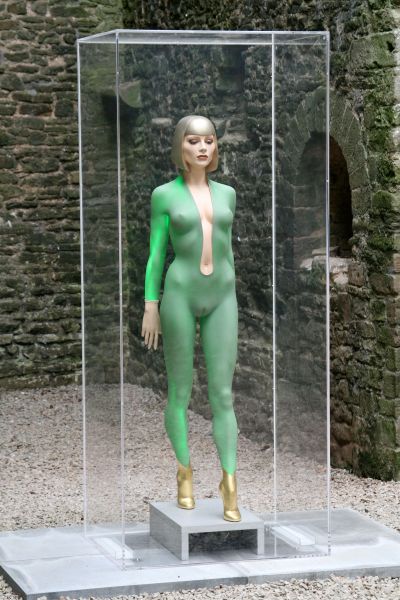 There are several works in the show at Michael Werner that make an argument for Mr. Jones' as a feminist in disguise difficult to stomach. A life-size, light-up 2001 sculpture of a woman in a form fitting green cat suit and a newly made wearable metallic body plate, titled Cover Story, are arresting but remain problematic depictions of the body—whether or not they're intentionally meant to be over-the-top.
But a room of Mr. Jones' newest works, mostly paintings, is captivating. Unnatural hues of radioactive green, fire engine red and Creamsicle orange gently fade together across the surfaces of bodies, clothing and an abstracted background, every so often interrupted by a sharp line or plane such as a wall or door frame.
A three panel triptych from 2007, titled Interval, explores an audience during intermission: some muscular and busty figures are only partially rendered, their skins colored blue and green with the same palette used for the scenery.
"I see now that I actually like painting, creating a gradient, modeling and caressing the form with a paint brush, in a way maybe because I just feel more confident about that," Mr. Jones said.
What is evident in his erotic canvasses is that there is little room to doubt his skill as a painter—he's a master—nor his devotion to favorite subject: women. Looking at decades worth of work together in one show has given him new perspective on the early conceptual choices that shaped his career. "I could see in the very early work the situation of a young artist emerging from college who is trying to absorb the lessons of his time and look serious," he explained. "I learned that you have to speak as clearly as you can."
But a big question remains: is the work really how he views the world? Perhaps not, but his perspective is not exactly innocuous. "There's no doubt I have my own fantasies about the figure," he said.