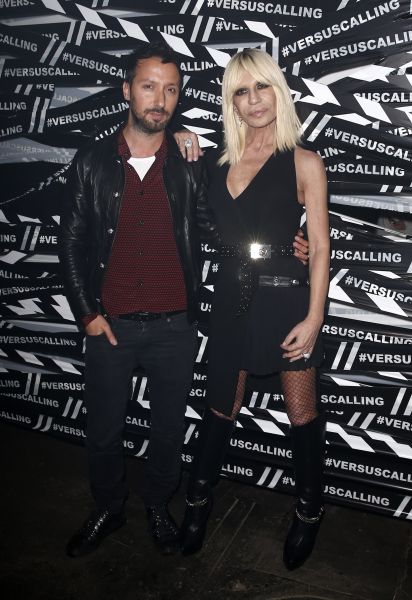 It looks as if the fashion rumor mill has nailed it, yet again.
Today it was announced that Anthony Vaccarello is leaving his role as creative director of Versus Versace. This is a big deal, as it means that the free agent is now available to step into the role as creative director at Saint Laurent, which has been vacant since Friday.
That's when Hedi Slimane's departure from the French label was announced and all rumors pointed towards Mr. Vaccarello stepping into his place. Even Donatella Versace hinted that Saint Laurent is his next step. "While I'm sad to see him leave the Versace family, I wish Anthony Vaccarello tremendous success with his next chapter," she said in a press release.
Versus Versace, the little sister label to the established Versace maison, is an incubator of sorts for young, immensely creative designers. Over the past few years, Christopher Kane and Jonathan Anderson have helmed the brand, with the latter moving on to front the Spanish label, Loewe. Again, Ms. Versace is well aware of the situation.
"In the past several years, I have worked with three great young talents on Versus Versace…In each instance, their time on Versus Versace led to them making a huge advancement in their design career. I appreciated the chance to work with each of these three designers, and I enjoyed seeing what they brought to a brand I truly love. I'm proud that Versus can be such a remarkable global platform for emerging design talent."
Should you be a young designer with a thirst to take on the international fashion scene, it's probably a good idea to forward your CV directly to Ms. Versace.
Update: This afternoon, Business of Fashion broke the news that Anthony Vaccarello has been appointed creative director at Yves Saint Laurent. The news was confirmed in a joint statement from Kering and Yves Saint Laurent. It is not yet known what will happen to Mr. Vaccarello's eponymous label.