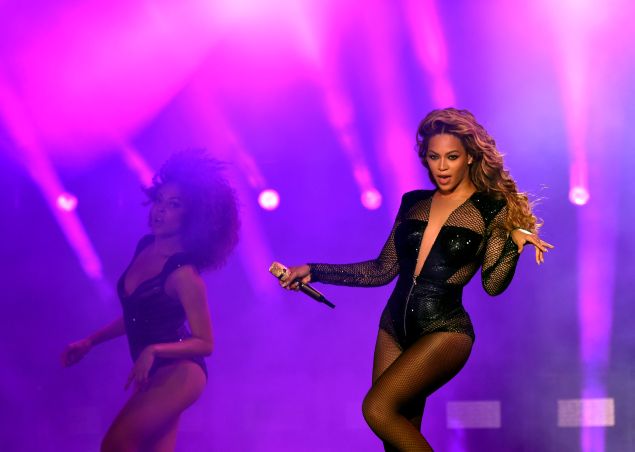 There's a particular editorial sensitivity that must be considered when reading any think-piece willing to parse out the incredible, surreal myriad of images, words and themes in Beyoncé's powerful short film, Lemonade.
For this caucasian male, in particular, the window of credibility to comment is particularly small (and even more so, were I to more accurately distinguish myself as an Ashkenazi Jew).
For many folks, Lemonade's narrative trajectory represents Beyoncé rising to a place of power by harnessing "black woman magic," words Omise'eke Natasha Tinsley used in Time to describe her work as a paean to all black women. "Beyoncé's expression of the goddess-like wrath of a black woman betrayed is not about her," Ms. Tinsley writes. "Lemonade is art, not autobiography, and continues the protest tradition of women blues artists. In black women's music, trifling men have long been metonyms for a patriarchy that never affords black women the love and life they deserve." Beyoncé's inclusion of a Malcolm X speech where he states that black women are the most disrespected, neglected and unprotected people in America only gives her message more potency.
[youtube https://www.youtube.com/watch?v=fqEbtg5DH9Y]
Considering the heavy, personal power of Lemonade, it's understandable that the internet says these images are not mine to unpack. They're right, although I respectfully disagree with any memes claiming white people are #eavesdroping on a black conversation by watching or listening to Lemonade. Remember, it premiered on HBO.
The layers upon layers of imagery and subtext pertaining to "black woman magic" are not mine to unpack, but I would like to offer my read on one line in particular, which sets forward the trajectory of how the queen relates to the men in her life throughout Lemonade, presumably her father and Jay Z.
Whether or not this was written by Warshan Shire, the Somali-British writer whose prose-poems make up a large portion of the Lemonade film script, is unclear to me: "You remind me of my father, a magician. Able to exist in two places at once." The beginning of several parallels that Beyoncé draws between father Matthew Knowles and Jay Z, this line sticks out at you. Why evoke the word "magician," in particular, to portray negative male duplicity when magic is all over the rest of Lemonade as a positive force?

The line reminded me of an old series of New Age fables called The Teachings of Don Juan. Scholars and other anthropologists have disputed much of his travels ever even happened, but the books are still popular, if as little else than folk tales hippie mothers read to their children. Whether or not the events they describe actually happened, though, the books have helped a lot of people get closer to themselves.
Written by an anthropologist named Carlos Castaneda who travels to Sonora, Mexico, and apprentices with an indigenous Yaqui shaman named Don Juan, the books follow their repeated meetings. Over the course of the narratives, Don Juan teaches Castaneda to become a "warrior" of the mind and spirit, erasing the negative patterns he has learned from his past that weigh him down (his "personal history") with the intention of forming an outlook on the present that is firmly rooted in his current, self-arrived-at reality. This, he explains, is the shaman's path.
At some point during their repeated encounters, Don Juan teaches Castaneda about "the dreamer and the dreamed." He says he can train Castaneda to lucid dream in such a fashion that he is able to hover above his own sleeping body, sentient, and dream as a mobile, moving being. "All of us luminous beings have a double," Don Juan says. "All of us! A warrior learns to be aware of it, that's all. There are seemingly insurmountable barriers protecting that awareness. But that's expected. Those barriers are what makes arriving at that awareness such a unique challenge."
Are these the states of awareness that Beyoncé observes in her duplicitous father and husband?
Achieving awareness and a heightened state of being sure sounds like a good thing. Why would any man use a sorcerer's skill for evil? Don Juan explains that, once you train yourself to fall asleep in a manner that lets you be both the dreamer and the dreamed, it is your job to merge the two. "A warrior must use everything available to him to close his mortal gap once it opens," he tells Castaneda. "So it's of no importance that you really don't like to be suspicious or ask questions. That's your only shield now."
When a warrior realizes that they are the dreamed, they become sorcerers, able to look at themselves sleeping as the dreamer. Ideally, a sorcerer who has achieved this milestone posses an intention to merge the two in a manner that actualizes the wants and ambitions of a subconscious mind into positive action. But even though all sorcerers are luminous beings, not all of them use the light to reveal. Some use the light to subvert, or to blind.
"A sorcerer, by opening himself to knowledge, falls prey to those forces and has only one means of balancing himself, his will," Don Juan tells Castaneda. "Thus he must feel and act like a warrior. I will repeat this once more: Only as a warrior can one survive the path of knowledge. What helps a sorcerer live a better life is the strength of being a warrior."
Are Matthew Knowles and Jay Z sorcerers but not warriors? The magician role, harnessed by the "father" in Beyoncé's narrative but used to create doubt, mistrust and deception, would be explained by Castaneda as someone who had achieved the rank of sorcerer but forgotten how to be a warrior of the spirit along the way. Hence, his willpower and sense of purpose have all but died, transofrmed into something unholy and unworthy of her divinity.
We're woke enough now in the 21st century to know that if God exists in any human form, she's likely a black woman. Leave it to Beyoncé, then, to share with us her pursuit of the ancient wisdom that brings us men in closer commune with divinity, too.