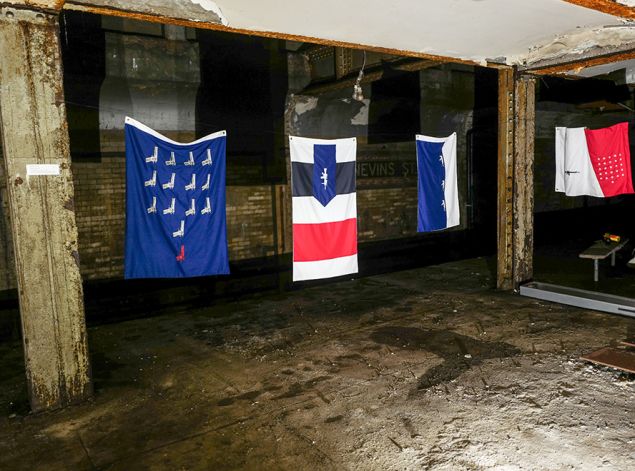 If you think Frieze on Randall's Island is tough to get to, here's a show that's even trickier to find. In fact, it's against the law to go see it.
Not a fan of white-walled galleries, the artist Phil America has mounted a show of his own work on an abandoned Brooklyn subway platform underneath the Nevins Street 2, 3, 4 and 5 station, according to Curbed. An underpass leads to what the artist is calling Subway Gallery, a never-completed track platform that was supposed to allow for a second connection on the Brooklyn-bound line.
It's a spot that has been occasioned by many graffiti artists, but is now garnering attention thanks to Mr. America's exhibition, which could be shut down by the MTA at any time.
It's titled "The Perilous Fight," and consists of a series of flags embroidered with different types of guns each symbolizing a different U.S. shooting incident. According to the artist's website, "the flags are a tribute, a memory, and a reminder; they are the promise that those lost in these terrible events are not forgotten. They serve to remind that gun violence in America is so prevalent that it has become a part of our national identity."
Mr. America has evaded MTA security thus far, but wasn't exactly sure who had seen his show. For those brave enough to go see the work, he gave Curbed some general directions: "To enter the spot they'd need to time the trains going both ways perfectly and run in the tunnel on the live tracks between trains, avoiding the deadly electric third rail. Then, they'd have to go down into the depths of the tunnels with big flashlights trying to make sense of a part of the city that's long since been forgotten."
Suddenly a ferry ride or 40 minutes of bumper-to-bumper traffic doesn't seem so bad.
When the Observer asked via email if the artist had plans for more shows, he said, "the plan is to continue to create shows in the gallery, leaving this one up for some time and adding a new one in the future. I would also like to have some in other cities."
No doubt, "exclusivity" is a main ingredient in garnering art-world interest, but have any collectors or galleries noticed Mr. America's show?
"A few galleries have reached out and shown interest in showing the flags in their space," he said. "But a big part of the show is playing on the idea of missing out, so while I may show some elements of the show in photos or videos, I do not want to recreate the actual show anywhere in the world."
But the message is as important as the unusual locale for Mr. America, who, when asked what his hope was for his socially conscious work, added that, "as an American, gun violence is something many of us are forced to think about every day. It has become a part of our collective conscious. My hope is that we as a nation can try to figure out what the issues are and work on solving them."