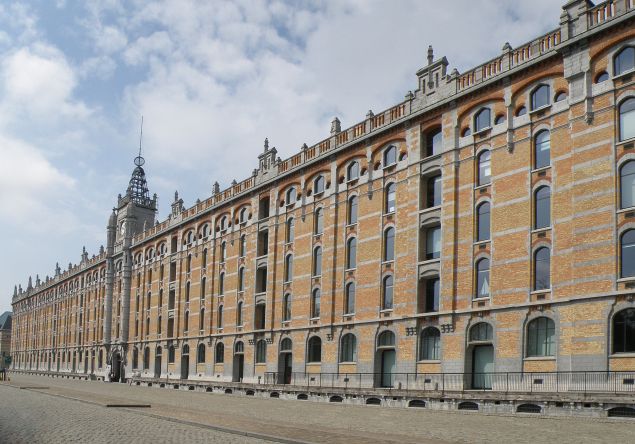 Despite others' insistence, "Brussels is not the new Berlin," said Katerina Gregos, the outgoing artistic director of Art Brussels—the crown jewel of Brussels Art Week that started it all 34 years ago. "It all," being the naissance of Brussels as not just a city with a rich artistic past, but one with a relevant and distinct contemporary art scene.
But "distinct," is key for Ms. Gregos and for many in Brussels who spoke about the city's role in the European and global art landscape this week.
"Please, please, please," Ms. Gregos begged a room full of journalists from Europe and abroad, "don't overstate" the Brussels art scene. She doesn't want the "highbrow gentrification that follows in the wake of the art parade," in her home. She'd like to "maintain the quality of life without having to constantly check [one's] bank balance… Brussels is not the new Berlin, London, Paris, anything." Hear, hear!
But that conversation, an important one no doubt, was overshadowed by the tragic attacks that took place exactly one month ago yesterday.
"Life is forever gone," said fair Managing Director Anne Vierstraete, at a presser for Art Brussels on April 21. "But art is an ideal vector for multicultural…exchange," she added, saying she hoped the art fair she and Ms. Gregos have collaborated on with their small—and all female—staff for years would "lift spirits" in Brussels.
And while the Ruinart champagne (curious, isn't it?—the two words that comprise the name of the French vintner and ubiquitous corporate presence at art events) flowed like it would at any other high profile art fair, Art Brussels feels distinctly more focused on undiscovered and non-commercial art and less on parties, personalities and conspicuous consumption.
Ms. Gregos' strong words about the future of Brussels come as the first American art fair (Independent Brussels) hits her adopted home, and the fair she has shepherded into prominence moves to its new, smaller home at Tour & Taxis, a converted customs house that hosted a tighter selection of galleries—141—here starting April 21.
Independent, with its smaller but equally airy and navigable space at the Vanderborght building, did take some of the wind out of Art Brussels sails, Ms. Gregos admitted. Barbara Gladstone, likely the most prominent American gallery to have a Belgian outpost, opted to show at Independent, which is by invitation only. For Ms. Gregos, Independent is welcome for the profile it brings art week here, but she and her staff did decide to insist on exclusivity for Art Brussels booths this year. That didn't seem to bother any of the galleries showing work this week, and one gallery—Almine Rech—which showed at both fairs, said it found a loophole by having a guest team of curators arrange its Independent showing and not offering any work for sale, according to the gallery's publicist Laure Decock.
Art Brussels, meanwhile, packed a taut punch into its new space and welcomed a fair-record 10,000 visitors its first day, Ms. Gregos said. She demurs from calling it "Europe's most cutting edge major art fair," but it seems likely it is.
This year, they debuted the Rediscovery section, which showcases overlooked works created between 1917 and 1987. It's the last of Ms. Gregos' thoughtful contributions to the refined character of Art Brussels, the likes of which include innovations like the non-profit section (which debuted in 2012) and Cabinet D'Amis, an exhibit in this year's fair dedicated to Belgian curator and Documenta founder Jan Hoet.
"[Rediscovery] was set up to address… Ageism, presentism and amnesia," said Ms. Gregos, and to get away from the "crapstraction and neo-formalism," that can so dominate art fairs. Rediscovery booths—dedicated to, for instance, sculptor of fluorescent light Ivan Navarro and Jenkins Johnson Gallery's thoughtful assemblage of photographs of 1960s segregated America—showed historical work that felt as fresh and original as much of the Discovery section.
Ambitious and sprawling—geographically and in terms of the art shown and how it is shown—the Discovery section of the fair remained a highlight in its own right. Sydney gallery The General Store showed an inventive combination of work. A piece by Antoine Aguilar, a conceptual artist whose medium is light, was paired with paintings by New Zealand's Pete Wheeler. Mr. Aguilar's work consisted of xeroxed copies of the late Pier Paolo Pasolini's book Petrolio, which is thought to have been censored by the Italian government upon its publication in 1992, nearly 20 after Pasolini's mysterious death, because of its revelations about Fascist interventions in Italian business, said the gallery's owner Ben Gavin. The paintings were supported by fabricated wax skulls, which sat atop the booth's floor, which was entirely covered in the copies of the blank chapter page for the allegedly censored section (Pasolini had not finished the book when he died, run over four times in a circumstance that is often called an accident but left many confused).
The current political climate—in Brussels and beyond—was not far from the thoughts of many at the fair, though. Mr. Gavin, for one, said he never considered changing his plans after the terrorist attacks and that Art Brussels is the only fair he brings work to.
Further down the aisle, perhaps the most raucous booth in Discovery, was Paris' 22,48 m2 gallery, where Parisian couple Maxime Marion and Emilie Brout were selling shares in their art work/ corporation, Untitled SAS. Incorporated by a French law firm pro bono, the corporation is itself the artwork and vice versa, Mr. Marion explained.
"The company by itself does nothing," he said. Shares were 40 euro each and were flying off the shelves—as it were—on the VIP preview day. This reporter wanted to buy one but worried about tax implications. And that's kind of the point. "You can play with the fiscal advantage, if it is a company…[But] there are fiscal advantages to it being a work of art… But you can declare it like [a stock] too," Mr. Marion said.
Established U.S. and international galleries littered the general section, with representation from stalwarts like Galerie Lelong to newer characters like Lyles & King. First time participants included Pace, Timothy Taylor and Tina Kim.
Isaac Lyles of Lyles & King echoed the sentiment, shared by many, that the sophisticated collectors Art Brussels attracts can be a welcome respite from the world of U.S. Art fairs. "This is a place where I could take a risk and get a bigger booth," he said. "The level of collector has been really refreshing and exciting. There's a studiousness…Alain Servais [the collector] said we were doing the right thing by being here."
American collectors, however, were less enthusiastic in some cases about journeying to a city that recently fell victim to an attack by the ISIS militants. Ms. Gregos said U.S. Collectors were the only ones who canceled in light of the tragedy. However, word on the street was that New York collector Michael Hort not only arrived for Brussels Art Week, but got lost in the Molenbeek area, and was given a ride to the Poppositions fair by a generous Moroccan grocer (we were unable to verify this story.)
That (possibly exaggerated) tale, seems to encapsulate the spirit of this city, which is in recovery, surely, but certainly isn't begging for the sort of "overstated" attention Ms. Gregos railed against.
"I always like coming back to Brussels if I come from New York, Paris or London," said Ms. Decock, a Brussels native. "There is this really calm atmosphere, but at the same time there are a lot of things happening. I think a lot of people want to keep it like that."