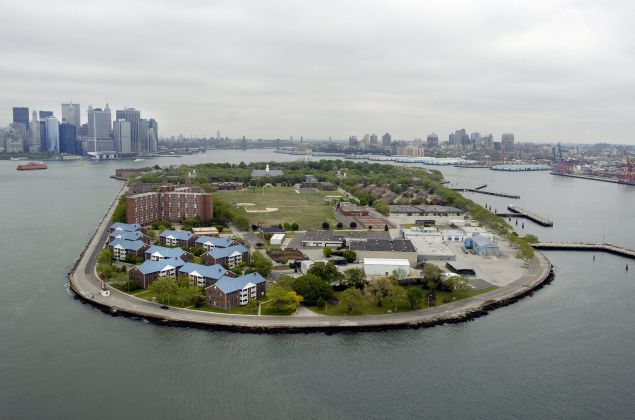 Artist crowdfunds footbridge from Red Hook to Governors Island. Nancy Nowacek speaks to Hyperallergic's Jillian Steinhauer about her ambitious project, Citizen Bridge, a floating structure that will span 1,400 across New York harbor's Buttermilk Channel.
A history of the color purple, in honor of Prince. Last week, after news spread that Prince had died unexpectedly, city landmarks and cultural institutions across the world lit up in purple for the late entertainer. The Los Angeles Times' Carolina Miranda explores the rich social history of the color, Prince's preferred hue, and has long been associated with royalty and mourning.
Ex Miami museum director sues city for wrongful termination. The Museum of Contemporary Art North Miami's former director Babacar M'Bow was put on administrative leave after a museum staffer accused him of sexual harassment. Now, Mr. M'Bow is suing the city and claims he should be allowed a hearing with Miami's personnel board.
Cecilia Alemani to oversee Italian Pavilion at Venice Biennale. Star curator Ms. Alemani is currently director of New York's High Line art program and curator of the Frieze Projects section for the Frieze New York art fair.
Leading Seattle arts foundation shrinks unexpectedly, will close gallery space and lay off staff. Philanthropist Sheri Behnke has shocked the Seattle art world with news that she's shifting the focus of her organization, The New Foundation Seattle, after opening a gallery space in 2014 and starting a $100,000 art prize, which was given for the first time this year to artist Martha Rosler. "Due to an illness in my family, I am simplifying The New Foundation Seattle," Ms. Behnke announced in an email.
Arts writer Myrna Ayad named next director of Art Dubai. The leading Middle Eastern fair has tapped Ms. Ayad to succeed Antonia Carver, who is moving on to become global director of the Saudi arts foundation Art Jameel.