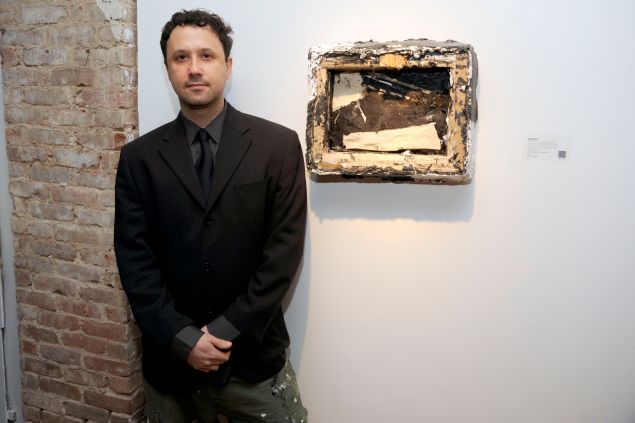 Artist Gabriel J. Shuldiner thought that he had won the lottery when the Elizabeth Foundation for the Arts awarded him a subsidized studio space for two years in Manhattan's Garment district. But in March, the program's directors expelled him for inviting an intern to his home, alleging he had broken a rule in the membership bylines that didn't actually exist. Now, Mr. Shuldiner is filing a petition to get his space back and clear his name.
On Wednesday, April 13, the artist submitted his petition to the New York Supreme Court, asking a judge to void the termination of his studio membership on grounds he was expelled without due process. Program officials, he said, were reluctant to tell him the true reason for his expulsion, and when he was able to wrangle a cause, it didn't contradict any of the existing rules in the guidelines for membership.
Mr. Shuldiner was first given his space through the EFA's competitive studio program in 2012 and was awarded a renewed term of two years in January 2016. Then, on March 1, program director William Carroll and assistant director Natalia Nakazawa called the artist to a meeting and told him his residency was being terminated. The reason, he later learned, was because he'd invited an intern to his home, and she was now accusing him of "inappropriate conduct."
"It's a completely arbitrary, and abusive, exercise of power to expel Mr. Shuldiner from his art studio for violating a nonexistent rule," said the artist's attorney Daniel Bright, a partner at Lichten and Bright.
The EFA's membership rules restrict the consumption of illegal drugs onsite and living in studios and cover issues such as hazardous materials and unsanctioned public exhibitions. At the time of Mr. Shuldiner's interaction with the intern in question, the guidelines did not address protocol for socializing with EFA staff, interns and other members.
"EFA's executive director doesn't have the right to summarily take all of that away from him on the basis of a secret—and false—allegation that someone supposedly made against him."
When Mr. Shuldiner pressed program directors for the reason behind his expulsion, they explained in "general and vague terms," the complaints the intern had lodged against him, and refused to investigate further, according to the petition brief.
"We have no comment," EFA executive director Jane Stephenson said when contacted by the Observer.
"I had to get a lawyer for them to tell me why," Mr. Shuldiner said. "What this was on their behalf was contempt prior to investigation."
Since joining the studio program, the New York-born artist has been picked up by Manhattan dealer Maison Gerard and Santa Fe-based David Richard Gallery, who will be exhibiting his monochromatic black paintings at this week's Dallas Art Fair. His work has also been included in major group shows at the New Museum, Bronx Museum of the Arts and Indianapolis Museum of Contemporary Art.
The artist has not been served with any formal charges, and the intern filed no complaint with the EFA or the Equal Employment Opportunity Commission, a government agency that oversees matters of work discrimination.
Mr. Shuldiner states that the program directors admitted the intern's allegations were brought forward by another studio member rather than the intern directly. However, it is common for victims of sexual harassment not to report such incidents. A 2013 Huffington Post survey found that 70 percent of victims don't report sexual harassment.
Mr. Shuldiner denies any sexual contact with the intern and argues that the allegations are false. He recounted that three months before losing his space, he invited an intern from the EFA to his home and second studio on a Friday evening to view his artwork and meet his dog. She was at his home approximately 35 minutes before she left to meet a friend. In the months after the incident, and after her internship had ended, they had several amicable but professional exchanges through text and email.
Mr. Shuldiner has worked with EFA interns previously. Tasks he has assigned assistants in the past include "wrapping art, painting walls, delivering work to collectors, prepping title info about a particular piece…menial intern work."
When asked if his relationship with the intern in question was any different than with previous assistants, he answered, "This intern was no different."
Mr. Shuldiner hopes he'll regain his studio, and he wants EFA staffers to admit they didn't give him a fair chance to share his side of the story.
"I just want my voice heard," Mr. Shuldiner said.
But while the artist and his lawyer feel there's a strong case to be made for reinstatement, membership guidelines were clear to state that program officials can cancel a membership at any time, with 30 days notice, with or without cause.
"Having given him a reason for their decision to expel him from the program (namely, an intern visited him at his home), the decision is subject to nullification by a court if the reason that was given is arbitrary and capricious," Mr. Bright wrote in an email, "which in this case it clearly was."