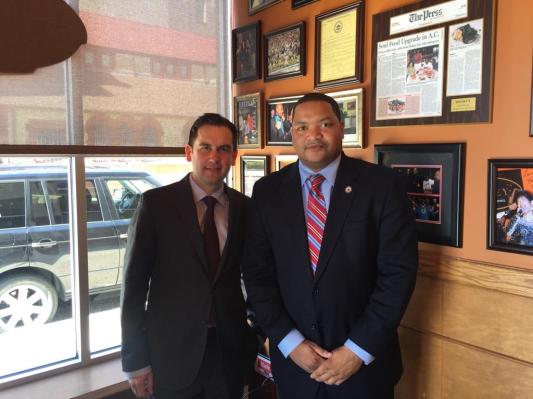 As Jersey City Mayor Steve Fulop and Senate President Steve Sweeney roamed away from their home turf this week, the 2017 gubernatorial contest saw its first major plot twist and a sign of things to come. Taking a tour of Atlantic City with City Council President Marty Small Wednesday, the Hudson Democrat and former Goldman Sachs executive seized on one of Sweeney's greatest potential weaknesses — his sponsorship of the aggressive state takeover legislation favored by Governor Chris Christie.
Fulop had already come out against the takeover, but honed his position to suit Sweeney's South Jersey base that day when he told the Philadelphia Inquirer that if Jersey City looks likely to repeat Atlantic City's mistakes he will stop supporting the effort to amend the constitution through a ballot question and allow two new North Jersey casinos. Sweeney offered a compromise deal allowing the city 130 days to reduce spending before his takeover plan goes into effect that same day.
As Sweeney was stumping for Senator Sandy Cunningham (D-31) in Jersey City, Fulop said from an Atlantic City jitney that if research suggests Jersey City would suffer from a casino, "we're gonna kill it and kill it aggressively."
The remark proved highly controversial.
At a fundraiser last night for Assemblywoman Valerie Vainieri Huttle (D-37), Bergen County Building Trades President Larry Sabato approached Fulop and complained about the reversal, and Fulop allies were quick to note that the mayor's opposition pertains to Jersey City, not North Jersey, and noted hard opposition to gaming in their city.
In a statement this afternoon, Fulop Spokeswoman Jennifer Morrill said, "During the past few years, Jersey City has been the state's leader in terms of providing construction jobs through unprecedented development. Our residential and commercial development has served as the economic engine for our region. That is a fact that is indisputable. We will continue that booming growth, but we must ensure that the first deciding factor in our decisions is based on residents first, and we reserve the right to reject any proposal that isn't in the resident's best interest."
State Senator Ray Lesniak (D-20) pounced.
"If Mayor Fulop doesn't want a new casino for Jersey City we will take it for Elizabeth, and we will take the jobs, the economic growth, the private-sector investment and the property tax relief that will come with it," said Lesniak (D-20), a Fulop rival in the budding 2017 gubernatorial contest. "This will be a multi-billion dollar facility that could produce 20,000 jobs, leverage up to four billion dollars in private investment and generate 60 million dollars in property tax relief for local residents. We have a marketable location, an available workforce and public officials who will work to get it constructed and succeed. We even have waterfront property."
But the Fulop-Sweeney rivalry proves the most unmistakable collision.
Himself a 2017 gubernatorial hopeful, Sweeney is the primary sponsor of the bills to allow casino expansion and have the state take over Atlantic City's finances. With tepid public support [link] for the gaming amendment and the state takeover, Seton Hall University's Matt Hale called Fulop's tour with Small a case of tit for tat. Small and Fulop, he said, have much to gain from one another. Small has acknowledged that he may challenge sitting Republican mayor Don Guardian when he faces reelection in 2017.
"It's clear that Steve Sweeney needs to make inroads in the North," Hale said. "But it's also clear that Steve Fulop is going to try the best that he can to make inroads in the South. So we're watching the North-South divide really start to play eighteen months ahead of the election.
"He's made it really, really clear that he's standing against Sweeney, that he's standing against other South Jersey politicians," Hale said of Small and his voluble opposition to Sweeney's takeover bill. "He has no interest in sort of forming any alliances with anyone in the South. So he really doesn't have any options. If he wants to get friends, he has to reach out up North because he's certainly burned all the bridges he has in the South."
Governor Christie has called an alternative takeover bill from Assembly Speaker Vince Prieto (D-32) an attempt on the Hudson Democrat's part to damage Sweeney politically out of an allegiance to Fulop. While it remains to be seen whether the Senate President will be damaged by the takeover's opposition and the possibility of it actually passing, Hale said that Christie can only gain.
"I think the governor recognizes, and I think the Supreme Court nomination is evidence of this, that he needs to start getting something done in New Jersey. So if the compromise is that Atlantic City gets to take the summer off, that might be a pretty decent compromise that would still get the takeover to happen after the summer is over. He would still get to take credit for it."