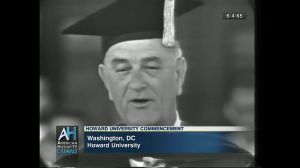 On May 7, when President Obama speaks at Howard University's 148th commencement, he will find himself in competition with all of this year's graduation speakers. But the president will have a harder task than most. He will also find himself in competition with an address delivered at Howard's commencement just over 50 years ago by President Lyndon Johnson.
That address, given on June 4, 1965, came only a few months after Johnson had gone before Congress to speak in support of the Selma to Montgomery Voting Rights March and so completely identified himself with the civil rights movement that at the height of his address he declared, "We shall overcome."
The Howard speech, which was principally the work of presidential aide Richard Goodwin, was an extension of Johnson's March voting-rights speech. Its aim was to take the civil rights movement from one focused on legal justice to one focused on economic justice.
There were, Johnson insisted, differences between the sources of black poverty and white poverty.
In his Howard speech, entitled "To Fulfill These Rights," Johnson pointed out that the racial barriers to freedom were tumbling down, but instead of resting on that development and what his administration had done to further it, Johnson went on to argue. "But freedom is not enough."  It was essential for the country to achieve "equality as a fact and equality as a result."
There were, Johnson insisted, differences between the sources of black poverty and white poverty.  "Much of the Negro community is buried under a blanket of history and circumstance," he declared, and only by lifting that blanket could black poverty start to be ended.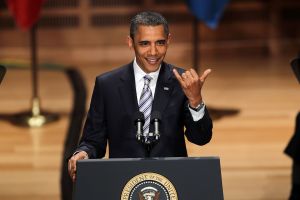 In a figure of speech that combined sports competition and the history of the chain gang, Johnson made the case for change that would be felt in day-to-day life. "You do not take a person who, for years, has been hobbled by chains and liberate him, bring him up to the starting line of  race," Johnson declared, "and then say, 'you are free to compete with all the others,' and still justly believe that you have been completely fair."
In the past half century, we have not had a clearer definition of why affirmative action, not merely civil rights legislation, is needed.  In going far beyond what anyone expected of him when he became president, Johnson had not minced his words. The next day he received a telegram from Martin Luther King Jr., telling him, "Never before has a president articulated the depths and dimensions of the problems of racial injustice more eloquently and profoundly."
King was not exaggerating the importance of Johnson's speech.  In August the president would sign the Voting Rights Act into law, and two years later, he would appoint Thurgood Marshall to the Supreme Court, making him the nation's first black justice. But the racial transformation Johnson had hoped to bring about when he spoke at Howard would not take place. His remaining years in office would be dominated by the war in Vietnam and racial turmoil that after the Watts riots of August 1965 left the civil rights movement badly divided.
Whether President Obama will choose to pick up where President Johnson left off when he spoke at Howard is anyone's guess.  But he could not do better.
Nicolaus Mills is professor of American studies at Sarah Lawrence College and author of Like a Holy Crusade: Mississippi 1964—The Turning of the Civil Rights Movement in America.