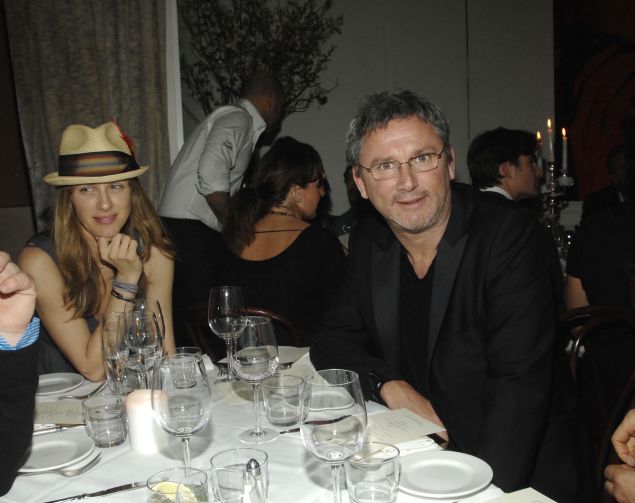 Going up and down Madison Avenue, one encounters countless French names adorning the storefronts of designer boutiques and restaurants, but the Upper East Side may be losing one of its more stylish Parisian couples.
Thierry Gillier, the founder of fashion label Zadig & Voltaire, has decided to list his Upper East Side condo, which is located just a few blocks away from the Madison Avenue storefront. Of course, the French clothing line, known for its abundant use of leather, skulls, and studded cashmere, has a number of stores throughout the city in spots like Bleecker Street, Mercer Street, and Washington Street, but as far as we can tell, the 3,675-square-foot condo at 21 East 66th Street is Mr. Gillier's only personal residence in the city.
Mr. Gillier, whose grandfather was a co-founder of Lacoste, bought the abode for $9.52 million just three years ago.
"He's like that, he buys, and he sells, and he likes change," Town Residential broker Anouk Nora, who has the $11 million listing, told the Observer of Mr. Gillier, who did "a little, but not too much" in terms of renovations.
Of course, it is hard to compete with Mr. Gillier's five-bedroom apartment in the 5th arrondissement of Paris, where he resides with his wife, Cécilia Bönström, a Swedish-born former model who also serves as the creative director of Zadig & Voltaire, and their four children. The 19th century home once served as the bachelor's quarters of Baron Georges-Eugène Haussmann, also known as Napoleon III's urban planner, and was featured in a spread in Lonny. It's also where Mr. Gillier has displayed some of his very impressive collection of contemporary art, which includes pieces by Damien Hirst, Basquiat, and Cy Twombly, to name a few.
While the four-bedroom, 4.5-bath apartment on the Upper East Side might not have quite the same pedigree, it does have some other perfectly lovely attributes.
"You're in a nest here—you have 360-degree views, 28 windows. These amazing, expanding views down Madison! You even have Central Park views from the master bedroom windows," Ms. Nora said of the condo, which also has a formal dining room and living room, eat-in kitchen, and library. "It's for the people that like prewar—it has great bones, and it has three fireplaces! It's just a nice, cool apartment."
"It's for someone who wants to have something that's really unique," Ms. Nora continued, "You're not paying for something that's all done for you—it's perfect if you have the patience!" Of course, its location is sure to be especially enticing to a certain buyer.
"It has amazing, amazing views, amazing light, and it's a great neighborhood," Ms. Nora told us. "It's steps away from Barneys!"