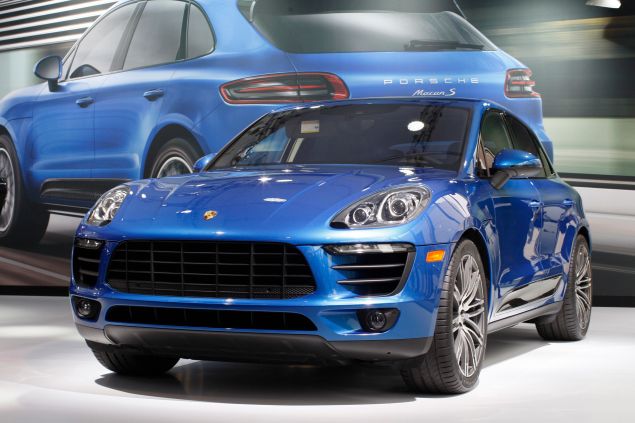 A few weeks ago, I went to Denver for a trip. A virgin Porsche Macan was waiting for me at the airport. For those of you who don't know the Macan, it's Porsche's luxury Compact Sports Utility Vehicle, or CUV, a segment that's emerged in recent years. These cars are still big, but they're slightly smaller than regular SUVs. Basically they're fancy station wagons with short noses and big butts.
In this segment—largely composed of lumbering BMWs and Mercedes and comfy but bland Lexus—the Macan S has easily been the best in class since Porsche introduced it in 2015. It gets 340 hp and launches like a sports sedan, is comfortable and cool and not too fussy on the inside, with heated seats that massage your lumbar spine, a great sound system and plenty of trunk space. It's behind the times in terms of its gas mileage, and the tech doesn't really stand out. This isn't a car of the future. Someday it will be remembered, if at all, as an exemplary relic of the kinds of cars people used to make before cars turned self-driving and electric.
For the present, though, it's still really nice, and it handles the elements like a boss. It would fit in very well in unaffordable places, like Park City or Aspen or Vail. One night, I drove the Macan S into a whiteout through a mostly unlit Rocky Mountain pass that connects the condo district with the city. I'd been visiting my aunt and uncle and cousins up in the mountains for the day, and was headed back down.
"The snow's supposed to be pretty bad," my aunt had said. "If you can't see in front of you, turn back."
A bit later, I found myself saying define can't see in front of you. Technically, I could see, but not far. The road had been completely covered in snow. I put the car on a mysterious "Snow" setting and hoped for the best, which it definitely delivered. In normal conditions, the Macan has a custom all-wheel drive traction management that matches up with a multi-plate clutch, automatic brakes, anti-slip regulation, stability management, and automatic torque vectoring. This is a Porsche. The drive tech does not mess around.
Thank goddess, because I needed every pound-foot of torque vector. That road was slippery as hell. It also lacked streetlights. My strategy: Follow the car in front of me at a safe distance, and try as much as possible to drive in its treads.
The pass curved like a mother. I could see nothing but drifting snow a couple of red squares in front of me, The occasional headlights coming toward me, letting me know that I needed to keep the wheel nudged to the right. The mountain face was on my side of the road, slightly reducing my chances of plummeting to a snowy death, but only slightly. My hands and forehead sweated, even though much of the car was cold to the touch. When a line of cars moved past, it was terrifying. I was in "one false move" territory.
Coming out of a town, the roads got slicker. The car skidded a couple of times. In a lesser vehicle, I would have been maimed, but the Macan wrenched itself back into place, as though controlled by powerful invisible hands. It had LED headlights that seemed better than industry standard in terms of brightness, but they also searched the road digitally, making sure to shine on what needed to be illuminated. When the car ahead disappeared briefly, I found it soon enough.
It was one of my most harrowing drive situations in recent memory, but because I was in the Macan, I almost enjoyed myself. Yes, I had experienced something dangerous, but I got the sense that, in this car, my odds were pretty good. By the time I got down to the Interstate, it was just an average snow day at modest elevation, and I knew I would make it home safe.
The Macan, which starts at $53K with the base 240hp engine; the one I drove tops out at about $10,000 more. That's expensive, of course, but considering that Bentley's new SUV, the Bentagya, costs at least four times more and feels twice as large, the Macan sort of starts to look like a bargain. If I had scads of money and lived in the mountains and didn't give one whit about the environmental impact of my car purchases, there'd be no other choice.
I drove the Macan S around for the rest of the weekend in Colorado, putting in at least 300 miles in perfect weather. It was a totally different machine, basically a sports car in the way it accelerated and handled. The Macan seemed like a car that could do anything, other than conserve fuel. It inspired a lot of enthusiasm, more than usual, in my passengers. My cousin—who was also staying with my relatives—woke me up early on Sunday morning so I could drive him and his son to the airport, even though his flight was two hours before mine. Clearly, the kid was desperate for one more ride in the Macan.
"Why do you get to drive this?" the kid said.
"I write about cars, so people let me test them out," I said. "It's not the most ethical thing in the world, but even Bernie Sanders wouldn't turn down the opportunity to drive a Porsche for a week."
He wasn't interested in my neurotic ramblings.
"This is the most amazing car in the whole world," he said.
The Porsche Macan S, I thought. The Official CUV For First-Grade Gearheads.
"Except for maybe the Chevy SS," he said.
The kid is entitled to his opinion, however wrong it might be.
Neal Pollack is the author of ten semi-bestselling books of fiction and nonfiction, including the memoirs Alternadad and Stretch, the novels Repeat and Keep Mars Weird and the cult classic The Neal Pollack Anthology Of American Literature. For some reason, his byline has appeared in numerous automotive publications, including Car & Driver, Road & Track, and Yahoo! Autos. He lives in Austin, Texas, against his will.