On the topic of bars and restaurants, it's a rare occasion when Jon Taffer isn't the most knowledgeable guy in the room. Although he has owned nightclubs and fine dining establishments, the Long Island native is best known as the pioneering bar consultant who's taken the industry by storm with practices like the "butt funnel," meant to promote customer interaction via a small opening to the dance floor. On his Spike TV show Bar Rescue and throughout his career, he's worked on over 1,000 independent and chain bars, a number that climbs to more than 30,000 if you account for each franchisee. Over sushi at Koi in SoHo, Mr. Taffer gave us a crash course in the psychology that powers bars.
How would you define bar science?
It's the study of human behavior as it relates to a bar environment. It is about encouraging you to have more fun, spend, drink and dance more. I want you to have a better time than is natural to you, and I'll employ various behavioral tricks to get you to do it.
What were the first lessons of bar science you learned?
One day when I was sitting in a bar and there was an elevated area and a low area, I watched a gentleman walk up the steps to the elevated area. He walked toward a girl he thought was pretty or something, and he hit a dead end. He went back the other way and left, and I saw that the girl looked at him, and he was embarrassed because she knew what he was doing. I thought to myself, "If I put another staircase on the other end, he could flow through like he has a purpose." Then I started studying bar stools, and I learned that—and I'm not chauvinistic at all—but when women cross 35 years old, they get very sensitive about their back ends. So I put backs on barstools for an over 35 demographic. When they're younger, people like to spin and interact, so I don't put backs on the stools.
'The only chance I have of us interacting is our eyes connecting, so I don't want your eyes here and my eyes down there. That's why bar stools are critical. That's why bar shape is critical'
What are some simple changes any bar—successful or failing—can make to enhance the customer experience and boost profits?
One of the quickest things they can do is serve great signature cocktails. Flavored spirits are really popular today—you know, cherry vodkas and everything. You can fill a jug with whiskey, put in some fruit and make your own infusion. Identity is the trick. You need things other people don't have. I can get a bottle of Budweiser anywhere. I can get Scotch on the rocks anywhere. You gotta add personality to them. So look at New York and what's hot. Mixology bars are hot. Unique drinks. Unique signature food items. That right there [points to my colorful sushi]. Look at how unique that is! The color of that is beautiful! You need what I call a PoD [point of difference].
We talked about the butt funnel. What are some other bar and nightclub tools?
When you walk into a bar—within two or three seconds—a couple of things happen. First you hear the music. That tells you if the bar is for you or not. The next thing is smell. Does it smell good? Is it dirty? Is it yeasty? Then your eyes land on the brightest spot in the room. What is that spot? Is it a dirty service station? Is it a disorganized back bar? Is it an ugly piece of artwork? Or is it something that sends the message to you that you're in the right place? You feel you're in the right place or you don't, and it happens subliminally in about a second. If you can control those three things, that'll get guests entering with a comfort level that'll make them feel they're in the right place.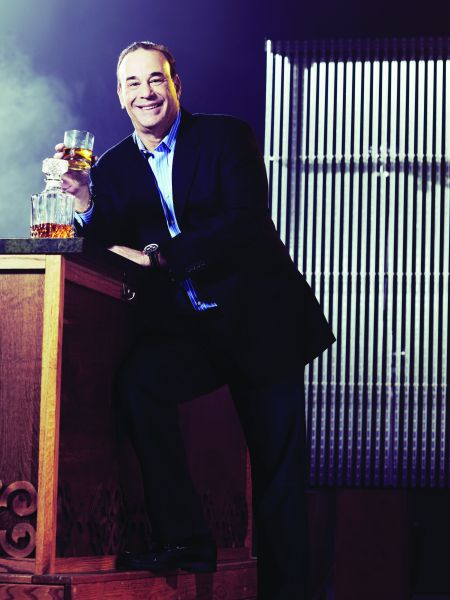 Are there certain shapes and ways to arrange a bar that make for the best crowd?
You bet. Island bars are ideal because there's a circular pattern and people flow through. When you're sitting at the bar, you're not staring at the wall; you're staring at another person, so they're inherently more interactive and more comfortable. At a zero-level in the bar, you do high seating. At elevated areas, you do low seating. So if you're standing and walking around the bar or sitting on a stool, everybody's eyes are within 10 inches of each other. The only chance I have of us interacting is our eyes connecting, so I don't want your eyes here and my eyes down there. That's why bar stools are critical. That's why bar shape is critical. Not only that, but when you take a look at seating style, soft seating is critical if I want you to stay longer. Lighting—the lower the lighting, the closer I have to get to you to talk to you. If I want more intimacy, I pull the lights down and you'll see people get closer together to talk.
What are the makings of a good dive bar? And what separates it from a bar that's just seedy in the wrong way?
The great thing about bars and restaurants is you don't have to be new to be relevant. New makes you interesting, but relevance comes in time. The second public building ever built in America was a bar. The first was a church. America's first distiller was George Washington. He distilled about 10,000 gallons of bourbon every year. I tell you that because bars are historic, and dive bars have a historic element to them. When you enter a dive bar, you say to yourself, "This has been here a long time." You walk in—it's dark, it's woody, it's cozy. The bartender is typically not young and shouldn't be. The people are regulars. You know they work or live within two blocks. If you come three days a week, you'll see the same people there most of the time. Dive bars aren't dives at all. They really should be called "local bars." What happens is dive bars get categorized as dirty bars, old bars, uncared-for bars. That's not what a dive bar is. A dive bar is an old historic bar