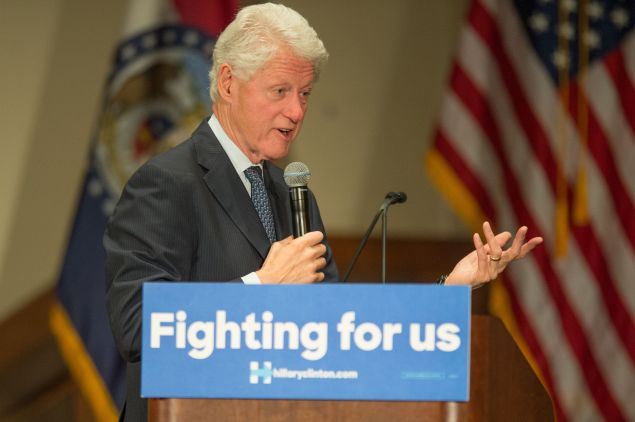 A top spokeswoman for the Bernie Sanders campaign said today it was "unbelievable" that former President Bill Clinton would try to defend his wife's use of the term "super predator," opening up another front in the war of words between the two Democratic presidential contenders.
"I thought it was unbelievable that Bill Clinton double-downed on the 'super predator' myth, if you will," Symone Sanders, the national press secretary for the Vermont senator, told the Observer at his Brooklyn headquarters. "It's not even just a myth. It's coded, dog whistle politics, racially-coded language that we all know was used to just really put a label on the African-American community way back when."
One of Mr. Sanders' leading African-American surrogates, Ben Jealous, had already condemned Mr. Clinton for trying to drown out Black Lives Matter protesters during an address he was giving on Thursday. Mr. Clinton, who signed into law a spate of tough-on-crime measures as murder rates soared in the 1990s, defended his legacy and a comment his wife, Hillary Clinton, made two decades ago about violent criminals who were "super predators," operating like animals without a conscience. Ms. Clinton, now the front-runner for the Democratic nomination, was roundly criticized for a term many activists perceived as blatantly racist.
While Ms. Clinton has sought at times to distance herself from her husband's criminal justice legacy, the former president, occasionally a lighting rod for controversy, has made that difficult for her.
"I don't know how you would characterize gang leaders who got 13-year-old kids hopped up on crack and sent them out on the street to murder other African-American children," Mr. Clinton said on Thursday. "Maybe you thought they were good citizens. She didn't."
A day later, Mr. Clinton conceded he wasn't "most effective" in answering the protesters, who have challenged both Mr. Sanders, who voted for the same crime legislation, and Ms. Clinton. "I almost want to apologize," Mr. Clinton added.
But Ms. Sanders (of no relation to the Vermont independent) was not placated, adding that the former president's comments were "disparaging to activists in the Black Lives Matter movement, they're disparaging to people of color and you know frankly, we need to get back to talking about the issues and so it was really unbelievable."